Pinning hopes on the budget
As Finance Minister Pranab Mukherjee prepares the budget for 2012-13 he faces the challenge of controlling inflation, tackling the problems of fiscal deficit and black money, helping vulnerable sections like senior citizens and rejuvenating state finances
Janak Raj Gupta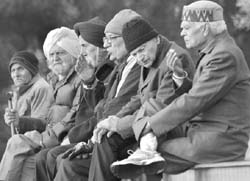 The Finance Minister should realise that as one advances in age, the expenditure on medicines and sustenance increases. Photo: Schandan
THE Union Finance Minister, Mr. Pranab Mukherjee, has begun pre-budget discussions with experts, farmers, industry captains and other representatives. However, his projected estimates made for the current fiscal have gone awry. The growth rate is expected to be around 6.5-7.0 per cent against the projected 9 per cent. Fiscal deficit, which is legally mandated at 3 per cent, may be around 6 per cent against the budgeted 4.6 per cent.
Likewise, revenue deficit, which ought to be zero as according to the Fiscal Responsibility and Budget Management Act 2003, may substantially cross the budget estimate of 1.8 per cent due to the rising subsidy payments and growing wage bill, thus helping fuel inflation. Though in the recent past inflationary tendency appears to be at ease, yet it is more due to the fall in vegetable prices (which is a seasonal phenomenon) and the high statistical base of the last year. Otherwise, due to structural factors like demand outstripping supply, it was in double digit up to November 2011.
Lesson from China
With regard to inflation we must learn from China, which during the last winter, anticipating a demand-supply gap for poultry products, announced various incentives for producers to boost supply. Unfortunately, in India we have no such mechanism to anticipate such gaps and thereby design our policies accordingly. The Budget for 2012-13 may consider designing such policies.
In order to increase the supply of food articles and other goods, public investment for research and development in agriculture has to be stepped up. While nearly 60 per cent of India's population still depends on agriculture, their share in national income has fallen to nearly 15 per cent. Not only that, economic development of the country has bypassed them. With no social security, they have rather become vulnerable to poverty and unemployment.
For the removal of poverty even 'poverty alleviation bonds' can be issued to appeal to the philanthropist spirit of the richer sections of society. Further, in spite of the fact that the RBI raised interest rates 13 times since March 2010, monetary policy could not do much to contain prices because of late our growth has become consumption-led. To promote investment-led growth, we have to rely more on fiscal policy (read budgetary policy), which has moved in the opposite direction, pushing government consumption expenditure. In fact the fiscal task of mobilising resources from people in order to contain demand was handled by monetary policy with the result that both became ineffective.
The Indian growth story is largely interwoven by domestic savings and increased domestic demand. Contribution of foreign funds is just 2 per cent of total investments in the country. Therefore, the better-off sections of society can be rather encouraged to spare some more resources for investment in social and economic infrastructure to augment the supply of goods and services so as to contain inflation. In this connection the 2012-13 budget may consider the DTC's (Direct Taxes Code) suggestion to raise the exemption limit on savings from the present Rs 1 lakh to Rs 3 lakh, albeit with some modifications.
Infrastructure bonds
As in the budgets for 2010-11 and 2011-12, special infrastructure bonds carrying low or negligible interest rate can be issued. To defer the burden and keep revenue deficit under check, their lock-up period can also be increased. The rate of interest on tax-exempted saving schemes can also be lowered. As tax-saving instruments are purchased mostly by the upper income classes, who have no choice except to invest in tax-saving instruments, lowering interest rates may help contain the revenue deficit.
Besides, this will be a win-win situation for both the government and the taxpayers. While the latter will lessen their tax burden, the government will also get necessary funds to finance infrastructure. No doubt this may raise the fiscal deficit/borrowings, yet we should concentrate more on revenue deficit, which should be brought to zero. There is no need to worry about fiscal deficit, when proceeds from disinvestment are considered as part of the government income, thereby pushing unproductive public expenditure.
Then to tackle the problem of black money, a Voluntary Disclosure Scheme (indicating the source of income) may be introduced for a limited time with penal progressive tax rates. However, after the expiry of the period a law should be passed to confiscate black money whenever seized.
Mr. Mukherjee should also consider the fact that the budget for fiscal 2011-12 was inequitable for senior citizens as the exemption limit raised in their case from Rs.2.40 lakh to Rs. 2.50 lakh was proportionally less than the increase in the general exemption limit from Rs. 1.60 lakh to Rs. 1.80 lakh, and it was absolutely insufficient to neutralise inflation. Although the lowering of age for senior citizens from 65 years to 60 years and introducing the super senior citizen class (above 80 years) were welcome steps, it seemed discriminatory for those who were in their seventies or close to seventy.
As one advances in age the expenditure on medicines and sustenance increases. Therefore, to be fair with all senior citizens, there is a need to introduce another category of senior citizens belonging to 70-80 years. In all there can be three groups of senior citizens, young senior citizens (60-70), old senior citizens (70-80), and super senior citizens (80 and above). An electronic processing of income tax returns can very easily handle this classification. Further, as far as possible, exemption limits and other personal concessions should be approximately linked to inflation.
Address states' concerns
Last but not the least where the interest of states is also involved they must be taken into confidence. Take the introduction of the GST (Goods and Service Tax). Even if it is delayed by another year or so, it must address the states' concerns. Similar should be the case with land acquisition reforms. The recent developments in the case of FDI (foreign direct investment) in retail trade stands testimony to the fact that for any policy changes having far-reaching consequences in a federal set-up, the Central government must evolve a consensus so that it does not have to cut a sorry figure at a later stage.
For example, the introduction of a uniform VAT throughout the country, though was spread over five years 2003 to 2008, became feasible only after the states' concerns were addressed. Then according to the recommendations of the 13th Finance Commission, the additional excise duty in lieu of sales tax on textiles, sugar and tobacco has been abolished. This has adversely affected states' finances as they were getting 1 per cent more in their share from the Central divisible pool of total tax revenue.
The new DTC suggestion to impose a 10 per cent tax rate on the income slab of up to Rs. 10 lakh, 20 per cent on Rs. 10 lakh to Rs. 25 lakh and 30 per cent on above Rs. 25 lakh compared with the present slabs of Rs. 1.80 to 5 lakh, Rs. 5 lakh to Rs. 8 lakh and above Rs. 8 lakh should be kept in abeyance as this move will adversely affect states' finances. It goes to the credit of Dr. Manmohan Singh, that as Union Finance Minister in the early '90s he always weighed in his mind the probable implications of any change in income tax laws as nearly 75-85 per cent of income tax proceeds were transferred to the states.
Revive estate duty
Further, in view of the ever increasing number of billionaires in the country who have accumulated huge properties there is an urgent need to reintroduce the estate duty, which was abolished in 1985 by Mr. V.P Singh, the then Union Finance Minister, and, according to the constitutional arrangement, hand over the entire proceeds to the states. Then as suggested by the Empowered Committee of the State Finance Ministers, the Centre should abolish the cap on the upper limit of professional tax. Since professional tax is levied by the local bodies/municipalities, the Centre can incentivise them to impose such a tax by giving matching grants. This will strengthen their financial position and thereby promote decentralised governance in the country.
As admitted by the 13th Finance Commission, "there has also been an increase in the size of non-shareable portion of Central revenue receipts." Then as assured by the Prime Minister at the recently held 56th meeting of the National Development Council (NDC), "the fiscal burden that is being faced by the state governments due to the range of national flagship programmes" needs to be addressed in the coming budget.
The states should be free to select for implementation, within their annual entitlement, such schemes as are more suited to their needs. For example, the Mahatama Gandhi National Rural Employment Guarantee Scheme (MGNREG), which accounts for nearly Rs. 50,000 crore in the current fiscal, is a complete failure in Punjab because of labour scarcity. Instead, if the state is allowed to spend its share for promoting agriculture/rural productivity, its contribution to national kitty would be much more.
In fact, most of the second-generation reforms relate to the states. For successful federal financial relations, the Centre must take the states into its confidence. It would be better if the Union Finance Minister makes a beginning in this regard and starts holding pre-budget discussions with the states' finance ministers.
The writer is a former Professor & UGC Emeritus Fellow, Department of Economics, Punjabi University, Patiala
What FM should do
l Anticipate food demand-supply gaps and offer incentives for higher production of farm commodities in short supply. Invest more in agriculture
l 'Poverty alleviation bonds' can be issued to appeal to the philanthropist spirit of the richer sections of society
l The budget may consider the DTC's (Direct Taxes Code) suggestion to raise the exemption limit on savings from Rs 1 lakh to Rs 3 lakh
l To tackle the problem of black money, a Voluntary Disclosure Scheme may be introduced
l There is need to introduce another category of senior citizens aged 70 to 80 years
l In view of the increasing number of billionaires in the country there is need to reintroduce the estate duty, which was abolished in 1985
The Indian growth story is driven by high domestic savings and demand. The growing number of billionaires can be tapped for greater investment in social and economic infrastructure