The crimes of prejudice
The state machinery in Haryana may like to term honour crimes as a social issue, women groups are now demanding amendments in the existing laws to deal with such crime
Akhila Singh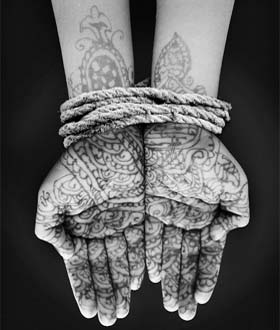 THERE cannot be an alternative to mass mobilisation for legislation as important as "honour" crime, which has been put in cold storage even before a real debate could ensue. More than a year has passed since the Central Government constituted a Group of Ministers ( GoM) to look into the legal amendments, or, drafting of special legislation to deal with "honour" crimes, yet no understanding has been arrived at on such a serious issue.

It is not a hidden fact that there are political considerations at work behind the reluctance of the Central Government to even present a draft of this legislation in the Parliament. Meanwhile, the incidents of brutal violent attacks on innocent young couples, who assert their constitutionally protected right for the marriage of their choice are increasing, especially in Haryana, Punjab and Western Uttar Pradesh.

The comments from the government of Haryana sent to the Central Government on the proposed amendments in IPC (Indian Penal Code) and certain other laws to combat "honour" crime have come as a big disappointment to all those who have been campaigning relentlessly against the increasing number of these outrageous crimes. While conveying the understanding of his government on the matter, Chief Minister of Haryana has categorically denied the need for any special amendments in the law, leave alone the passage of a special legislation. In a letter sent to the Union Finance Minister, Pranab Mukherjee, who heads the GoM, constituted to look into the need for amendment or stand alone law on "honour" crimes, the state government has stated that there was a need to examine "different manifestations of 'honour killing' in wider context without being overwhelmed by exaggerated media reports". In this letter, sent to Mukherjee on 30 September, 2010, that was accessed through RTI, the state government has not only underplayed the increasing number of victims of "honour" crime in his own state, but has also tried to caution the government against "dealing with an extremely sensitive issue that involves age old institutions, usage and customs".

"Honour" crimes and women

In the last few years Haryana has been making national headlines not just because its daughters are doing it proud in Commonwealth and Asian Games, but also because of frequent cases of "honour" crimes in the state. Jhajjar district of Haryana has registered the lowest child sex ratio of 774 girls to 1000 boys, down from 861 recorded in the 2001 Census.

Driving on the highways of Haryana, the first thing that strikes you is men sitting in groups and playing cards or just relaxing with a hukka and a local newspaper. On the other hand, not a single woman can be found who is not engaged in some sort of work, irrespective of her age.

Even with the increasing burden of work on women, their position hasn't changed much. Most women suffer from anaemia and malnutrition. These women work in the fields, take care of the household chores and are the ones who look after the cattle. Veil has become more prominent because women are now working outdoors. With blind consumerism and skyrocketing property prices, problems like dowry, son preference, buying of wives and violence against women have increased in the state.

On the other hand, due to the relative maturity of democracy, media exposure, education and employment, deprived sections, especially women are asserting their democratic rights even in the sphere of personal relationships. This assertion is being seen as a threat to the authority of those who have been controlling the levers of socio-economic resources. They are retaliating to the situation with violence in the name of honour, tradition and village brotherhood.

It is in this situation that the regressive forces have become hyperactive to reinforce the revivalist tendencies, dubbing the retrogressive customs and traditions as culture and thus legitimising the oppressive relationships of caste and gender, which stand against egalitarian values. Woman's right to choose her partner hits right at the roots of the casteist and patriarchal system.

Role of caste panchayats

The state has the best per capita income in the country along with ultra-modern physical infrastructure, at the same time, it is poor in its standards of socio-cultural development.

Capitalist development along with the recent processes of neo-liberalism has generated a wave of senseless consumerism. This so-called modern value system is distorted and cannot be an alternative to the feudal value system and vice-versa. In the name of saving the "honour" of their community and morality, the self-proclaimed khap panchayat bigwigs are cunningly trying to effect a polarisation in order to save their privileged positions. At a time when agrarian crisis is making lives miserable for small farmers and landless labourers, these caste panchayats are only helping the powerful to increasingly marginalise the poor. Instead of fighting the real problems in the state, some elements who call themselves leaders of the community are harassing and torturing innocent families in the name of "honour". Fatwas are issued against young couples to dissolve their own marriages. The High Court sends a warrant officer and police force to reclaim a captive girl, and yet her husband is murdered on the spot in the presence of these very officials who were meant to protect him. Some of these panchayats have publicly objected to marriages and issued judgements against couples and their families in these Kangaroo Courts.

Legal interventions

Though judiciary has its own limitations, the impact of strict legal action has an immediate effect. Some of the historic judgements issued by different courts in cases of "honour" killings have sent shock waves amongst the offenders. In the Manoj Babli murder case which took place in June 2007, after almost three years the Karnal District Court took strong notice of the case and sentenced five people to death. The judgement was seen as historic and one could see desperation and panic amongst the casteist and reactionary elements. Due to the political patronage they have been receiving from consecutive governments, these self-styled panchayats never cared for the law and never thought it necessary to respect the rights of an individual. However, the death sentence was commuted to life imprisonment by Punjab and Haryana High Court and one of the prime accused was acquitted. The case is now being heard in the Supreme Court.

In 2009 the Punjab and Haryana High Court made some important comments when it was hearing several petitions filed by some newly wed couples demanding protection. The judge said a marriage is an occasion of utmost joy for a newly wed couple but now they are seeking refuge in the lawyers' chambers or courtrooms, lest their relatives or the police get hold of them and kill them, while the government and its administration are sitting idle as mute spectators. The court opined that there is a need for creating a sensitised system so that those marrying by law are able to get protection.

However, the victims and their families are finding it extremely difficult to get justice within the hostile political and social atmosphere. It will be almost five years for the famous Manoj Babli case, as Manoj's old mother Chanderpati has been running from pillar to post to get justice.

Need for special legislation

It has been felt that the already existing provisions are not adequate to deal with a range of "honour" crimes. Several women's organisations and human rights groups, especially All India Democratic Women's Organisation (AIDWA) have been demanding the passage of a special legislation addressing "honour" crimes.

There are several facets to these crimes; most importantly the absence of a comprehensive definition of the 'honour" crime. Other than that the role of khap panchayats, monitoring and investigation, the role of the law enforcement agencies acting in connivance with the perpetrators of the crime are important dimensions that need to be covered under the law. The role of the girl's family, because of which often there is no complainant in case of disappearance of a girl, when she has actually been murdered necessitates the mandatory role of state intervention. While murder comprises a part of the crime, many other crimes such as social and economic boycott, coercive dissolution of the marriage, levelling of fines on the family of the boy and their supporters, externment from the village, public humiliation, threats and harassment against relatives of the boy etc, which can not be dealt with by invoking Section 302 alone, need to be addressed.

The new legislation should describe the right to chose one's partner as a fundamental right so that the act of anyone opposing it would be construed as an offence. Prohibitory orders need to be issued as soon as the district administration gets information about meetings that have to do with the violation of fundamental rights as defined by the law. There should also be punishment for anyone glorifying or supporting the crime publicly.

AIDWA, which has been actively working for decades in the field on "honour" crimes, has already drafted a law which also puts the burden of proof on the accused in such cases and gives credence to the oral statements of the couple, especially if they have consented to marry or stay with each other. Also, the process of starting wider discussions around the demand for this special law has been initiated with a wide- scale signature campaign in Haryana.

The writer is Research Co-ordinator, Indian School of Women's Studies and Development



Major 'honour' crimes that made headlines

Monica and Kuldeep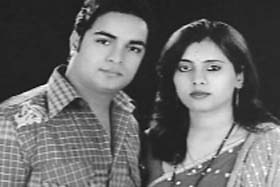 The couple were found murdered in Ashok Vihar, Delhi. Kuldeep, 26-year-old and Monica, 24, though, belonged to different castes, their marriage was opposed by their families. The case took a serious turn when Monica's cousin, Shobha, was also found murdered. Shobha had helped Monica elope to marry Kuldeep against her parents' wishes.
Manoj and Babli
The couple belonged to the Banwala gotra of Jat community, and were therefore considered to be siblings despite not being directly related. As a result, any union between them was termed invalid and incestuous. The couple went ahead with their marriage, following which they were abducted and killed by Babli's relatives.
Nirupama Pathak
A Delhi based journalist, Nirupama, 22, was allegedly murdered by her own mother. She wanted to marry a fellow journalist who belonged to a lower caste - and she was pregnant. On a trip home to make a final effort to convince her family, she was allegedly held captive. Later, she was found dead. The family claimed Nirupama had killed herself, and lodged a case against her boyfriend for rape and abetting suicide. But, the post-mortem results revealed Nirupama had been asphyxiated, the police arrested her mother, Sudha Pathak.
Jassi Sidhu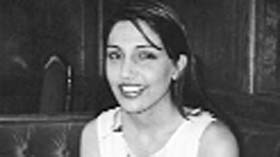 Jaswinder (Jassi), then 25, a resident of Maple Ridge, British Columbia, was murdered on June 8, 2000, after she defied her family to marry a poor rickshaw driver. Her husband Sukwinder Singh Sidhu (Mithu) was seriously injured in the attack. Jassi's mother Malkit Kaur Sidhu and uncle Surjit Singh Badesha were arrested on January 6, 2011, and charged with plotting her murder 11 years ago in Punjab, India.