Ex-Speaker Ram Singh dies of renal failure
Rewari, January 30
Col Ram Singh (87), a former union minister and Speaker of Haryana, died of renal failure at the Medanta Medicity Hospital in Gurgaon at 7-30 am today. He is survived by his wife, Sharda Devi, son Sanjay Rao and two daughters- Sandhya and Vinita. The body has been kept at his residence, Kanina House, here to enable supporters to have a glimpse of their leader.
Rohtak IIM to fund girls' education
Rohtak, January 30
Alarmed over the poor sex ratio of girls in the district, the IIM, Rohtak, has decided to launch a drive to promote the girl child in the region. As a part of the campaign, the institute will organise a marathon soon besides starting a scheme to fund the education of the schoolgirls from poor and mediocre financial backgrounds.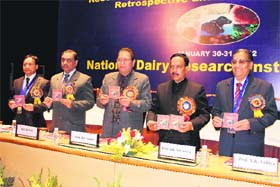 Chief guest RC Sobti (centre), Vice-Chancellor of Panjab University, Chandigarh; and Dr AK Srivastava (second from right), Director, NDRI, launch a CD on the souvenir of the national symposium on "Recent advances in reproductive biotechnology" organised at the NDRI in Karnal on Monday. Tribune photo: Ravi Kumar
Fast held for Kaithal-Delhi train
Kaithal, January 30
Members of the Rail Yatri Kalyan Samiti, Kaithal, demanding direct Kaithal-Delhi railway service started three-day fast outside Kaithal railway station here today. Sat Pal Gupta, chairman of the samiti, said residents of Kaithal had been demanding direct rail link with Delhi for the past 40 years but the Railway Ministry, which had introduced rail service on many routes in Haryana and other areas had ignored the demand of this area causing resentment among the residents.
Five more held for helping jail birds escape
Sonepat, January 30
The police has arrested five more youths identified as Anil, Praveen and Sanjay of Bhadana village, Umesh of Shahpur Turk and Vijender, alias Ghushu, of Khewra village for providing logistic support from outside to eight hardcore jail inmates in escaping from the district jail here on the intervening night of January 17 and 18.
Tributes paid to Mahatma Gandhi
Hisar, January 30
Martyrs' Day was observed at the mini-secretariat here today and tributes were paid to Mahatma Gandhi. Senior district officers, including Deputy Commissioner Amit Aggarwal, were among those who paid tributes. A two-minute silence was observed and a police party presented reversed arms.
Rs 134-cr projects gathering dust
Sirsa, January 30
Owing to bureaucratic hurdles and lackadaisical attitude of PWD officers here, projects worth Rs 134 crore have been gathering dust in official files for over one year. The projects include a Rs 77.70-crore bypass, a Rs 2.70-crore teaching block in the local Government College, a new building of Government College at Dabwali, a Rs 5.66-crore hostel for SC students in the ITI and several other projects, which include laying and repairs of roads.


Science conclave at Hisar
Hisar, January 30
Haryana Agricultural University and Haryana's Department of Science and Technology organised a science conclave here today to motivate school students to opt for careers in basic sciences .

Noted scientist K. Kasturirangan lights the lamp to inaugurate a science conclave for school students at Hisar on Monday. A Tribune photograph
Elaborate security for Surajkund mela
Surajkund (Faridabad), January 30
The authorities have put in place elaborate security arrangements for the annual Surajkund Crafts Mela. The arrangements include 105 CCTV cameras at the mela ground and posting 1,300 police personnel during the 15-day extravaganza, to be kicked off on Wednesday.
Pharmacists' online licensing from April 1
Hisar, January 30
The Haryana Pharmacy Council will introduce online licensing and renewal for pharmacists from April 1, council chairman Surendra Sharma said while addressing a continuing pharmacy education conference here yesterday.
Three youths killed in accident
Jind, January 30
Three youths were killed in a road mishap on the National Highway No.71 this evening. While the bodies of the victims have been shifted to the Civil Hospital, the police has booked a case.
Three booked for fraud
Faridabad, January 30
Three persons opened fire when their move to sell a piece of government land in Khori village to unsuspecting buyers was foiled by residents. They were trying to palm off the land to the buyers on the basis of false claim to be its owner. The residents intervened just when the deal was to be finalised.
Kidnapped child rescued
Faridabad, January 30
The police has rescued Ajay (8) from the clutches of his kidnappers and nabbed two youths identified as Manoj and Pawan. Pawan, an electrician, who was employed in a shop owned by the family of the victim and alleged to be the kingpin of the crime. The shop was set up in an extended portion of the house of the victim.