Governor call to fight anti-national elements
Put in united efforts for development, says Chief Minister
Tribune Reporters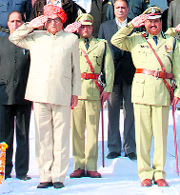 Chief Minister Bhupinder Singh Hooda takes the salute at an impressive march past in Panipat. Tribune photographs
Ambala, January 27
Governor Jagannath Pahadia asked the people to promote national unity. Unfurling the National Flag at the state-level Republic Day function at Ambala City, he said: "We should boldly fight against those anti-national elements who have been affecting brotherhood and communal harmony in the country."
Referring to the first war of independence in 1857, he said it started from Ambala and the state government had decided to construct a national-level memorial in memory of martyrs at Ambala Cantt.
Speaking about development in Haryana, Pahadia said the state had set up new records in the fields of education, industry, sports and public welfare. He said Haryana was emerging as a hub of education. The government was taking up all necessary steps to make the state self-dependent in electricity, he added.
The Governor also honoured freedom fighters and martyrs' kin. Two children were also awarded the bravery award on this occasion.
Later, At Home was organised at the Circuit House in Ambala Cantonment where Chief Minister Bhupinder Singh Hooda were among the dignitaries present.
Panipat: Chief Minister Bhupinder Singh Hooda has called upon the masses to put in united efforts for the state's development.
Addressing an impressive gathering during the Republic Day celebrations, Hooda paid rich tributes to freedom fighters and martyrs for making supreme sacrifices for the country's freedom.
Referring to the development made during the past seven years, he said a number of welfare schemes had been implemented for the welfare of people belonging too all sections of society.
He said as per the Planning Commission the average growth rate of the state during the past five years was 11.6 per cent as against the national average of 8.2 per cent. The Chief Minister said Haryana had witnessed the highest per capita investment in the country. Similarly, the state was No 1 in wheat productivity.
Highlighting other development works currently in progress , Hooda said four new power plants were being set up at Yamunanagar, Jharli, Jhajjar and Khedar . He said 108 big or medium and 14,336 small industrial units had come up in the state during the past seven years .
The Chief Minister honoured 26 freedom fighters, four gallantry award winners and 25 martyrs on the occcasion.
Reports about Republic Day celebrations were also received from Hisar, Kurukshetra, Kaithal, Rohtak, Karnal, Sirsa, Fatehabad, Sonepat and Faridabad.