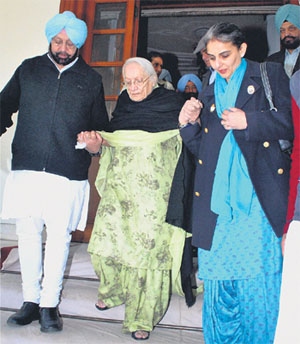 PPCC chief Capt Amarinder Singh along with his mother Rajmata Mohinder Kaur and daughter Jai Inder Kaur on way to cast their votes in Patiala. Tribune photos: Rajesh Sachar
Maheshinder's cousin booked for 'attacking' Akalis
Lambi, January 30
The Lambi police today booked former Transport Minister Hardeepinder Singh Badal, Congress candidate Maheshinder Singh Badal's cousin, and 40 others for a murderous attack on four Akali workers, including CM's cook, and for using caste remarks against them.
Minor clashes in Majha belt
Amritsar, January 30
Voters in Majha region turned out in large numbers to exercise franchise with 18 of the 25 assembly seats witnessing over 70 per cent polling, which remained by and large peaceful. Ajnala seat saw the highest polling percentage at 80 per cent cpmpared to 76 per cent last time, followed by Gurdaspur with 78 per cent (73.52 per cent last time), Baba Bakala 79 per cent (new seat), Khadoor Sahib 78 per cent (68.21 per cent last time), Raja Sansi 77 per cent (almost same as last time), Sri Hargobindpur 76 per cent (77.23 per cent last time), Khem Karan 76 per cent (new seat).
Doaba witnesses peaceful polling
Jalandhar, January 30
Doaba saw peaceful polling with women and young voters especially coming out of their homes to cast vote. The voters were seen outside booths as early as 8 am. The elderly preferred to turn up in the afternoon. The region witnessed 65 to 81.11 per cent polling in its 23 constituencies in Jalandhar, Hoshiarpur, Kapurthala and Nawanshahr districts. Shahkot, Nawanshahr and Bholath saw the polling percentage touching 80 and 81 per cent. Nawanshahr district recorded the highest polling at 78 per cent followed byu Jalandhar at 75.1 per cent, Kapurthala 79.66 per cent and Hoshiarpur 74 per cent.
In Lambi, Manpreet first among Badals to cast vote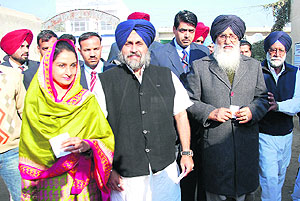 Badal, January 30
In Badal village in Lambi, Parkash Singh Badal, Sukhbir Singh Badal, Harsimrat Kaur Badal, Gurdas Singh Badal, Manpreet Singh Badal and Maheshinder Singh Badal cast their vote at Government Primary School. Chief Minister Parkash Singh Badal is pitted against his younger brother, Gurdas Singh Badal (PPP) and cousin Maheshinder Singh Badal (Congress).
Harsimrat Badal, Sukhbir Badal and Parkash Singh Badal on their way to cast vote. Tribune photos: Pawan Sharma

Manpreet salutes young voters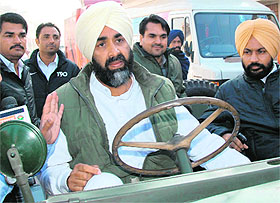 Chandigarh, January 30
People's Party of Punjab chief Manpreet Singh Badal has thanked voters of the state for having come out and voted in large numbers. "The large turnout showed the anger of the voter not only with the existing government, but also with the SAD and the Congress meery-go-round every five years" he said. He said there was a clear indication that people wanted change.

Manpreet Badal arrives at a polling station in a jeep.



Polling a colourful affair


Youngsters and old people wait in a queue to cast their votes in Ludhiana. Tribune photo: Himanshu Mahajan (Right) Maheshinder Singh Badal, Congress candidate from Lambi, after casting his vote at Badal village. Tribune photo: Pawan Sharma



Union MoS for External Affairs Preneet Kaur along with her daughter-in-law, Reshma, show indelible ink marks on their fingers at a polling station in Patiala. Tribune photo: Rajesh Sachar (Right) Cricketer Harbhajan Singh at the polling booth in Jalandhar. Photo: Sarabjit Singh


A bridegroom along with his relatives at a polling station in Nabha. A Tribune photo
(Right) Congress MLA from Baghapurana Darshan Singh Brar talks to the media on Monday morning. Photo: Kulwinder Sandhu


Old men wait for their turn to cast their votes on the outskirts of Ludhiana. Tribune photo: Himanshu Mahajan (Right) Army personnel line up outside a polling booth in Jalandhar. Tribune photo: Malkiat Singh

Youth power to the fore in Doaba
Hoshiarpur, January 30
Every mile saw a swing in the mood of voters. While some booths witnessed long serpentine queues, others remain lacklustre. But a uniformly consistent enthusiasm to vote was seen among the youth and first-time voters in Ropar, Hoshiarpur, Nawanshahr and other parts of the northern Doaba region.
Unusual zeal among voters
Fatehgarh Sahib, January 30
Punjab woke up to a sunny morning on Monday, bringing cheer to the 1,100-odd contestants in the fray. The pleasant weather contributed in a big way to the record turnout in the state with Guruharsahai in Ferozepur recording 90 per cent polling and Malerkotla 88 per cent.


Whatever doubts were there regarding the SAD-BJP's poll prospects, I can assure that people of the Punjab have exercised their right to franchise for the development. SAD-BJP alliance would make history by retaining the power, once the election results are out. My thanks to all the voters for turning up in such a large number.

— Surjit Singh Rakhra, SAD candidate from Samana



Once the election results are declared, both the Congress and the SAD-BJP will get to know that the people of Punjab are fed up with both these parties and want an alternative, which the PPP can provide.



— Bhagwant Mann, PPP candidate from Lehragaga
Voters all for EC raj
Chandigarh, January 30
Even as the waiting game begins for politicians, the voters are all for continuation of the Election Commission's "raj" in Punjab. "The EC rule has been much better than the successive governments," says Kishore of Dera Bassi who lives in an area where drug abuse is rampant. He claims the sale of narcotics had been curtailed since the past one month.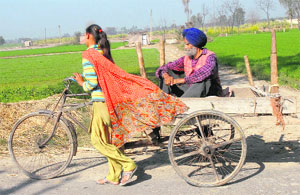 A man rides a cart in Memadpur village near Adampur after casting his vote in Jalandhar. Tribune photo: Malkiat Singh

Hundreds fail to vote in Moga
Names found missing from electoral rolls
Moga, January 30
It was an unpleasant surprise for a large number of voters in Baghapurana constituency of the district today as their names were found missing from electoral rolls when they arrived at polling stations to cast their franchise along with their voter identity cards.


88% turnout in Malerkotla
Malerkotla, January 30
At least three cases were registered for violating the election code of conduct and breaking law and order amid fear of tension in this politically sensitive constituency. However, 88 per cent polling was recorded in the constituency. Two senior police officers, one serving and another retired, were engaged in a proxy poll battle through their wives in this constituency. Razia Sultana, wife of ADGP Mohd Mustfa, was the Congress candidate and Farzana Alam, wife of former DGP Mohd Izhar Alam, was the SAD-BJP candidate.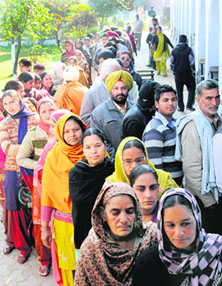 Voters queue outside a booth in Balachaur in Hoshiarpur. Tribune photo: Manoj Mahajan

Capt credits Qureishi for peaceful poll
Patiala, January 30
Claiming the Congress would get at least 70 seats, PPCC president Capt Amarinder Singh today thanked the Dera Sacha Sauda for coming out in support of the Congress. After casting his vote at Government College for Girls here, a buoyant Amarinder said: "The fate of the SAD-BJP alliance has been sealed. On March 6, a new era of development would begin in Punjab with the Congress winning at least 70 seats." Congratulating the people of Punjab for peaceful polling, Amarinder said: " The Congress hails the Election Commission for fair and free elections. I applaud Chief Election Commissioner SY Qureishi and Chief Electoral Officer Kusumjit Sidhu for free and fair elections against all odds." Amarinder said the large turnout was a clear indication that the people were unhappy with the Akali-BJP government.
Vehicles hired by Gill impounded
Chandigarh, January 30
Four constituencies - Chief Minister Parkash Singh Badal's Lambi, Moga, Bhadaur and Malerkotla - went to the polls without Punjab police with police teams from Maharashtra, J&K and paramilitary forces manning the polling stations here. CEO Kusumjit Sidhu had ordered a special vigil in the Lambi constituency following complaints of "duplicate voters" in two polling stations of Bhullarwala and Fatta Khera villages. These two stations were under the scanner of the EC throughout the day.