No misuse of funds: Jaitley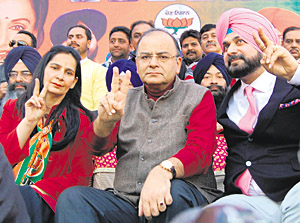 Challenges Sonia to a debate on the issue
Amritsar, January 25
Refuting allegations pertaining to misappropriation of grants released under various Central government schemes and its alleged diversion to Sangat Darshans, senior BJP leader Arun Jaitley today challenged the UPA chairperson, Sonia Gandhi, to hold an open debate with any SAD-BJP leader in this regard.
Arun Jaitley (centre), Navjot Singh Sidhu (right) and Dr Navjot Kaur, BJP candidate from Amritsar (East), at a rally in Amritsar on Wednesday. Photo: Vishal Kumar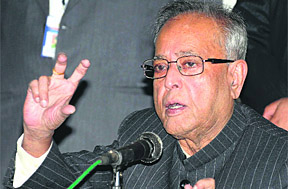 Ready to help states under debt: Pranab
Chandigarh, January 25
In the run up to the assembly elections, Union Finance Minister Pranab Mukherjee today stated that the Centre was ready to give assistance to debt-stressed states like Punjab, provided they had clean, transparent and accountable governments.
Union Finance Minister Pranab Mukherjee in Chandigarh on Wednesday. Tribune photo: Manoj Mahajan

Campaign trail: Dera Bassi
Here, rebels hold the key
Dera Bassi, January 25
It's a new constituency, but not without its due share of bitterness. All the official nominees here are having a tough time from party rebels, who nurtured this constituency hoping to represent it one day. In a multi-cornered contest that has emerged on this seat closest to Chandigarh, it is the rebels contesting as independents who hold the key.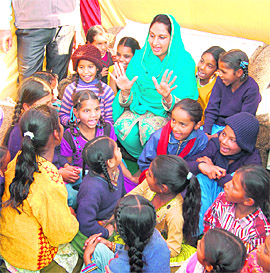 Sukhbir: We arrested fiscal downslide
Amritsar, January 25
Deputy Chief Minister Sukhbir Singh Badal today squarely blamed the Gandhi family for the "decades of economic retrogression of Punjab which flowed from Congress' historically malicious policy of calculated discrimination towards this most advanced state in the country." Replying to media queries after addressing a rally in support of SAD-BJP candidate Dr Navjot Sidhu here, Sukhbir said it was the SAD-BJP alliance that had halted this downslide and propelled the state towards socio-economic development.
CATCHING THEM YOUNG: Bathinda MP Harsimrat Kaur Badal interacts with schoolgirls in Majitha on Wednesday. Photo: Vishal Kumar

It's diligent Badal vs belligerent Capt, says Rajnath Singh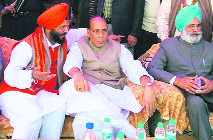 Ferozepur, January 25
Former BJP president Rajnath Singh on Wednesday said the people of Punjab had to make a choice for the next Chief Minister between a seasoned politician like Parkash Singh Badal "who is revered all over the country for his diligence and a belligerent Capt Amarinder Singh who has been instigating the people to take law in their own hands".
BJP leader Rajnath Singh at a rally in Ferozepur on Wednesday. A Tribune photograph

Campaign trail: Dhuri
Barnala fights for political survival
Dhuri, January 25
The Barnala family, which remained in the spotlight for about four decades, is battling for political survival. For the past some years, the political fortunes of the family have been on the decline. Family patriarch Surjit Singh Barnala established himself as the political heir of the late Sant Harchand Singh Longowal in 1984. Consequently, he became Chief Minister in 1985.
PPP candidate Gaganjit Singh Barnala canvasses at Jahangir village. Tribune photo: Parvesh Chauhan

Rahul: Punjab has given a visionary like PM
Jalandhar, January 25
AICC general secretary Rahul Gandhi, at a rally here today, expressed his gratitude to Punjab for having given the country a visionary like Dr Manmohan Singh.
Poll snippets
EC notice to 3 candidates
Patiala: Returning Officer Rishipal Singh has issued a notice to three candidates from the Patiala Rural constituency, charging them with defacing of public property. Expenditure observer SK Meena took a round of the entire constituency and found that stickers and other election-related material of Congress candidate Brahm Mohindra, SAD candidate Kuldeep Kaur Tohra and Independent candidate Satbir Singh Khatra was pasted on the walls of various houses and telephone and electricity poles. Subsequently, the RO issued a notice seeking a reply in this regard failing which legal action would be taken against them.
Fight foeticide, Hema tells women voters
Jalandhar, January 25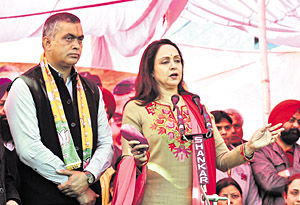 BJP star campaigner Hema Malini today appealed to the women, hands folded, to fight female foeticide and rescue the gildchild. She was in city to address a rally in favour of BJP candidate from Jalandhar (North) Krishan Dev Bhandari. Hema started her speech with "Jo Bole so Nihal" and claimed that she loved Punjab for its rich food and culture.
BJP leader and Bollywood actor Hema Malini addresses an election rally in Jalandhar on Wednesday. Tribune photo: Malkiat Singh

Nagma lends colour to Cong campaign
Ludhiana, January 25
South Indian actress Nagma today sought votes for Congress candidate from Ludhiana East Gurmail Singh Pehalwan. Addressing an election rally at Tibba Road, she said the Ludhiana voters had responded positively when she had last come here to canvass for Congress candidate Manish Tewari for the 2009 parliamentary elections.
Rebels give tough time to official candidates
Moga, January 25
Congress MLA Darshan Singh Brar and Independent MLA Ajit Singh Shant, who are contesting elections from the Baghapurana and Nihalsinghwala constituencies on Congress ticket are in trouble.
Ex-servicemen to back 112 candidates
Chandigarh, January 25
The coordination committee of ex-servicemen has decided to support candidates of various parties instead of supporting a particular party.
Candidates mend ways, courtesy strict vigil by officials
Moga, January 25
Unlike the last Assembly elections, there has been a marked difference in the campaigning style of candidates.


Raid on SGPC member's house; CM cries foul
Lambi, January 25
Income Tax officials conducted a raid at the residence of third-time SGPC member Dyal Singh Kolianwali in Lambi and seized 15 packets of poppy husk. However, no unaccountable money or gold was found from the place.
Lawyer moves CBI against Badals
Chandigarh, January 25
A city-based lawyer has lodged a complaint with the CBI against Punjab Chief Minister Parkash Singh Badal, Deputy CM Sukhbir Singh Badal and Bikram Singh Majithia for allegedly exercising power illegally.
Armoured Div bags Commander's Banner
Patiala, January 25 The First Armoured Division has won this year's Western Command Army Commander's Banner for being the best Division in professional and sports competitions.


Allotment of residential plots to department employees
High Court quashes PUDA's scheme
Chandigarh, January 25
The Punjab and Haryana High Court today quashed the Punjab Urban Planning and Development Authority's "arbitrary" scheme for allotment of residential plots to its own staff at reserve prices.