This Kairon scion believes his work speaks louder than words
Patti, January 19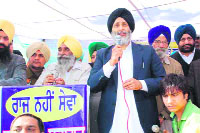 Adesh Partap Kairon is known to rely less on oratory and more on good management. That is the secret behind his three successive victories from this constituency. Patti has been a Kairon borough ever since Adesh joined the Shiromani Akali Dal 15 years back. A man of few words, Adesh's speeches are short and crisp.
Adesh Partap Kairon addresses a gathering in Patti. A Tribune photograph
Capt quells rebellion in Moga
Moga, January 19
PPCC chief Capt Amarinder Singh has managed to quell dissidence in Moga by roping in rebel candidate Vijay Sathi back into the party fold. Amarinder made this announcement at the party's rally here today, which Congress president Sonia Gandhi was also supposed to attend but could not due to inclement weather.
Kuldeep leaving nothing to chance
Patiala, January 19

Pitted against four-time Congress MLA Brahm Mohindra from Patiala Rural, considered as one of the "safe" constituencies for the Congress, Akali candidate Kuldeep Kaur Tohra is banking on the Tohra legacy. Being the foster daughter of former SGPC president late Gurcharan Singh Tohra, Kuldeep is being considered a heavyweight candidate, who is into aggressive electioneering.
SAD candidate Kuldeep Kaur Tohra campaigns with her supporters in a Patiala village. Tribune photo: Rajesh Sachar

Soni fails to mollify Kataria
Jalandhar, January 19
The last-ditch efforts of Union Minister Ambika Soni to win over dissident Congress leader and former Balachaur MLA Ram Kishan Kataria proved futile with an anguished Kataria saying a firm "no" to her. Soni visited Kataria at his Balachaur residence today.
Medical team sends report on Mustafa to EC
Chandigarh, January 19
The Election Commission today sent a medical team led by Sangrur Civil Surgeon Dr Parbhat Kumar to examine ADGP (Internal Intelligence) Mohd Mustafa at his residence in Hathoa village. The doctors were tightlipped about their examination report and said it had been sent to Election Commission.
Politics of colour: EC watching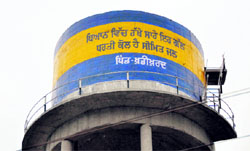 Barnala, January 19
Saffron and blue, the colours mostly being used by the SAD-BJP alliance in their poll campaign, have been virtually dotting the skyline in rural areas of Malwa belt. For, the newly built water tanks in poll-bound Punjab's countryside continue to be dipped in the twin colours, something that the Akali Dal's rivals see as subtle election propaganda.

A water tank in a village painted blue and saffron. Tribune photo: Himanshu Mahajan
Ex-terrorists' kin indifferent to polls
Panjwar (Tarn Taran), January 19
While the political atmosphere is hotting up ahead of the assembly elections in the state, most of the families of former terrorists seem to be indifferent to the entire process. However, there is also a section of them which has been affiliated with one political party or the other.
Former Mayor canvasses in gurdwara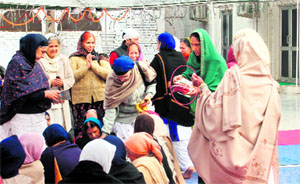 code violated?

SGPC member Harjinder Kaur (second from left) campaigns for SAD candidate BS Ramoowalia at Amb Sahib Gurdwara in Mohali on Thursday as another supporter (encircled) distributes pamphlets. Tribune photo: Vicky Gharu
EC to monitor polling on the web
Chandigarh, January 19
To ensure free and fair elections, the state Election Commission would for the first time be overseeing the polling process in 200 booths across the state on the web. As many as 200 students from engineering colleges in 11 districts would help the commission to webcast the process with the help of web cameras and laptops. Chief Electoral Officer Kusumjit Kaur Sidhu says this will be done through the Internet and web cameras for which the help of the Technical Education Department is being taken. Students volunteers will webcast the process from inside the booths for EC officials alone.
Extension lecture
Jalandhar: An extension lecture on "Skin and hair treatment" was organised by the Cosmetology Department of the Kamla Nehru College for Women, Phagwara. Bhuvan Sharma and Prachi were the resource persons. — TNS
Bicycles under Mai Bhago Vidya Scheme
HC notice to Punjab Govt
Chandigarh, January 19
Punjab has paddled towards a controversy. The purchase of around 1.5 lakh bicycles by the State of Punjab allegedly at higher than the market rates has come under the Punjab and Haryana High Court scanner, with the Bench issuing notice of motion to the State and other respondents on a PIL alleging loss of around Rs 9 crore to the state exchequer.