Sukhbir manages to convince dissidents
Jalandhar, January 14
SAD chief Sukhbir Singh Badal has managed to convince senior party leaders Gurcharan Singh Channi and Parmjit Singh Raipur to support SAD nominee and hockey star Pargat Singh.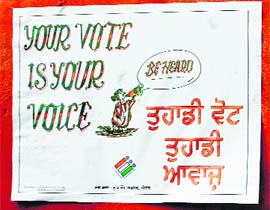 A poster released by the CEO to encourage the people to excercise their right to vote in the state assembly elections. Photo: Vishal Kumar
A headache for PCC in Doaba
Jalandhar, January 14
Rebels have become a headache for the Congress in Nakodar and Jalandhar Cantt, the two important assembly constituencies of Doaba where the party has fielded Amarjit Samra and Jagbir Brar, respectively.
Most Parties not so fair to women
Chandigarh, January 14
Women as candidates in their own right is still a far cry in Punjab with both the Congress and the SAD allotting seats to women relatives of senior leaders to fill the 'women quota' in the coming elections.


Contesting two seats part of poll strategy, says Manpreet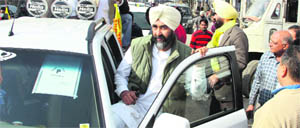 Jalandhar, January 14
PPP president Manpreet Badal has said contesting elections from two seats is part of poll strategy. Manpreet, who today held a road show in Jalandhar, said, "I will be holding at least 80 rallies in the coming days".
Manpreet Badal during a road show in Jalandhar on Saturday. Photo: Sarabjit Singh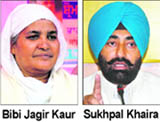 Liquor seizure
Khaira lodges FIR against Jagir Kaur


Bholath, January 14
An FIR has been registered against SAD candidate from Bholath Bibi Jagir Kaur following a complaint by her Congress candidate Sukhpal Khaira. The FIR relates to the seizure of 183 cases of liquor from a tempo at Talwandi village here last evening.
Patiala IG's son accused of using cops in poll campaign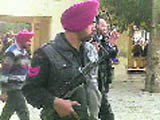 Ferozepur, January 14
A Ferozepur lawyer, Rajan Aul, in a complaint filed before the Election Commission, has alleged that senior IPS officer SL Gakhar (IG, Patiala Range) had illegally provided several commandos to his son Vikramjit Singh Gakhar, who was reportedly helping rebel Congress candidate from Ferozepur (City) Ravinder Singh Babbal in the campaign.

Vikramjit Gakhar (behind)

Punjab people will dethrone SAD-BJP govt, says Gaganjit
Ladda Kothi (Dhuri), January 14
Banking upon the legacy of the Barnala family, former Dhuri MLA Gaganjeet Singh Barnala, son of former Punjab CM Surjit Singh Barnala, has started a new inning in the Punjab politics by throwing his hat in election arena on the People's Party of Punjab ticket.
Gaganjit Singh Barnala, PPP candidate from Dhuri, during an election campaign at Ladda Kothi village on Saturday. Tribune photo: Rajesh Sachar

Poll snippets
Fernandes comforts Simarpreet
Amritsar: The Congress seems to have switched over to damage control mode to quell rebellion in Amritsar. This became evident when senior Congress leader Oscar Fernandes accompanied by Jagmeet Brar today visited the residence of Simarpreet Kaur Bhatia who was replaced with former Mayor Sunil Datti as Congress candidate from the newly carved out constituency of Amritsar (East).


SMSes to keep EC updated on election day


Jalandhar, January 14
The Election Commission of India has for the first time devised a comprehensive communication plan of using SMSes for getting reports on the poll day and tracking each development at the booth-level across the state in real time.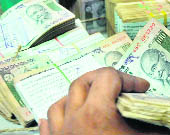 I-T seizures peak in poll season
Chandigarh, January 14
The elections to the Punjab Assembly have come as a boon for the Income Tax department, as the department has recovered a huge amount of unaccounted cash in the run-up to elections. In just 20 days, since the model code of conduct came into force, the State Static Surveillance teams have over Rs 20 crore as unaccounted cash, from different parts of the state.
Tough choice for Maur voters
Maur, January 14
It will be a difficult choice for locals as all the three main contenders in the assembly elections here are "outsiders".
Constituency Watch
Mansa
Akali Dal banking on 'outsider' to topple Cong applecart in Mansa
Mansa has been a Congress stronghold for the past about a decade, with sitting MLA Sher Singh Gagowal emerging victorious twice: in 2002 and 2007 assembly elections. However, the 72-year-old veteran has decided to hang his boots up this time and managed to secure the party ticket for his daughter-in-law Gurpreet Gagowal.
Constituency Watch
Kapurthala
People unhappy over lack of development in Kapurthala
A triangular contest is expected between Congress candidate Rana Gurjit Singh, SAD's Sarabjit Singh Makkar and PPP candidate Raghbir Singh on the Kapurthala seat. This constituency has voted for the Congress in four out of the five assembly elections (including 2004 byelection) held since 1992 while the SAD could win only in 1997 in the last two decades.
Constituency Watch
Pathankot
BJP state chief has much to prove in Mohan Lal's den
With Punjab BJP president Ashwani Sharma deciding to contest the assembly election from Pathankot, sitting (BJP) MLA Master Mohan Lal has been left out in the wilderness. However, Lal says he did his best for the area and even if the party had ignored him, he still was a "loyal soldier of the party".
NRI wants to record statement against Tytler
Amritsar, January 14
Resham Singh, an NRI based in the US, has approached a Delhi court requesting that his testimony about senior Congress leader Jagdish Tytler's role in 1984 anti-Sikh riots should be recorded before the court gives its final verdict on the closure report filed by the CBI.
Arunachal Governor stresses on innovation
Patiala, January 14
Stressing on the need to be innovative and possessing a winning streak to be a good leader, Arunanchal Pradesh Governor General JJ Singh (retd) dwelt at length at the basic leadership qualities during the fourth Shaheed Nanak Singh Memorial Lecture on 'Leadership' organised by Punjabi University, Patiala.
Haryana Sikh outfit to campaign against SAD
Amritsar, January 14
While the INLD from Haryana will be campaigning for the ruling SAD in the Assembly elections, the SAD's arch-rival in the neighbouring state's Panthic arena, Haryana Sikh Gurdwara Prabandhak Committee (ad hoc), has decided to campaign against it in the elections.

Confusion over nationality
HC raps Centre, state for not releasing foreigner afer jail sentence is over
Chandigarh, January 14
Sayad Rasool is behind bars even after the completion of his jail sentence. The foreign national continues to be in Amritsar Jail because neither the Centre nor the State of Punjab really knows whether he is from Pakistan or Afghanistan.