VB carting money to Cong rebels: Amarinder
Chandigarh, January 12
The Punjab Pradesh Congress president, Capt Amarinder Singh, today claimed that the SAD-BJP government was using the State Vigilance Bureau (VB) to cart money to Congress dissidents to ensure they remained in the electoral fray.
EC tells state to cough up Rs 8.5 cr for surveillance
Chandigarh, January 12
Strict surveillance measures undertaken by the Election Commission to check the use of black money to lure voters or win back rebels would cost the state exchequer Rs 8.5 crore.
In all, 1,880 nominations filed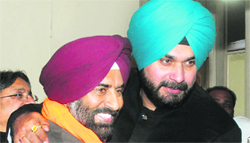 Chandigarh, January 12
In all, 1,880 candidates have filed their nominations for 117 assembly constituencies elections for which will take place on January 30. As many as 900 nominations were filed on the last day today.


Pargat Singh with Navjot Sidhu after filing his papers.



It's Cong's Jeeta-Jaggi vs SAD's Jhutha-Thuggi
Chandigarh, January 12
In run-up to the January 30 assembly poll, the Congress and the SAD leadership are missing no opportunity to attack their political foes. While campaigning for the elections was yet to begin formally, the arch rivals have their "commanders" already slugging it out in the advertisement world.
This Gandhian aims to ride wheels of change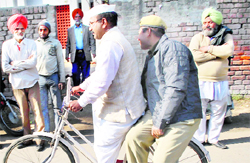 Amritsar, January 12
Even as anti-corruption crusader Anna Hazare is hogging the limelight for taking on the country's political class over the issue of Lokpal Bill, Sham Lal, a Gandhian, has entered into electoral arena from Amritsar (West) constituency with a poll plank of corruption-free society and development.



Amritsar's Anna: Sham Lal
Politics parts Bajwa brothers
Qadian, January 12
When Gurdaspur MP Partap Bajwa bowled a political bouncer by deciding to field his wife Charanjit Kaur from Qadian Vidhan Sabha seat, little did he know he would be leaving his younger brother Fatehjung Bajwa retired hurt.
Rebel Khatra may dent SAD prospects
It would be a triangular contest in Patiala (Rural) constituency between four-time Congress MLA Brahm Mohindra, Kuldeep Kaur Tohra, foster daughter of former SGPC president the late GS Tohra and Satbir Singh Khatra, an Akali rebel and son of senior Punjab police officer Ranbir Singh Khatra. Khatra is likely to eat into the vote share of Kuldeep Kaur, something that may work to the advantage of Congress candidate Brahm Mohindra.
Acid test for all contestants here
Post-delimitation, the number of voters in the Amritsar Central constituency has doubled from 68,267 in the last assembly elections to 1,25,6756 now.
Brar family richest
Muktsar, January 12
It seems the family of the late Chief Minister Harcharan Singh Brar is the richest among all the political families of Punjab.
Candidates banking on sympathy factor
Nawanshahr, January 12
Votes are being sought on a purely emotional appeal in this constituency, be it the SAD or the Congress candidate. Both the parties have chosen to field the widows of their local leaders from this seat.
Ramoowalia richer by Rs 2.7 cr in 2 yrs
Mohali, January 12
Balwant Singh Ramoowalia, SAD candidate from Mohali, today filed his nominations papers.
81% milk adulterated in Punjab
Chandigarh, January 12
In the land of milk, the quality of milk that you get in your home every morning is simply dependent on the milkman. No wonder, Punjab has gained notoriety for having high levels of adulteration in the milk sold across the state.
Only 225 children are malnourished in state!
Chandigarh, January 12
Punjab is certainly a prosperous state, if the data of malnourished children provided by the Department of Social Security, Women and Child Welfare is any indication.


Appointment of Info Commissioners
HC asks Punjab to consider framing rules
Chandigarh, January 12
The Punjab and Haryana High Court has asked the State of Punjab to take a considered decision on feasibility of framing rules for the appointment of State Information Commissioners.


Rs 33.70 lakh, 10 kg poppy husk seized in Fatehgarh Sahib
Fatehgarh Sahib. January 12
The district police today seized unaccounted money worth Rs 33.70 lakh from three different places during checking of vehicles. It handed over the money to the Income-Tax Department as the persons carrying could not produce satisfactory documents. Besides, the police also recovered 10 kg of poppy husk and 5 g of smack.