Gurpreet gets Mansa seat
Ludhiana, January 9
The Congress has fielded sitting MLA Sher Singh Gaggowal's daughter-in-law Gurpreet Kaur Gaggowal (Dhaliwal) from Mansa. She would be contesting against Prem Mittal, SAD nominee.
Will contest for family's prestige: Dolly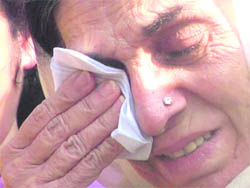 Sohana (Mohali), January 9
In the present political scenario, contesting the elections from the Dera Bassi constituency as an Independent has now become a matter of family prestige, said Manpreet Kaur Dolly, late Akali leader Capt Kanwaljit Singh's daughter, indicating that she was keen to succeed her father's political legacy.
Surjit Kaur, wife of Capt Kanwaljit Singh, wipes her tears in Mohali on Monday. Tribune photo: Vicky Gharu


Bir Devinder not to contest elections
Fatehgarh Sahib, January 9
Former Vidhan Sabha deputy speaker Bir Devinder Singh has decided not to contest assembly elections this time, despite pressure from his supporters and well wishers to contest as an Independent from the Fatehgarh Sahib constituency.
Raninder allotted ticket on merit, says Preneet


Samana, January 9
Breaking her silence, the Minister of State for External Affairs, Preneet Kaur, said that accusations levelled by Malvinder Singh, estranged brother of Punjab Pradesh Congress Committee (PPCC) president Capt Amarinder Singh, that she had backed Raninder Singh's application for seeking Congress ticket was completely baseless.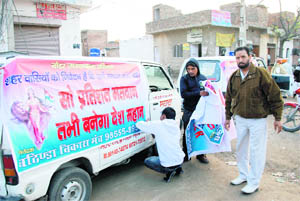 On road to awareness:

NGO activists paste posters on a van educating people on the power of the ballot. Tribune photo
Potable water main demand here
The contest here has turned interesting with Sukhdev Singh Chahal, known to be close to Congress Legislature Party leader Rajinder Kaur Bhattal, in the fray on the People's Party of Punjab (PPP) ticket. Chahal was an aspirant for the Congress ticket but following the party decision to re-nominate sitting MLA Jeetmohinder Singh Sidhu, he joined the PPP.
Jalandhar Central: Beri replaces Gupta
Jalandhar, January 9
Buckling under pressure from within the party, the Congress today replaced its Jalandhar Central candidate former MLA Raj Kumar Gupta with councillor Rajinder Beri.
A Tribune series on government performance: women
Govt held the hand, the lift didn't come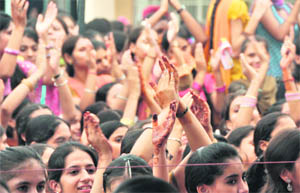 This is one sphere in which the SAD could have no way failed in delivering its promises in the 2007 manifesto. It did not make any. To be fair, if women's welfare has been low on priority for the state government, it is a legacy of all preceding governments in this land that is guilty of killing its unborn girls, as is evident from the poor gender ratio.
Most schemes were limited to the girl child, while 'womenhood' at large continued to suffer.
Crackdown on female foeticide
The government had success in managing to add 17 girls to the sex ratio of 876 girls per 1,000 boys recorded in 2001, to make it 893. However, this figure is still well short of the national average of 940. The only consolation is that Punjab figures higher in gender ratio than the neighbouring Haryana (877) and far higher than Chandigarh (818), especially since the latter has the country's eighth highest literacy rate, as compared to Punjab's 17th position.
Crime against women continued unabated
Looking at the crime statistics, it does not seem the state government was able to substantially improve the safety environment for women. Dowry deaths, rape, cruelty by a relative or husband, molestation, female foeticide, and desertion of wives by NRIs continued.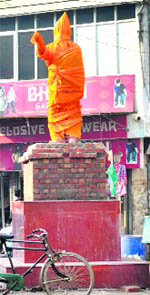 statue covered
Patiala: The statue of Sardara Singh Kohli, grandfather of Patiala Mayor Ajit Pal Singh Kohli, was today covered with a cloth after The Tribune highlighted that it was a violation of the model code of conduct.—TNS
Not until society pitches in
One hurdle in improving women's lot is their status in the larger society, which continues to deny equality.
Cong puts up united face in Samana
Samana, January 9
Accompanied by hundreds of Congress workers at a market here, the scion of Patiala Royal family, Raninder Singh Tikku as he initiated his election campaign in the constituency today morning. Along with his mother Preneet Kaur, who is Patiala MP, Raninder got a shot in the arm as all the Congress leaders, who had applied for the party ticket from Samana announced to support the party's official nominee.
Cong rebels file papers in Fatehgarh Sahib
Fatehgarh Sahib, January 9
Two Congress rebels, Dr Harbans Lal, former minister, and Lakhbir Singh Rai, former District Congress Committee (DCC) president, today filed their nomination papers for the Fatehgarh Sahib assembly constituency.
Mata Kaushalya scheme hit by fund shortage
Patiala, January 9
For the past one-month, the Health and family Welfare Department has failed to make payments to the women, who had delivered their children in government hospitals, due to non-release of funds by the Punjab government.
54 undertrials miss court hearing daily
Chandigarh, January 9
In Punjab, nothing less than 54 undertrials, on an average, daily fail to keep their date with the court. Available information suggests, as many as 4,921 could not be presented before the trial courts during three months ending December last.
Encroachment in Ferozepur Cantt
HC tells CBI to probe
Chandigarh, January 9
The Central Bureau of Investigation (CBI) will probe the alleged usurping of Central Government property over a period of four decades in Ferozepur Cantonment.