Plan budget for 2012-13
UT Administration to seek 15-20 per cent more
Chandigarh, January 9
The UT Administration will demand 15 to 20 per cent more for the plan budget in the financial year 2012-13 compared to Rs 661.89 crore of the current fiscal 2011-12.
Spate of thefts in SCOs
Chandigarh, January 9
The Chandigarh police was once again caught napping last night as thieves decamped with cash and valuables from different shop-cum-offices (SCOs) in the city.
Change in govt school timings
Chandigarh, January 9
Keeping in view the biting cold, the UT Education Department has decided that all government schools (single and double shift) will open at 8.30 am. While the evening shift of the double-shift schools will close at 5 pm, there will be no change in the school timings.


Rain likely after Jan 14
Chandigarh, January 9
The tricity may witness another spell of rain after January 14 in view of the Western weather disturbance, which has a wider cloud coverage area over the northern region.
With mercury down in tricity, respiratory ailments up
Chandigarh, January 9
The cold wave has resulted in a rise in respiratory ailments. According to doctors, cases of cold and throat infection are common during this period and the incidence of bronchitis and pneumonia has increased, especially among children.


| | | |
| --- | --- | --- |
| Making the most of sunshine (2) | Nature presents its carpet | Danger ahead, drive carefully |

(1) People enjoy a warm day at the Sector-17 plaza in Chandigarh on Monday. (2) A candy vendor at a greenbelt in Sector 10 of Chandigarh on Monday. (3) A part of the road that has caved in near the roundabout separating Sectors 11 and 16 in Chandigarh on Monday. Tribune Photos: S Chandan & Manoj Mahajan
Mayor takes stock of pending projects
Chandigarh, January 9
Municipal corporation Mayor Raj Bala Malik today took consent of all pending works with officials of the UT chief architect and corporation departments.
15,503 vehicles checked in city
Chandigarh, January 9
In a drive to curb the rising incidents of snatching and vehicle theft in city, the police randomly checked 15,503 vehicles today. It challaned 549 vehicles and impounded 63 others.
Dearer with delay
Chandigarh, January 9
The non-implementation of ambitious public welfare projects by the municipal corporation (MC) has led to an increase in the subsequent budget. Despite being submitted again, work has not commenced in any case.


Some glimpses of heart of City Beautiful



(1) Water-logging near the Deputy Commissioner's office. (2) Sewage leaking near the Gurudev Studio. (30Stray dogs rest at the plaza in Sector 17.Tribune Photos: Manoj Mahajan
80 pc applicants only want booths on ground floor
Mohali, January 9
The Greater Mohali Area Development Authority (GMADA) today opened the bids for the double-storied booths the scheme for which was floated recently. A total of 700 booths have been offered but the scheme got a lukewarm response.
Reducing traffic congestion on UT Admn agenda
Chandigarh, January 9
Upgrade of road infrastructure and public transport and reduction in traffic congestion is high on the agenda of the UT Administration this year.
Zirakpur-Lalru stretch remains drivers' nightmare
Zirakpur, January 9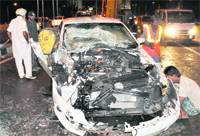 Despite four-laning of the Chandigarh-Ambala highway, the Zirakpur-Lalru road continues to be a killer stretch, with fatal accidents taking place on it at regular intervals. In all 232 accidents had been reported to the Zirakpur, Dera Bassi and Lalru police stations in 2011. In Zirakpur alone, 112 accidents had been reported, followed by 56 in Dera Bassi and 64 in Lalru.
The mangled remains of a car that collided with a jeep on the flyover in Zirakpur. a file photo
Cong, SAD win back disgruntled leaders
Mohali, January 9
The SAD leader, Harsukminder Singh Bubby Badal, who had earlier shown his resentment against the party leadership for giving the ticket from the Mohali seat to Balwant Singh Ramoowalia, said today that he had no option but to respect the prestige of the Punjab Chief Minister, Parkash Singh Badal, who had explained to him the logic of fielding seasoned leader like Ramoowlia from Mohali.
Candidate clarifies
Zirakpur, January 9
The Shiromani Akali Dal (SAD) candidate from the Dera Bassi constituency, NK Sharma, has written to the returning officer, informing him that Krishanpal Sharma is the authorised signatory to give permission on his behalf to issue publications of advertisement in the print and electronic media.
Notice served on company
Mohali, January 9
The district election officer today served a notice on the company that had stocked around 1,000 trunks with utensil kits, carrying photographs of Punjab Chief Minister Parkash Singh Badal and a logo that reads "Raj Nahin Sewa" (no rule only service) at a unit in Industrial Area, Phase 8 B, here yesterday.
Pensioners' meeting today
Mohali, January 9
A meeting of the Punjab Government Pensioners Association will be held tomorrow at the Rose Garden in Phase 3B-1 here at 11 am. General Secretary of the association Mohan Singh said the meeting had been called to discuss the future strategy to take up the unmet demands of the pensioners.
Police to probe matter of excavating earth
Panchkula, January 9
The Pinjore police will look into the complaint of the National Highways Authority of India (NHAI) against Raghubir Chaudhary, a local resident, for excavating earth from the national highway without permission.
Goods worth lakhs destroyed in fire
Panchkula, January 9
Goods worth several lakhs were destroyed when a fire broke out at a house in Sector 26 here today. The owner of the house, Suraj Nandal, said he suspected a short-circuit to be the cause of the fire.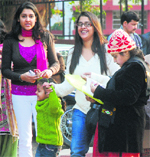 nurseryadmissions
A tale of smiles and tears
Chandigarh, January 9
The draw of lots for entry-level admission, which were announced by three city convent schools here today, was literally a tale of smiles and tears, as while many celebrated their ward's success in the draw of lots, others were left muttering about their bad luck.

The mother and relatives of a child in a jubilant mood after she got admission in a Sector-9 school in Chandigarh on Monday. Tribune photo: S Chandan



(1) Anxious parents await admission results to be displayed at St John's School in Sector 26. (2) A child who did not make it in the draw of lots walks with his mother at St John's School, (30 a happy mother-daughter duo at Sacred Heart School in Sector 26 Monday. Tribune Photos: Manoj Mahajan
12,000 to appear in CBSE exams
Chandigarh, January 9
For the second consecutive year, a majority of class-X students of the city have opted for the Central Board of Secondary Education (CBSE) conducted examinations rather than school-based examinations.
School bus operators flouting rules to face arrest
Panchkula, January 9
Following the death of 14 persons, including 13 schoolchildren, in a road accident in Ambala, the Panchkula administration has decided to take strict measures in the district. Panchkula Deputy Commissioner Ashima Brar has said in case any school bus operator is found to be flouting the rules and regulations he will be arrested and the authorities of the school concerned would also be made liable to the lapse.