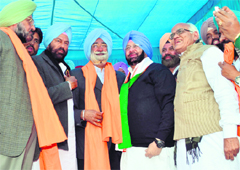 PPCC chief Capt Amarinder Singh with Bhai HS Kukku who joined the Congress in Muktsar on Friday. A Tribune photograph
Govt gives clean chit to Mand
Chandigarh, January 13
The state government has given a clean chit to Senior Superintendent of Police Vigilance, Ludhiana, Surinderjit Singh Mand, following an inquiry into allegations by PCC chief Amarinder Singh that he had carted cash to a Congress rebel in Batala.
Nail-biting contest between Badals in Lambi segment
This constituency in Malwa is set to witness a nail-biting contest among three close relatives of the Badal clan.
Poll rivals want kite to go the jumbo way
Ludhiana, January 13
The humble kite now has a political string attached to it. As the state celebrates Lohri, with kites of varying shapes soaring high in the sky, there are rumblings of protest that threaten to string along.
People here want direct rail link
Having remained at the centre stage of Punjab politics for decades, the Moga assembly segment has always been unpredictable as no major political party can claim to have an edge due to a sizable section of urban vote bank blended with religion and caste factors.
A Tribune series on government performance: agriculture
No aid, small farmer ploughed debt furrow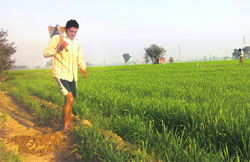 Akalis and agriculture are often said to be synonymous. Chief Minister Parkash Singh Badal too refers to Punjab as a "kheti pardhan suba" — a state where agriculture is supreme — and brings up the subject of farming at almost every public speech.


Pargat Singh of Memsa village in Dhuri, who has just an acre of land but a loan of Rs 6 lakh, says his only hope is help from his brother who has migrated to Singapore. — Tribune photo: Rajesh Sachar
Options: Loan, migration
From 38 per cent in 1980-81, the number of small farmers in the state has risen to 44 per cent. Due to small land holdings, the cost of cultivation is going up and profit margins are reducing. Pargat Singh of Memsa village in Dhuri block is just one of thousands of such farmers who claim they have often contemplated suicide. The 31-year-old Pargat has just an acre of land and has to support his wife and a son. Whatever he earns goes towards paying interest on a Rs 4.5-lakh loan he once took from the State Bank of Patiala (Dhuri). He has also taken Rs 1.60 lakh as agriculture loan. He is able to get by because his wife earns from tuitions, but their main hope is pinned on a brother who the family helped migrate to Singapore earlier. "If not for my brother's help, I would be on the road," Pargat says.
Jaitley: Will seek votes on good governance
Chandigarh, January 13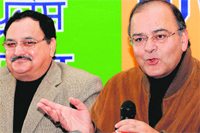 BJP leader Arun Jaitley here today applauded the SAD for good governance, saying the "SAD-BJP alliance saw one of the smoothest runs during the past five years". On a 10-day visit to Punjab to oversee campaign arrangements and to "push lazy leaders into action," he said the January 30 elections would be fought on a positive note on the agenda of development.

BJP leader Arun Jaitley (R) in Chandigarh. A Tribune photo
EC: 2 women at a time inside polling booths
Chandigarh, January 13
To encourage more women to come out and vote, the EC has allowed two women at a time inside a polling booth against the entry of a single male voter. Earlier, two voters , a man and a woman, were allowed inside at the same time.
Ex-servicemen to boycott poll
Patiala, January 13
Ex-servicemen of the district today announced that they would boycott the assembly elections. They also decided to block traffic during the Budget session of the Parliament if their demands, including one rank-one pension, parity in widows pension and implementation of the verdicts given by various courts in favour of the ex-servicemen, were not accepted.
PPP candidate gets notice over paid news
Fatehgarh Sahib, January 13
The SDM-cum-Returning Officer, Amloh, has issued a notice to Jagmeet Singh Sahota, People's Party of Punjab (PPP) candidate from Amloh assembly constituency, regarding paid news published in a Punjabi daily on January11.
VVIPs' visits have security agencies on their toes
Chandigarh, January 13
Perception of a terror attack during the Punjab polls has various security agencies on their toes, especially in view of the scheduled visits of certain VVIPs for canvassing ahead of the January 30 assembly elections. Among others, Prime Minister Manmohan Singh, All-India Congress Committee supremo Sonia Gandhi and party general secretary Rahul Gandhi are slated to canvass for their party candidates.
| | |
| --- | --- |
| Festive fire: Students of a government school celebrate Lohri in Patiala on Friday. Tribune photo: Rajesh Sachar | Union Minister of State for External Affairs Preneet Kaur with supporters, including former Mayor Vishnu, at the PPCC president Capt Amarinder Singh's election office in Patiala on Friday. Tribune photo: Rajesh Sachar |
Job, tech alternatives only way forward
Dr S. S. Gill, director of the Centre for Research in Rural and Industrial Development (CRRID), Chandigarh, says the resolve to tackle the agrarian crisis has been missing in successive governments. He says there are two ways to tackle this crisis. One is the technical solution, which increases productivity and is dependent on PAU and the Agriculture Department. This could not come about as PAU, which is starved of funds, has failed to come up with any technological break since years. The second alternative is to make small holdings viable through groupings, or taking people out of agriculture by giving them industrial jobs. Dr Gill says the government has failed in this too.
Govt says no to insurance scheme for wheat crop
Chandigarh, January 13
The Punjab government has finally decided that it would not implement the Modified National Agricultural Insurance Scheme (MNAIS) during this rabi season for the wheat crop. Claiming that insurance cover is not required for wheat crop in Punjab as it is safe, mainly because of good irrigation network. The Agriculture Department has decided against launching the scheme of the Agriculture Insurance Company (AIC) of India.
Comedian Bhagwant serious about his new role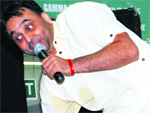 Lehra, January 13
Life has changed for popular comedian-cum-satirist Bhagwant Mann. Stepping out of the world of entertainment, he has opted for the cruel world of politics. He is the Punjab People's Party candidate against Congress heavyweight Rajinder Kaur Bhattal and former Additional DC Sukhwant Singh Sarao (SAD) from Lehra.


Sukhbir seeks time to reply on cable business
Chandigarh, January 13
The State of Punjab today claimed it was ready with its reply on Deputy Chief Minister Sukhbir Singh Badal's interests in the cable operations, but sought time to place the reply on record.
Notice issued to Chief Secretary
Chandigarh, January 13
Punjab Chief Secretary and the Home Secretary are in the dock. Taking suo motu cognisance of the state government's alleged failure to comply with its recommendations in the case of two judicial officers, the Punjab and Haryana High Court issued notice to the two authorities.