Women's sartorial choices always come under censure. Be it the Andhra Pradesh DGP's retrograde opinion on women's clothing or a hospital chain's makeover of nurses when it comes to women, the trivial always take over the serious issues concerning them
Unclothe prejudices
Ratna Raman
The monitoring and policing of women is making headlines again. The reason for such monitoring in most societies is due to the fact that despite constituting one half of the human race, women occupy the lower end of most gendered hierarchies. Women who provide essential services, working in media, BPOs or as domestic help and nurses do so in hostile circumstances, regularly travelling long distances and putting in long working hours. Instead of making the world a more secure place for women, customary practice subjects them to prurient scrutiny and focuses on extraneous detail such as the clothing they wear. Witness for instance, the Director General of Police in Andhra Pradesh, whose alarm over the issue of rape turned him into a self-proclaimed women's couture expert adept at gauging distress levels among his staff and random males.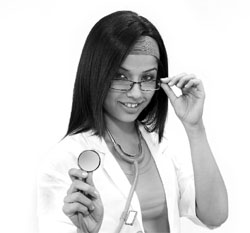 His considered opinion that women's clothing provokes rape, custodial or otherwise, is not really very different from the viewpoint of the cops who triggered off Slutwalks all over the world in recent times. The DGP's understanding of rape merely echoes a blinkered perspective, namely; women dress in order to provoke and ask for it and ergo all rape can be prevented by the simple measure of clamping down on women's clothing.
He was rightly reprimanded by our worthy home minister, but clearly the latter's deadpan expression only generated a placebo effect, for lo and behold, across the border Karnataka's Minister for Women and Child Welfare waxed eloquent on how women should dress with discretion, and know exactly how much skin to cover up since they were working on equal terms with men in today's world.
The crux of the problem is that women's rights to equitable and safe spaces within the societies they inhabit are met with prescriptions on what they should be wearing. The trouble with defining appropriate wear for women is confounded by the fact that all women have bodies. Logically, it follows that whatever women wear, attention to these very bodies will be drawn. It is impossible for women to wear any type of clothing that does not draw attention to their form.
Even unisex clothing, as has been amply demonstrated, has failed to deliver. If only women could leave their bodies behind them in safe salubrious surroundings and get on with life! This however continues to remain an untenable option.
We must remember also that provocation really lies in the eye of the beholder. Any female attribute can trigger off unsolicited lust and brutality. It could be an ankle, an eyelash, or an elbow a hemline or a silhouette or an expanse of hair, for after all, these are manifestations of the female form. So under the circumstances, maybe DGPs and ministers should be appointed by women's cells to oversee the incarceration of all men they can identify as liable. Keeping such men permanently under lock and key will ensure that women never come to any harm.
While the IG and the Karnataka minister voiced retrogressive opinions on how women's clothing could provoke rapists, Columbia Asia, a hospital chain has begun to emphasise and implement makeovers for nurses. They have hired a consultant, famous for fine tuning participants at beauty contests, to empower nurses with coordinated lipstick shades and a variety of hairstyles on a priority basis. It was reported that at private hospitals at Bangalore and at New Delhi such training for nursing staff was to become de rigueur.
Now all outpatients and in patients and their attendants at hospitals can breathe easy as only blood pressure charts and pulse rate records might show an erratic upswing requiring round the clock monitoring. Other than that, when you are in hospital prostrate with anxiety about a gland or an organ that needs to be incised , what could be more life-enhancing than a nurse whizzing by, sporting the correct muted shade of lipstick? While a loved one battles for life on a ventilator or in appendicitis hell no relief can be more therapeutic than the visual impact of a attractive hairstyle, freed from the constraint and odour of coconut oil? This is precisely what the doctor ordered when he advised admittance to hospital in case of a medical emergency.
So once more, decision makers have devalued and belittled the care giving and auxiliary services that nurses provide. They have also demonstrated unbelievable callousness with regard to the personal safety issues for nursing staff. Else why would they dare to reductively package this vital life saving support network as part of the hospitality industry? The reason for trivialising the serious business of nursing I would argue is not only because a large percentage of nurses happen to be female but also because there is an urgent need to shift the emphasis from overpriced and inadequate medical services and aftercare and this is an effective way to pass the buck with cosmetic ease.
Trained, efficient nurses who think quickly on their feet are really what most patients hope for and such as there are, fulfill their responsibilities admirably. Nurses do not need to model themselves on the lines of pageant winners in beauty contests and it is improbable that good nurses can be squeezed out genie like from the bottoms of shampoo bottles or the edges of lipstick tubes. Aruna Shanbaug's life, seared upon our national conscience, is a grim reminder of the vulnerability of nurses, who work under pressure with unenviable service conditions. Dressing up our nurses in order to unsheath male libidos is not about empowering them. Better conveyance facilities and safe working environments are really options that should be prioritised.
The consultant who opines that looking good and feeling good are essential prerequisites for effective nursing needs to wipe off the eye makeup, step out of the talcum haze and look around.
Any number of well-groomed young men and women in our public spaces display atrocious behaviour at any given time. They jump queues, talk uncivilly to the old and the disadvantaged, elbow and jostle despite designer tags, perfectly shampooed hair and matching lip accessories. This serious human deficit requires the urgent administration of soft social skills and kinder values, which unfortunately are not available on shelves that stock toiletry.
It is time we unclothed the prejudices that our minds are stuffed with and unpeeled layers of misconception and dismissed without equivocation the bogey of the inappropriately clothed woman.
The writer is associate professor, English at Sri Venkateswara College, Delhi University