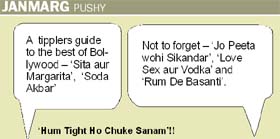 asi paper leak scam
Two constables turn hostile, dismissed
Chandigarh, January 19
The UT police has taken stern action against two constables who had turned hostile in court in the infamous ASI paper leak scam of 2008. Senior police officials have dismissed the two constables who were key witnesses in the scam, but failed to support their statements before the court and deposed against the department, thus weakening the police case.

UT estate office 'misplaces' property records
Chandigarh, January 19
The Chandigarh Municipal Corporation (MC) continues to grope in the dark with regard to the realisation of property tax from over 50 per cent defaulters among 1,848 tax payees as the estate office has "misplaced" or "lost" the relevant records.

No Padma awardee for UT yet again
Chandigarh, January 19
For third year in succession, the UT Administration 4has failed to find a 'worthy' contender for recommendation for the Padma awards, the country's civilian honour. The city has a population of more than 11 lakh, comprising a galaxy of eminent scientists, educationists, artists, theatre veterans and social workers.

siblings murder
Thought of entering house haunts me: Mother
Chandigarh, January 19
It has been a month since her teenaged children were murdered at their residence in Sector 41, but the thought of living in the same house haunts her. Malti Devi, their aggrieved mother, is presently residing at her brother's house in Sector 15 and feels traumatised at the thought of entering the house.

assembly poll
Police on tenterhooks
Mohali, January 19
Not used to aggressive checking of vehicles, especially government vehicles, the Election Commission's orders to frisk all vehicles have put Mohali policemen on their tenterhooks. Not wanting to be caught napping during a surprise check, policemen can these days be seen on roads frisking vehicles.

Candidates leave no stone unturned
Mohali, January 19
In the run up to the Assembly elections on January 30, candidates today entered the second phase of the door-to-door campaigning in Mohali. The candidates, along with their entourage, today held meetings at various markets and wen door to door in residential areas.

Criminal tracking project hits roadblock
Chandigarh, January 19
The Crime and Criminal Tracking Network and Systems (CCTNS), a Central government project for connecting all police stations and supervisory offices across the country for sharing crime and criminal information while automating the functions at the police stations, has hit a roadblock in the city.

Workshops for auto, bus drivers
Chandigarh, January 19
As part of the 23rd National Road Safety Week, the Chandigarh Traffic Police today organised workshops for auto-rickshaw drivers in front of the PGI at Sector 12 and the ISBTs at Sectors 17 and 43.

Residents protest police 'inaction'
Chandigarh, January 19
Protesting against police inaction in the case involving the alleged abduction of a 16-year-old girl, over 50 residents of Mani Majra today gheraoed the police station and raised anti-police slogans.

world heritage city status
Admn wakes up to pilferage, sale of the invaluable
Chandigarh, January 19
Chandigarh has finally decided to save its heritage. UT's senior standing counsel Sanjay Kaushal today told the Punjab and Haryana High Court that artifacts or heritage furniture would not be sold.

submission of expenditure plans
Admn to take 2 weeks more
Chandigarh, January 19
The UT Administration will take at least two more weeks to submit proposed expenditure plans to the Centre for the 2012-16 Five-Year Plan. Budget plans for the next five years, submitted by various departments, were discussed during a review meeting here yesterday. Sources revealed that the plans were yet to be finalised.

CTU officials inspect ISBT-43
Chandigarh, January 19
Chandigarh Transport Undertaking (CTU) officials today visited the Inter-State Bus Terminus (ISBT) at Sector 43 here to check facilities there. Sanitation was their prime concern. CTU manager SP Parmar paid a visit with other officials to check cleanliness.

Packaged drinking water unit sealed
Panchkula, January 19
The Panchkula drug control department has sealed a unit of packaged drinking water for flouting norms here today. The factory was being run without any valid licence, said Pooja Chaudhary, Panchkula Drug Control Officer.

spurt in crime
BJP-SAD councillors meet IGP
Chandigarh, January 19
A delegation of BJP-SAD councillors, led by BJP local unit president Sanjay Tandon, met IGP PK Srivatsava today and expressed concern over the deteriorating law and order situation in the city.

F&CC POLL
5 councillors file papers
Chandigarh, January 19
Five nominations papers were filed for elections to the Finance and Contract Committee (F&CC) of the municipal corporation today. Pardeep Chhabra and Subhash Chawla filed their papers from the Congress.

Evaluation process gives CBSE schools a headache
Chandigarh, January 19
Central Board Of Secondary Education's bid to collect Class X data electronically has left the city schools fuming. Required to fill-in over a hundred columns per child to record his/her performance, as per the board's Continuous and Comprehensive Evaluation (CCE), teachers and principals are now a harried lot.

'Econo meal' gets thumbs up at PU
Chandigarh, January 19
Out to delight thousands of campus students, Panjab University Vice Chancellor RC Sobti has decided to introduce a special pocket friendly 'econo meal' at the Student Centre. Probably inspired by the Indian Railways concept of Janta University has introduced this meal priced at rupees 20 where student will have an option between karhi chawal and daal roti.


Effort towards saving a life
Chandigarh, January 19
Social organisation Sankalp, started by the students of DAV College, have provided financial assistance of Rs 60, 000 to one-year-old Jatin, a cardiac patient, admitted at the PGI. A team of students today handed over the cheque to PGIMER for the treatment of Jatin.
Students of DAV College hand over a cheque for the treatment of a child at the PGI, Chandigarh, on Thursday. Photo By Parvesh Chauhan