Just 40 per cent weapons seized so far, EC not pleased
Chandigarh, January 18
Despite the orders of the Election Commission to ensure confiscation of weapons for peaceful conduct of elections in the state, the administration of all districts have not been able to seize more than 40 per cent of the weapons.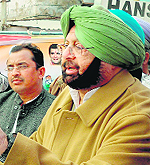 Money wasted on Sangat Darshan: Capt
Tarn Taran, January 18
Former CM and PCC chief Capt Amarinder Singh today advised Chief Minister Parkash Singh Badal to retire from politics, saying that "a man who cannot remember his age cannot be expected to do any good to Punjab". Addressing a rally in support of Congress candidate Harminder Singh Gill here, he said though the people of Punjab had made him Chief Minister four times, he did not have a single achievement to his credit.



In Malout, he attacks Manpreet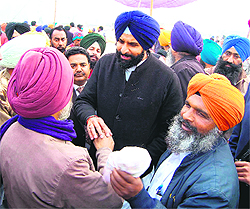 Divided Congress makes it easy for Majithia
Majitha, January 18
From a greenhorn to a dynamic politician, Youth Akali Dal chief Bikram Singh Majithia has come a long way in the past five years and in these elections, he is banking on his family legacy and the works carried out in his constituency to give a tough fight to a divided Congress here.


YAD chief Bikram S Majithia canvasses in Majitha


Bloody scuffle minutes after Rishma's rally
Patiala, January 18
There was a scuffle minutes after Rishma, wife of Congress Samana candidate Raninder Singh, left after addressing a gathering in Ward No 2 of Chiriya Mohalla late this evening. The police quickly cordoned the area and detained a few persons. Two persons, believed to be Congress workers, were injured.
SAD expels rebel candidates
Chandigarh, January 18
Acting tough against the dissidents, Shiromani Akali Dal president Sukhbir Singh Badal today expelled all the rebel contesting as Independents against the party candidates in several constituencies.


Chautalas descend on Punjab to campaign for friend Badal
Chandigarh, January 18
Even though Haryana's Congressmen are keeping their date with the Punjab election at a personal level with no takers for them at an official level, its main opposition party, the INLD has begun campaigning for the SAD in all earnestness.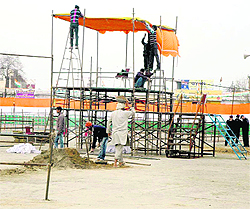 Sonia to address rallies today
Moga, January 18
Electioneering is likely to pick up pace in Punjab with Congress President Sonia Gandhi set to address rallies at Moga and Kapurthala on Thursday. Gulchain Singh Charak, in-charge, party affairs for Punjab, and Vijendra Singla, Sangrur MP, claimed that Sonia's visit would boost the morale of the candidates.



Preparations on for the rally of Congress President Sonia Gandhi in Moga. Tribune photo: Malkiat Singh

Congress will implement RTE Act: Preneet


Patiala, January 18
Addressing election rallies in rural areas of the Samana constituency, Union Minister of State for External Affairs Preneet Kaur has said that if voted to power in Punjab, the Congress will implement the Right to Education (RTE) Act. The Act makes it mandatory for the state government to provide free education to every child in the age group of 6-14.

Preneet Kaur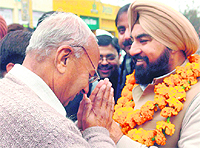 Tough battle ahead for Raj Khurana
Patiala, January 18
With three-time MLA Raj Khurana locked in a straight contest with Hardyal Kamboj of the Congress in Rajpura, it is virtually a battle for Khurana. Though, Khurana (58) is an experienced politician, having won two elections on the Congress ticket and one on the BJP ticket, this time the poll battle in Rajpura is tough.


Congress candidate Hardyal Kamboj canvassing in Rajpura on Wednesday. Tribune photo: JS Virdi

It pays to be 'dabang' in Majha
Khemkaran, January 18
It pays to be 'dabang' in the Majha region. In fact anyone who is not daring is not considered a serious contender.
Orders on Mustafa's plea on hold
Chandigarh, January 18
The Chief Electoral Officer has directed the state government to keep an eye on the activities of ADGP Mohammad Mustafa, pending a decision by the Election Commission on his medical leave plea.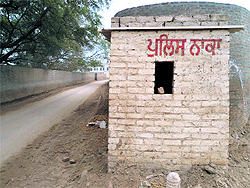 High-profile village low on security
Badal (Muktsar), January 18
Though the state police has been directed to remain extra vigilant till the completion of the election process, police pickets set up in the Chief Minister's native village, Badal, remain empty. The security scenario in this tiny village, which is located close to the Punjab-Haryana border and is home to a number of VVIPs, seems to be dismal.


An unguarded police picket at Badal village in Lambi.

Sukhbir's escort vehicle hits bike
Ludhiana, January 18
A motorcycle collided with Deputy CM Sukhbir Badal's escort vehicle near Sidhwa Kalan on the Jagraon-Ludhiana highway on Ferozepur road, 25 km from, here this evening. Sukhbir was returning from Moga after attending a party workers' meeting. He escaped unhurt.
Health dept asks food units to get registered
Patiala, January 18
In order to provide quality food to Patiala residents, the Health and Family Welfare Department has made it mandatory for those manufacturing and selling food products for human consumption to get registered by January 31.
Unaccounted Rs 2 crore recovered in Sirhind
Fatehgarh Sahib, January 18
The district police today recovered unaccounted money worth Rs 2.03 crore from a Mahindra Bolero during checking on the GT Road in Sirhind.
Ex-boxer held for robberies
Patiala, January 18
The police today arrested a former national-level boxer from Haryana, among five robbers.