Heavy snow good for fruit belt: Scientist
Mandi/Kullu, January 18
The two recent spells of heavy snowfall have set the stage for a "near disease-free healthy environment" in the Mandi-Kullu-Shimla-Chamba-Kinnaur belt, the state's fruit bowl, say farmers and a scientist.
Govt may allow two storeys in green belts
Shimla, January 18
Plot owners who acquired land in the 17 green belts of the state capital before the notification designating these as a no-construction zone was issued in 2000 can now heave a sigh of relief as the government intends allowing them raising two-storeyed residential structures, provided not a single tree is felled.
Govt has failed to restore roads, power supply: Congress
Shimla, January 18
The Congress has lambasted the state government for its failure to restore roads and power supply after snowfall as a result of which people are facing untold hardships, particularly in upper Shimla and interior of Kullu district.
Efforts on to control monkey population: CM
Didwin Tikkar (Hamirpur), January 18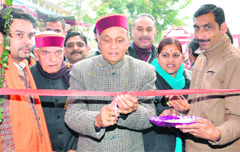 Chief Minister PK Dhumal has said the state government was making every effort to control the monkey population in the state.






Chief Minister PK Dhumal inaugurates the science block at a government school at Didwin Tikkar in Hamirpur on Wednesday.
Unite on dist status for Nurpur: MLA
Nurpur, January 18
Local MLA Rakesh Pathania, while launching the construction of the Rs 65-lakh Harad-Haar link road in nearby Khazan gram panchayat today, exhorted villagers to join hands on the issue of granting district status to old Nurpur subdivision.
Central varsity delays PhD admissions
Dharamsala, January 18
The Central University of Himachal Pradesh has delayed admissions to its PhD programmes till June this year. Sources told The Tribune that the delay was due to the non-availability of senior faculty in the university. Though the university started functioning two years ago, senior faculty is yet to be recruited.
SFI threatens to launch stir against proposed fee hike
Kangra, January 18
The Students Federation of India (SFI) today threatened to resort to a statewide agitation if any hike in the fee structure was imposed as proposed by the Resource Mobilisation Committee (RMC) of Himachal Pradesh University (HPU).
'Streamline functioning of temple trusts'
Bilaspur, January 18
The HP state Congress has criticised the functioning of temple trusts controlled by the government through its officers. It has demanded that the government should take suitable steps to streamline the management of all these trusts.
Bungling in purchase of pulses under PDS: Minister
Dharamsala, January 18
Minister for Food and Civil Supplies Ramesh Dhawala has admitted to bungling in the purchase of pulses under the public distribution system (PDS) in the state.
737 proclaimed offenders in state
Shimla, January 18
Una, one of the small districts of the state, has the highest number of 159 proclaimed offenders (POs) evading the police.
Illegal mining: No case detected by PWD in 1 year
Solan, January 18
Even as the government had authorised officials of various departments, including the PWD, IPH and Forest, to check illegal mining in the state, not a single case was detected by PWD officials in the past about a year.
One killed as car rolls down into nullah
Mandi, January 18
Pratap Singh of Sidhayani died on the spot when the hired private car (HP 33 B 2221) he was driving rolled down 50 m into a nullah under Sarkaghat police station today.
Elderly man found dead in house
Mandi, January 18
An elderly man Devi Saran of Parlok village under Karsog police station was found dead in his house under mysterious circumstances. The police has registered a case of murder and house breaking (Sections 302 and 460, IPC) on the complaint of his son Keshav Ram.
Leopard cub caught
Bilaspur, January 18
A three-month-old cub of a leopard was caught by forest officials with the help of villagers at Harlog village in the Kooh Manjhwaad gram panchayat yesterday. The cub seems to be afflicted with some wild animal disease and thus abandoned by its mother.