Rohtang Tunnel Project
Workers, engineers brave biting chill to meet deadline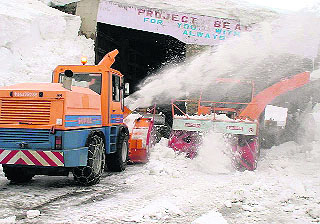 Manali/Dhundi, January 10
Braving the freezing Himalayan winter chill, workers and engineers engaged in the construction of the strategic 8.82-km-long Rohtang tunnel in the mighty freezing Rohtang mountains, are an unfazed lot, carrying on work day and night to meet the 2014 target of linking the south and north portals.
Machineries clear snow at the south portal of the Rohtang tunnel at Dhundi, 25 km from Manali, on Tuesday. Photo: Kamaljeet

Fertiliser shortage has farmers worried
Shimla, January 10
Shortage of fertilisers, particularly super phosphate, potash and urea, is causing worry to both farmers and fruit growers who have been waiting for snow and rain to start the field operations.
Bilaspur, Solan truck unions' strike enters 10th day
Bilaspur, January 10
Uneasy calm prevails at Shalughat on the main gate of JP Cement factory, 50 km from here, as the strike by all five truck unions of Bilaspur and Solan districts, doing loading work at this factory, entered the 10th day today.
Tacit understanding between Cong, CPM, says BJP
Shimla, January 10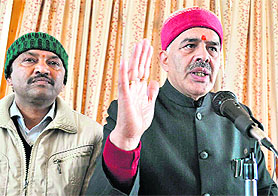 The ruling BJP today lashed out at the Congress for failing to take any effective steps to check the exorbitant prices of cement while it was in power when the three cement factories in the state came into production. Addressing a press conference here today, state BJP spokesperson Ganesh Dutt said today that the Congress had no moral right to speak on the issue of the cement prices in the state.
Ganesh Dutt, spokesperson, BJP, addresses mediapersons in Shimla on Tuesday. A Tribune photograph

Election of 2 panchayat representatives set aside
Nurpur, January 10
Local SDM Rakesh Verma, after hearing the petitions filed against two winning representatives of Panchayati Raj institutions in this sub-division, set aside their elections on Tuesday.
Nitin Gadkari's team surveys Mandi, Kullu
No party ticket for 'non-performers'
Mandi/Kullu, January 10
On a mission to identify party's "non-performers", BJP observer for Mandi and Kullu Ram Vilas Sharma urged MLAs and ministers to come up to the expectations of the public before staking their claims for party ticket in 2012 as BJP chief Nitin Gadkari had warned the partymen in the state to perform or perish.
Nauni university appoints officials
Solan, January 10
The authorities of the Dr YS Parmar University of Horticulture and Forestry, Nauni, in a late evening exercise has issued orders appointing Director (Extension) and other officials last evening. As per the notification, Dr NB Singh, who is the Head and Professor of Agro Forestry, has been appointed Director (Extension). Since the interviews could not be conducted for these posts, the authorities had undertaken a cursory exercise of granting dual charge of this crucial post.
Goods worth Rs 20 lakh destroyed as lightning strikes mobile tower
Palampur, January 10
Electrical and electronic equipment worth Rs 20 lakh was destroyed when lightning struck a mobile tower at the Sulaha and Nanon area of Palampur subdivision last night. It is reported that at 11.30 pm last night a mobile tower and its equipment installed in the village was completely destroyed when lightning struck the tower. Besides, electric wiring of several houses in the area was also damaged. However, no loss of life was reported. The caretaker of the mobile tower was on leave when the incident happened.
Enhance credit flow to agri sector: Principal Secy
Shimla, January 10
Shrikant Baldi, Principal Secretary, Planning and Finance, today stressed the need for enhancing credit flow to the agriculture sector in view of the fact that the percentage contribution of agriculture and allied sectors in the total State Domestic Product (SDP) had witnessed a declining trend.
Traffic remains disrupted in Mandi district
Mandi/Kullu, January 10
Over a dozen bus routes in Karsog, Janjheli and Gara Gushaini in Mandi district and Barshaini and Talang in the Lug valley in Kullu district remained cut off from the district headquaters for the third consecutive day today as the PWD is yet to clear the roads of snow.
Helicopter sorties for tribal areas
Shimla, January 10
In order to provide connectivity to people residing in the snowbound tribal areas, the state government today started helicopter flights from the Bhuntar airport near Kullu.
Woman dies of burn injuries
Kangra, January 10
A 25-year-old housewife succumbed to her burn injuries at the DRPGMC Tanda today. She was undergoing treatment in the hospital since January 4 last, the police said.