Biggest-ever haul of stolen vehicles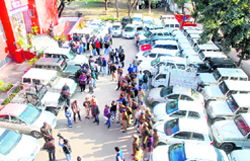 Chandigarh, January 10
The UT police today made its largest-ever seizure of stolen vehicles by recovering 58 vehicles (mostly Boleros and SUVs) and bikes of different makes from six members of an inter-state gang.



The 58 stolen vehicles that were recovered by the Chandigarh Police, displayed at the Sector-3 police station on Tuesday. Tribune photo: S Chandan
GRAFT CASES
MC dismisses 2 employees
Chandigarh, January 10
The Municipal Corporation here today dismissed its two employees, Suraj Bhan, senior assistant at the Manimajra tax branch, and Sulakshan Goel, a junior engineer, as they have been convicted in bribery cases. MC Commissioner Prerna Puri issued the orders of their dismissal.
Sec-9 filling station raided
Chandigarh, January 10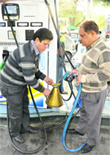 Five days after the Adviser marked a vigilance inquiry into the siphoning off of fuel from the CITCO-run filling station in Sector 9, a team of officials from the vigilance cell, the weights and measures department and Bharat Petroleum swooped down on the premises this afternoon to check the reported pilferage of over 16,000 litres of fuel, both petrol and diesel.



An official checks the quantity of diesel during a raid at the CITCO-run filling station in Sector 9 of Chandigarh on Tuesday. Tribune Photo: Parvesh Chauhan
Carcass reaches garbage plant
Chandigarh, January 10
The municipal corporation (MC) may have set an example by installing a garbage-processing plant at Dadu Majra, but the failure of the authorities in a policy on the segregation of garbage has tarnished it.
650 MC posts still lying vacant
Chandigarh, January 10
Fully aware of the staff shortage in the municipal corporation (MC), which has been hampering development works, the UT Administration is not sanctioning the 650 posts which have been lying vacant for a long time.
Kajauli to Sukhna's rescue
Chandigarh, January 10
Chalking out an innovative mode, the UT Administration has proposed bringing water from the Kajauli waterworks to the Sukhna Lake, particularly during winters, to tide over the water crises.
Surgery for Parkinson's at pgI SOON
Chandigarh, January 10
The PGI will soon start deep-brain stimulation (DBS) surgery, which is also known as the pacemaker for the brain, for patients with Parkinson's disease who do not respond to medicines.
Notices to 2 hospitals
Mohali, January 10
The Special Investigation Team (SIT) of Mohali Police, constituted to probe the kidney scam, today served notices on the two hospitals, Surya Kidney Centre, Sector 69, and Silver Oak Hospital, Sector 64, to produce records of the transplants done till date.
Pvt vehicles banned in Chhatbir Zoo
Zirakpur, January 10
The Chhatbir Zoo authorities have banned the entry of all petrol and diesel vehicles to the premises of the zoo from January, 2012, and only battery-operated ferries would be allowed.
Threat to Panchkula ZP chief's post
Panchkula, January 10
The seven members of the Zila Parishad, who are likely to bring a "no-confidence motion" against Panchkula Zila Parishad Chairman Rajesh Kona, are still underground even as only six days are left for the next meeting of the parishad to be held on January 16.
Kang richer by Rs 5.65 cr since last poll
Mohali/Dera Bassi, January 10
One of the prominent realtors of the region, NK Sharma, who is the SAD candidate from the Dera Bassi assembly segment, has assets worth Rs 6 crore (including the assets of his wife) and surprisingly does not own a single car compared to the veteran politician and former Cabinet minister Jagmohan Singh Kang, the Congress candidate from Kharar, who has assets worth over Rs 17 crore (including the assets of his wife).



(1) Jagmohan Singh Kang after filing his nomination papers from Kharar in Mohali on Tuesday. Tribune photo: Vicky Gharu (2)SAD candidate Narinder Kumar Sharma files his papers from Dera Bassi on Tuesday. Photo: Parmod Mehta
'Akalis misleading people'
Mohali, January 10
Congress candidate from Mohali and MLA Balbir Singh Sidhu continued to hold meetings in different sectors of the city. He said the Akalis were misleading the people and actually they had done nothing in favour of Mohali. Although he was in the Opposition, he managed to spend 3.5 crore on the progress of Mohali and welfare of its residents. Efforts made by him are vital and the residents themselves have witnessed it also, he said.
Voice recordings to be used against kidnapper
Panchkula, January 10
To strengthen the case against Ravinder Singh Gill, who was involved in three cases of kidnapping in Chandigarh, Panchkula and Mohali, the local police would soon match his voice with earlier voice recordings which were made during the kidnappings.
Safai sewaks urged to work properly
Mohali, January 10
The Administrator of the local Municipal Council, JC Sabharwal, has urged the safai sewaks of the civic body to clean the area assigned to them in a proper manner so that no complaints are received in connection with the state of sanitation.
Ward committees
Give names by Jan 13: MC
Chandigarh, January 10
The municipal corporation (MC) has asked all elected councillors to submit the proposed list of members for ward committees by January 13. In a communication sent by the MC Secretary to all elected councillors, it asked them to list 10 names each from their respective ward which they want to be considered for the ward committee.
Nights to be colder: Met
Chandigarh, January 10
The cold wave continued today, forcing residents to remain indoors during morning and evening hours. There was no change in day and night temperatures.


Nursery Admissions
High drama at St Anne's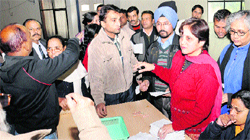 Chandigarh, January 10
Having "managed" to maintain their poise till now, parents whose wards could not make to the fourth and last city convent school, St Anne's, Sector 32, ended up creating a high drama accusing the school authorities of not having putting their chits in the draw.

Agitated parents argue with officials of St Anne's School in Chandigarh on Tuesday. Tribune photo: Manoj Mahajan
PGCG-42 gets new IT block
Chandigarh, January 10
KK Sharma, Adviser to the Administrator, inaugurated the new information technology block at the Postgraduate Government College for Girls, Sector 42 (PGCG-42), that has come with a cost of Rs 3.34 crore.
Winter Vacations
Notice served on DEO, DPI
Chandigarh, January 10
A local court here today issued notice to the district education officer (DEO) and director public instructions (DPI), Chandigarh, on a public interest litigation (PIL) regarding the winter vacations of the city schools and their timings.
Blow to PU's self-professed image
Chandigarh, January 10
In what is bound to exaggerate its misery of having lost on the status of potential for excellence and UGC grant of Rs 50 crore, is the fact that Panjab University (PU) scored the least in terms of academic standards, research, examination system, students and staff quality.