1 lakh people 'missing' in census report
Chandigarh, January 25
About one lakh persons have gone 'missing' from the city in less than one year. This is what the report of the socio-economic caste census is projecting.
Where are 1 lakh people?
Chandigarh, January 25
About one lakh persons have gone 'missing' from the city in less than one year. This is what the report of the socio-economic caste census is projecting.
Civic body to work on proposed budget again
Chandigarh, January 25
The municipal corporation (MC) called a meeting today to rework the proposed budget for the Rose Festival, scheduled to be organised from February 24 to 26. The meeting was chaired by MC chief engineer SS Bidda.
Eight get police medal
Chandigarh, January 25
Eight police personnel will be awarded the Administrator's Police Medal for distinguished or meritorious service on the occasion of Republic Day.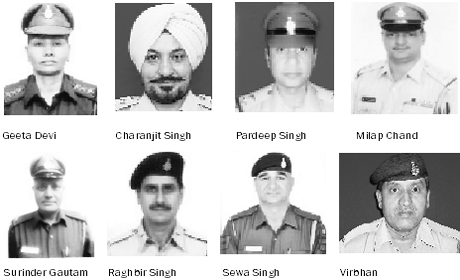 Two BSF DIGs awarded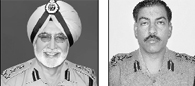 Chandigarh, January 25
Jagat Singh, Deputy Inspector-General (DIG), Border Security Force (BSF), has been decorated with the President's Police Medal for Distinguished Service on the occasion of Republic Day.
Jagat Singh and Pardeep Katyal
Constable gets gallantry medal posthumously
Panchkula, January 25
The Police Medal for Gallantry (posthumously) has been awarded to Constable Suresh Kumar of the Ist Bn HAP, Ambala. Suresh, a resident of Mustfabad village in Yamuna Nagar district, was stabbed in his chest when he tried to apprehend two accused involved in auto lifting on August 24 last year. Suresh did not let the accused flee away. Later, he died on way to the hospital.
scam in civic body
Vigilance bureau raids MC president's house
Panchkula, January 25
A team of the state vigilance bureau has raided the house of Pinjore municipal committee president Kuldeep Singh Kikka and others who have been found accused in a scam worth crores of rupees in the civic body at Pinjore near here today.
assembly poll
2 days to go, campaigning in full swing
Mohali, January 25
Punjabi singer and actor Harbhajan Mann today campaigned door-to-door for SAD candidate Balwant Singh Ramoowalia in Mohali. He called upon voters to vote for the image and experience of the candidate. He said like he always promoted Punjabi culture and heritage, Balwant Singh Ramoowalia always helped the poor and needy people of Punjab. Earlier in the day, Balwant Singh Ramnoowalia went around in different villages.
Sukhbir Badal to address rally for NK Sharma
Zirakpur, January 25


Shiromani Akali Dal (SAD) president Sukhbir Singh Badal will address a rally in favour of NK Sharma tomorrow in Baltana. While holding rallies in the Dera Bassi constituency, NK Sharma said the area had witnessed unprecedented growth in recent times and it had always voted for the combine in the past and this time, too, the history is going to be repeated in the area.
Sukhbir Singh Badal
Sachin Pilot backs Jasjit Randhawa
Election department seizes Rs 46 lakh
Mohali, January 25
A static team of the election department today seized Rs 46 lakh during frisking of vehicles at the Phase III-A naka. The money was being taken to fill ATM machines but official carrying the money could not furnish any documents at the spot. The money was handed over to the Income tax department.
300 bottles of liquor seized
Mohali, January 25
As the additional election officer-cum-Additional Deputy Commissioner, Mohali, Mohammad Tayyab, carried out a surprise check at liquor vends to check the illegal distribution of liquor during the Assembly elections, a surveillance team, led by Duty Magistrate Devinder Singh, seized 300 bottles of different brands of Indian Made Foreign Liquor (IMFL) from a country liquor vend at Jagatpura.
Candidates' posters leave Zirakpur defaced
Zirakpur, January 25
In sheer violation of the guidelines issued by the Election Commission of India, posters of candidates have left Zirakpur defaced. However, an official of the Zirakpur Municipal Council has claimed that they had removed hoardings and posters from the town in the past 20 days.
Workers, councillors of BJP join PPP
Fatehgarh Sahib, January 25
Giving a boost to the campaign of PPP candidate Didar Singh Bhatti, certain BJP workers and councillors yesterday resigned from the party and joined the PPP.
Cong campaign leaders elusive
Fatehgarh Sahib, January 25
The district campaign committee of the Congress, comprising Lakhbir Singh Rai, who withdrew his nomination in favour of the official Congress candidate, and Amrinder Singh Libra, an aspirant of Congress ticket, is yet to become active in the absence of both these leaders from the Fatehgarh Sahib Assembly constituency. Their absence has not only created confusion among their supporters but has also been widely discussed in political circles.
Notice to SAD candidate
Dera Bassi, January 25
Returning officer-cum-SDM of Dera Bassi Rajesh Tripathi yesterday served a notice on SAD candidate Narender Kumar Sharma for holding a rally without permission and bringing schoolchildren to the rally.
Threat to blow up airport
Chandigarh, January 25
A day after a threatening letter was received at a newspaper office, threatening to blow up the DC office, another threatening letter to blow up the Chandigarh airport was received today.
Youth falls to death
Chandigarh, January 25
Ishan Thakur (22) died this evening after falling from the balcony of his rented accommodation. Hailing from Manali, he had been staying with his friend at a house in Sector 23.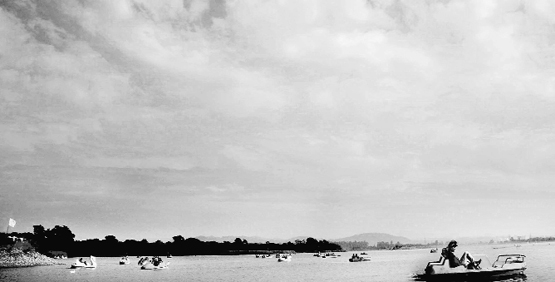 People enjoy boating under the cloudy sky at the Sukhna Lake in Chandigarh on Wednesday. Tribune photo: Manoj Mahajan
Education dept receives only 1,200 applications
Chandigarh, January 25
There are no takers for nursery admission in government schools of Chandigarh, as out of total 2,500 seats, the education department has only received around 1,200 applications.
Skit, collage-making mark Psycho Fiesta
Chandigarh, January 25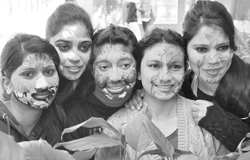 The Psycho Fiesta, an infotaining manoeuvre of MCM DAV College for Women, was celebrated today with a renewed fervour and vivacity. Experts from the field of psychology and psychiatry were present on the occasion. The event encompassed a surfeit of infotaining activities and inter-college competitions.

Girls sport painted faces during the Pyscho Fiesta at the MCMDAV College in Sector 36 of Chandigarh on Wednesday. Tribune photo: Parvesh Chauhan