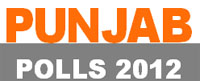 5 years of populist performance
Concluding with a round-up of the series on review of the present SAD-BJP government's performance, The Tribune finds the alliance ensured success in areas that would have a direct impact on votes. Many long-term yet critical problems were not addressed, or were even made worse, especially finance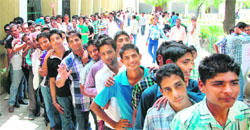 Often in queue for college admissions or employment, these youths are also going to be lining up to cast their vote on the day of elections.
INFRASTRUCTURE
Showcase development
SUCCESS: The five years saw a flurry of road and bridge construction, besides a few super-specialty hospitals. Many projects are still underway. Sewerage projects were initiated in many small towns. Successfully introduced the public-private partnership mode of investment against some initial resistance.
FAILURE: Urban infrastructure failed to take off, with the government not even able to take benefit from the Centre's Jawaharlal Nehru Urban Renewal Mission. The major reason was non-availability of funds for cities and towns after octroi was abolished. Basic amenities in cities like roads and sewerage remained in bad shape.
ADDING UP: The government has plenty to showcase, with broad new roads, and a few shiny hospitals and five-star hotels, but experience at the level of the individual in terms of civic amenities remained unpleasant. This happened because the government had very little of its own funds, and nor could it make use of Central schemes. Most of the funding came under the PPP mode, which serves mostly heavy infrastructure, and it is the people who end up paying for it.
POLLUTION
Dark and deep
SUCCESS: Common effluent treatment plant set up for electroplating units in Ludhiana; partially functioning in Jalandhar. Process of setting up sewerage treatment plants for 50 towns initiated. Production of polythene bags below certain thickness banned, as also early sowing of paddy. Bio-medical waste segregation started.
FAILURE: Dyeing units of Ludhiana continue to release effluents untreated. Auto emissions continued unchecked. Untreated sewerage and effluents from around a hundred towns continue to flow into rivers, causing toxicity downstream.
ADDING UP: The government showed political courage in checking early sowing of paddy, but where funds were required to set up treatment plants, it failed. It even failed to utilise all of the aid available from the Centre for the purpose. Some action in Jalandhar was more a result of the pressure built by environmentalist Baba Balbir Singh Seechewal.
INDUSTRY
Couldn't shed 'unfriendly' tag
SUCCESS: The government brought out a 'new industrial policy', introduced online filing of VAT, and set up three boards for large and small/medium industries and traders. Sanctioned Rs 51,000 crore worth of mega projects, though only Rs 10,000 crore came in. Investment of Rs 15,000 crore came in other forms.
FAILURE: The promised land bank for industry never materialised, keeping away investors owing to high land prices. Lack of adequate power supply too kept away fresh investment. Failure to train the youth as per the industry's needs kept manpower in short supply.
ADDING UP: The government spent a lot of energy on condemning the incentives to neighbouring hill states for robbing Punjab of investment, despite the fact that it was a decade-old issue. No real ways to overcome the hurdle were found. A major reason for investment staying away, however, was the perception that clearances were not all above board, especially in the absence of single-window approvals.
YOUTH
Frustration brewing
SUCCESS: The government claims it filled 1.15 lakh vacancies in government offices. During the five-year tenure, at least three top-end higher education institutes were opened in the state. Also, a large number of private colleges were opened.
FAILURE: With little growth in industry, there was no demand to absorb the estimated 25 lakh unemployed youth in the state. What few jobs were there also went to migrants, as the education available here was not appropriate to the industry's needs. Under the circumstances, many a young man has taken to drugs.
ADDING UP: The policy of promoting private education has given an impetus for future human resource development, but before industry develops, and loans become available, not many from the rural areas would be able to afford higher education. The immediate need is to find employment for rural youth who cannot be accommodated in farming anymore.
SOCIAL WELFARE
Taking the belly way
SUCCESS: Many schemes for the poor were launched by the government, and a particular success was the atta-dal scheme that gave subsidised food. Shagun scheme for poor brides and free domestic power supply for BPL families were the other benefits widely praised by the economically weaker sections.
FAILURE: Scams in the Shagun scheme, and interference from local-level leaders of the SAD in directing the distribution of benefits under various schemes marred the initial years of the government. Schemes for house-building aid and toilets for the poor were also a disaster.
ADDING UP: The success of the atta-dal scheme and free power for poor alone would be enough for the poor to overlook the deficiency in some of the other schemes. Impressed, the Congress too has promised to continue the benefits. The subsidy bill, however, does not seem to be anyone's concern.
EDUCATION
Half way there
SUCCESS: The biggest achievement was recruitment of more than 50,000 teachers, a desperately needed step. New schools were opened and many old ones upgraded. Large number of technical colleges opened in the private sector.
FAILURE: Sudden recruitment of a huge number of teachers resulted in poor quality of those hired, which led to the quality of teaching falling in government schools. The curriculum in schools has remained archaic. It is thus not encouraging learning and is inappropriate as a base for higher education. Technical colleges are finding it hard to fill seats, as they lack both good faculty and applicants.
ADDING UP: First things first, the government deserves credit for arranging the basics of education - schools with teachers in them. The next target can be quality. Still, little is being done to encourage science education at senior-school level. The result is very poor quality of students for higher technical education, which is affecting the employability of the state's youth.
POWER
A beginning made
SUCCESS: Construction of three power plants is underway in Punjab, raising hope of increased power supply in coming years. The power cut situation was relatively better through the SAD-BJP government's tenure. It was able to supply free power to the farm sector, as promised.
FAILURE: The basic promise of arranging "surplus power" by the end of its tenure was grossly missed. Ensuring supply in summer months cost a huge amount as power had to be purchased from the open market. Free power to farmers and the poor led to a huge subsidy bill, and brought the power utilities to near bankruptcy.
ADDING UP: The government may be criticised for making the ambitious promise of surplus power, but it did initiate new generation projects, something that had not been done in a long while. But the populist policy of free power is killing the state financially, and also leading to many Central funds being denied.
FINANCE
Red all over
SUCCESS: The year 2010-11 saw a remarkable 44 per cent jump in tax collections, largely on account of value-added tax, excise and stamp duty. Abolition of octroi was also hailed by the business community.
FAILURE: Public debt rose from Rs 48,000 crore in 2006-07 to Rs 77,000 in 2011-12. No way was found to pay the subsidy bill, which continued to bleed the state. Inability to contribute the state's share in many Central schemes led to funds being denied. The state's own receipts are not even enough to pay for fixed annual expenses such as salaries.
ADDING UP: The policy of populist expenditure smacks or irresponsibility and political expediency. The state is going under increasing debt, reducing its credit worthiness and raising the cost for future generations. A lot of expenditures were financed by selling off prime government land, which is a one-time gain at best. But with the Opposition too showing no inclination of curtailing such expenditure, the ruling party can hardly be blamed.
WOMEN
Lip service
SUCCESS: For the first time, the government got serious about curbing female foeticide, marginally improving the child sex ratio. Scheme to give Rs 1,000 to women delivering in hospitals and bicycles to senior-school girls gave attention to basics of health and education.
FAILURE: The high rate of crime against women saw no decline. Overall, as no promise had been made for women in the manifesto, not much attention was paid to their social issues.
ADDING UP: What little was done is only lip service if one looks at the lot of women in society. Apart from empowering them with education, especially higher education, and jobs, massive effort towards public awakening on their needs has to be made. It is because women do not figure prominently in the political scheme of things that no party has paid much attention to their uplift.
AGRICULTURE
Stuck in conventional mode
SUCCESS: The SAD-BJP government stuck to its promise of free power to farmers despite all odds. Land acquisition policy was made farmer friendly. Early variety of paddy was banned, a major step. Amendment of the forest Act gave relief to many. Canals were repaired.
FAILURE: Small farmers remained under debt, and the families of those who committed suicide were given no relief. As no attempt at diversification was made, ways to generate greater income from small holdings could not be found.
ADDING UP: Despite the SAD being a party that depends heavily on the farmer community, it did little to think out of the box for them. For any ill, it just blamed "poor MSP" paid by the Centre, despite the fact that MSP saw the highest rise during the UPA's tenure. No alternatives to the conventional modes of agri-business were found. Its bias towards the arhtiya system did not allow direct payment to be paid to farmers.
GOVERNANCE REFORMS
Commendable, even if late
SUCCESS:The single greatest achievement in this direction is the enactment of the Punjab Right to Services Act, meant to ensure people receive services in various government offices in a time-bound manner. Irritants such as affidavits have been done away with.
FAILURE: The execution of the promise came too late in the day — last year of the government's tenure. As such, there was little time to implement the Act on the ground.
ADDING UP: Planning the reforms took a long time, as there was tremendous resistance from the bureaucracy. Credit must go to the government for overcoming that. There may be staff shortage and other hassles, those can be overcome in time, but a paradigm shift in approach towards red tape has been made.