Centre, not state, failed to perform its duty: Badal
Bholath, January 20
A day after Congress president Sonia Gandhi accused the SAD-BJP alliance of having "failed" to use the central grants, Chief Minister Parkash Singh Badal today said it was the UPA regime, not the state government, that had fared "poorly" in terms of performance.
Akalis have sectarian mindset: Capt
Jagraon/Khanna, January 20
Punjab Congress chief Capt Amarinder Singh, addressing a public rally at the Grain Market in Jagraon today in support party candidates Isher Singh Meharban, said that the Akalis were yet to overcome their sectarian mindset.
Bomb hoax ahead of Congress rally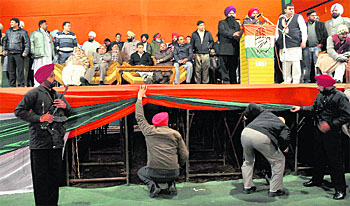 Ludhiana, January 20
Panic gripped those present at Congress' Gyaspura rally ahead of PPCC chief Capt Amarinder Singh's rally today after an anonymous caller claimed he had planted a bomb. However, the call turned out to be a hoax. After the call, the police sounded an alert and rushed its teams to the venue.
Cops during a search operation minutes before Capt Amarinder Singh was to arrive in Giaspura. Tribune photo: Himanshu Mahajan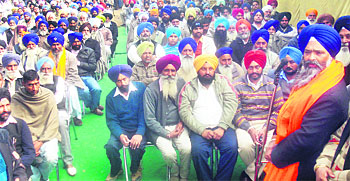 Campaign trail:
Fatehgarh sahib
Chandumajra fights 'outsider' tag
Fatehgarh Sahib, January 20
The Fatehgarh Sahib constituency is witnessing a quadrangular battle in the Assembly elections.
Prem Singh Chandumajra canvassing at Mulepur village in Fatehgarh Sahib on Friday. Tribune photo: Rajesh Sachar

Sukhbir attacks Amarinder for 'puerile' remarks against CM
Ratta Tibba (Muktsar), Jan 20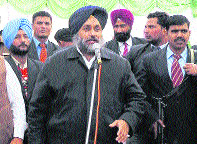 Deputy Chief Minister and SAD president Sukhbir Singh Badal today challenged PCC chief Capt Amarinder Singh to run a campaign as assiduously as his father, CM Parkash Singh Badal, for just three days. "Amarinder is only revealing his frustration with statements that the CM can't move without support (a reference to his old age). If he really wants to know who is weak, he should try running a campaign parallel to Badal Sahib's for just three days and we will know who is weak," said Sukhbir, campaigning for his father in the Lambi constituency today.
Campaign trail Khadur Sahib

Brahmpura treads with caution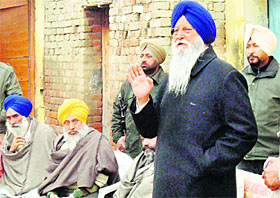 Khadur Sahib (Tarn Taran), January 20
Punjab Rural Development Minister and SAD stalwart Ranjit Singh Brahmpura is testing waters from this new constituency though his native village falls in the area. He is pitted against Ramanjit Singh Sikki of the Congress. Defying age, this grand old man of Akali politics is campaigning hard from morning till night, addressing 10 - 15 public meetings daily and seeking the people's mandate on the developmemt plank.

RS Brahmpura addresses a meeting at Sheikhchack village in Khadur Sahib.


Poll snippets
Badal campaigns for Sekhwan
Kahnuwan: Chief Minister Parkash Singh Badal on Friday gave a booster dose to Education Minister SS Sekhwan's campaign when he addressed a gathering at the grain market here. Kahnuwan falls in Qadian Vidhan Sabha seat from where Sekhwan is locked in a triangular contest with Charanjit Kaur Bajwa, wife of Gurdaspur MP Partap Bajwa, and Congress rebel SS Chottepur. — Ravi Dhaliwal

Akalis offered me money to keep mum: Slapgate victim
Gidderbaha, January 20
Varinder Kaur, the Education Guarantee Scheme (EGS) teacher who was allegedly slapped by an Akali sarpanch recently, has claimed the SAD leadership had offered her money to stay mum after the incident.


Youth outfit extends support to Congress
Patiala, January 20
The Secular Youth Federation of India (SYFI) has extended its support to the Congress in Punjab. While announcing support to the Congress at Samana in the district, SYFI national president Yadwinder Singh said that the Congress was working for the betterment of the youth, following which the federation had decided to extent its support to the party.
Give young Warring a chance, says Bhattal
Gidderbaha, January 20
Congress Legislature Party Leader Rajinder Kaur Bhattal here today accused the SAD-BJP government of looting the state during its five-year rule.

Graft case against Raj Khurana
CBI needs more time for probe
Patiala, January 20
In a major relief for former Chief Parliamentary Secretary, Punjab, Raj Khurana, the CBI has made it clear that they need more time to complete investigations in the graft case against Khurana. He is the BJP candidate from Rajpura.
This 'Ravana' is back to his akhara
Pathankot, January 20
Sitting BJP legislator Master Mohan Lal and Congress rebel, former MLA Ashok Sharma, seem personalities straight out of L.Sprague de Camp's 'The Colourful Character'. And like its protagonist Gregory Lawrence, both are mavericks in the true sense of the word. Both Sharma, an advocate by profession, and Master Mohan Lal, have been playing "Ravana" and "Ram" at Ramlilas and for three decades their stage performances have been the talk of the town and helped them move to the political stage.
EC defers decision on Tax Act

Chandigarh, January 20
The Election Commission has deferred the proposal to issue an ordinance regarding amendments in the Punjab (Institutions and other Buildings) Tax Act: 2011 until the completion of the election process. Usha R. Sharma, Special Chief Electoral Officer, Punjab, said the Chief Electoral Officer had transferred Balkaran Singh, XEN, Mandi Board, Gurdaspur, and Devinder Singh, SDO, Mandi Board, Fatehgarh Churian, on complaints of non-compliance of official orders. Tarsem Raj, XEN, and SDO Jagjit Singh had been posted in their place. She said that Gursharan Singh Khaira, XEN, Power Com, Khadur Sahib, had also been transferred with immediate effect.
Govt warns of action for leaving place of posting
Patiala, January 20
The Punjab government has issued an advisory to all heads of departments, boards and corporations to check the practice of government officials leaving their place of posting in the evening to reach their homes in nearby districts. The advisory was issued with a strict warning.