No visible wave, parties on tenterhooks
Dera, PPP main factors
SP Sharma
Tribune News Service


malwa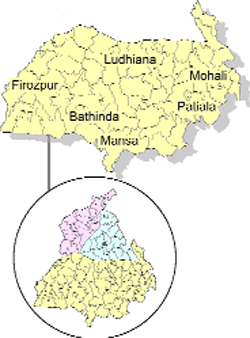 Bathinda, January 29
With Malwa accounting for 68 of the total 117 assembly seats, this region is the main electoral battleground where the fate of Chief Minister Parkash Singh Badal, Deputy CM Sukhbir Singh Badal, PCC chief Capt Amarinder Singh, CLP Leader Rajinder Kaur Bhattal and People's Party of Punjab president Manpreet Singh Badal will be decided.
Key contest: The contest between the chief ministerial candidates, Parkash Singh Badal and Amarinder Singh, is being watched with interest. Malwa remained in the focus with the three main parties, the ruling Shiromani Akali Dal (SAD), the Congress and the PPP-led Sanjha Morcha, concentrating their campaign in this region that extends from the borders of Rajasthan and Haryana to Patiala and the industrial hub of Ludhiana. The region is the key to the formation of government by any party.
The high-pitched campaign witnessed members of the Badal family making allegations against one another. The family suffered a split with Manpreet parting ways and his father Gurdas Badal contesting as the PPP candidate against his brother Parkash Singh Badal in the Lambi constituency where another Badal, Maheshinder Singh is in the fray as the Congress candidate. Amarinder Singh saw his younger brother Malvinder Singh parting ways with him on being denied the party ticket from Samana. He joined the SAD and campaigned against his nephew Raninder Singh.
During the last elections in 2007, the Dera Sacha Sauda played a significant role by asking its followers to vote in favour of the Congress. As a result, the party bagged 37 seats but was unable to form the government as it did not get adequate mandate in the Majha and Doaba belts. This time, 300 candidates of different parties, particularly from the Malwa region, visited dera chief Gurmeet Ram Rahim Singh to seek his blessings.
Rebels: Rebels in almost every party have become a headache for every party. The Congress has expelled 12 rebels in the Malwa region and the SAD and BJP six each. Rebels Ravinder Singh Sandhu (Babbal) in Ferozepur, Hansraj Josan in Jalalabad, Parkash Bhatti in Baluana and Upinder Sharma in Kotkapura are posing problems for the Congress nominees.
The PPP factor is being keenly watched in the region where Manpreet Badal is expected to upset the SAD and the Congress calculations. However, he may eat into the Akali votes more. Several bureaucrats have jumped into the fray.
Among them are Darbara Singh Guru, who resigned as Principal Secretary to the CM. He is contesting on the SAD ticket from Bhadaur. Former Director-General of Police PS Gill is contesting from Moga. Malerkotla in Sangrur is seeing an interesting contest between Razia Sultana (Congress) and Farzana Alam (SAD). Former SAD leader Surjit Singh Barnala is trying to maintain his political roots in Dhuri where his son Gaganjit Singh Barnala is locked in a triangular contest with Arvind Khanna (Congress) and Gobind Singh Longowal (SAD). The BJP stalwart, Rajinder Bhandari, is trying his luck from Ludhiana .
Key issues: The issues that dominated the campaign were drug abuse among the youth, growing incidence of cancer, unemployment, corruption, nepotism and development. A galaxy of leaders, including Congress president Sonia Gandhi and AICC general secretary Rahul Gandhi, BJP stalwarts Nitin Gadkari, Rajnath Singh, Arun Jaitley and INLD chief Om Parkash Chautala addressed election rallies.
Sensitive Booths: The election commission has declared the entire Lambi constituency as hypersensitive. Most booths in Muktsar, Faridkot, Kotkapura, Bathinda, Barnala, Mansa, Moga and parts of Patiala and Ludhiana have been declared sensitive and hypersensitive.
(With inputs from Archit Watts, Umesh Dewan, Kulwinder Sandhu and Minna Zutshi)

Rebels stand firm here
Perneet Singh and Ravi Dhaliwal
TNS
majha
Amritsar, January 29
While the SAD-BJP had swept the poll in the Majha region in the 2007 elections, winning 24 of the 27 assembly seats, the Congress is hoping for a turnabout. But with Congress rebels standing firm in six constituencies, this may not be so easy.
Key contest: Majha has a sizeable number of seats where heavyweights are in the fray. Among them are the CM's son-in-law and Civil Supplies Minister Adesh Pratap Singh Kairon from Patti, the Deputy CM's brother-in-law and Youth Akali Dal chief Bikram Singh Majithia from Majitha, Rural Development Minister Ranjit Singh Brahmpura from Khadoor Sahib, Speaker Nirmal Singh Kahlon from Fatehgarh Churian, Agriculture Minister Sucha Singh Langah from Dera Baba Nanak, Education Minister Sewa Singh Sekhwan from Qadian, Animal Husbandry Minister Gulzar Singh Ranike from Attari, former Congress minister Gurchet Singh Bhullar from Khem Karan, Punjab BJP chief Ashwani Sharma from Pathankot, Charanjit Kaur Bajwa, wife of Congress MP Partap Singh Bajwa from Qadian and Dr Navjot Kaur Sidhu, wife of BJP MP Navjot Singh Sidhu, from Amritsar East.
Rebels: The Congress rebels may play spoilsport, more for the Congress and to a lesser degree for the SAD. Leading the list of Congress rebels is former minister Sucha Singh Chhotepur from Qadian. He is pitted against official nominee Charanjit Kaur Bajwa and may damage the poll prospects of both Bajwa as well as her rival Education Minister Sewa Singh Sekhwan. Similarly, former Pathankot MLA Ashok Sharma may create problems for Congress official nominee Raman Bhalla. In Sujanpur, Naresh Puri, son of former minister Raghunath Sahai Puri, is pitted against the party's official candidate Vinay Mahajan.
In Amritsar district, former District Congress (Rural) chief Sukhjinder Raj Singh Lalli Majithia is contesting as a rebel from Majitha against the party's Shailenderjit Singh Shelly. In Baba Bakala, Baljit Singh Bhatti has entered the fray against the party nominee Ranjit Singh Chhajalwadi. In Amritsar (East) Simarpreet Kaur Bhatia has turned rebel after she was replaced with former Mayor Sunil Datti as the party candidate against BJP's Navjot Kaur Sidhu. The only rebel that may pose a headache for the ruling alliance is Gurpartap Singh Tikka from Amritsar (South). In Tarn Taran, SAD candidate Harmeet Singh Sandhu is facing rebel Devinder Singh Sandhu alias Lalli.
Key issues: In the Majha region, comprising Amritsar, Gurdaspur, Pathankot and Tarn Taran districts, issues of development, unemployment, drug abuse, corruption, misuse of Central grants and "excesses" on Congress workers have dominated the poll campaign. The alleged excesses on Congress workers was a major issue in various constituencies. Being a border area, the problem of rampant drug abuse also figured prominently in the campaign with the Congress blaming the ruling regime of failing to curb the menace. The unemployment issue came to the fore with PCC chief Amarinder Singh blaming the state government for the 47 lakh unemployed youths in the state.
The Congress accused the SAD of controlling the cable, sand, and liquor trade in the state.The SAD chose not to touch Panthic issues. It spoke of inflation and the Congress "anti-aam admi" measures. The party focused on infrastructure development. Surprisingly, the parties cold-shouldered issues regarding farmers' plight.
Sensitive Booths: Among the constituencies which have a large number of hypersensitive booths in Majha are Khem Karan with 37 booths, followed by Patti with 35, Majitha and Baba Bakala 30 each, Ajnala 27, Dera Baba Nanak 23 and Jandiala 22. Gurdaspur, Pathankot, Sujanpur and Bhoa constituencies have no hypersensitive booth. In the five urban constituencies of Amritsar, there are 32 critical, 98 hypersensitive and 138 sensitive booths.

Dalit votes hold the key
Varinder Singh
Tribune News Service
doaba
Jalandhar, January 29
Doaba, with 23 seats, has been a Congress stronghold. But in the 2007 elections, this region threw its weight behind the SAD-BJP alliance. It remains to be seen whether the ruling alliance will do as well this time too.
Key contest: Among the heavyweights in the fray in Doaba are Chaudhary Jagjit Singh of (Cong-Kartarpur), Amarjit Samra (Cong-Nakodar), Manoranjan Kalia (BJP-Jalandhar Central), Tikshan Sud (BJP-Hoshiarpur City), Bibi Jagir Kaur (SAD-Bholath), Sukhpal Khaira (Cong- Bholath), Avtar Henry (Cong-Jalandhar North), Pargat Singh (Jalandhar-Cantt) and Jagbir Brar.
Kartarpur will see an interesting fight between Congress and SAD heavyweights Chaudhary Jagjit Singh and Sarwan Singh Phillaur, respectively. Swapping of candidates in Phillaur and Kartarpur may prove costly for the SAD.
In Bholath (Kapurthala district), all eyes are on former SGPC chief and SAD candidate Bibi Jagir Kaur and her young Congress rival Sukhpal Khaira. Here caste factor will be crucial. Khaira had wrested the seat from Bibi in 2007 despite the SAD-BJP wave in Doaba. Bibi is a Lobana by caste and Khaira a Jat Sikh. Of the total 1,18,512 voters, as many as 39,176 are Jat Sikhs.
Former Jalandhar MP and Congress' Rana Gurjit Singh, known for his poll management skills, is locked in a tough battle with SAD's Sarbjit Makkar. Three-time MLA and Congress candidate Amarjit Samra is pitted against SAD's Gurpartap Singh Wadala in Nakodar. Samra is a poll veteran who retained his seat in 2007, despite the anti-Congress wave. Wadala's father SGPC member Kuldip Singh Wadala is a well-known figure in the area.
In Hoshiarpur City, there is a direct fight between BJP heavyweight Tikshan Sud and his Congress rival Sham Sunder Arora, a former DCC president. Sud has won the constituency three times in a row.
Arora had contested in 2002 as an Indpedendent. In Mukerian, there is a triangular contest among Congress' Ajit Narang, a first-timer, BJP leader Arunesh Shakar and Independent Rajnish Babbi, son of late Vidhan Sabha speaker Dr Kewal Krishan. In Dasuya, BJP MLA Amarjit Singh Sahi faces Congress veteran Ramesh Dogra. In Chabbewal, Dr Raj Kumar of the Congress, Sohan Singh Thandal of the SAD and Dr Dilbag Rai, an Independent are in the fray. Unemployment, bad roads and poor state of Kandi areas were the key issues here. In Nawanshahar, the contest is among Satinder Kaur Kariha of the SAD, Guriqbal Kaur of the Congress and PPP's Abhey Singh Sandhu.
Rebels: Turncoat Jagbir Brar, who had defeated late Beant Singh's daughter and former minister Gurkanwal Kaur as the SAD candidate in 2007, is believed to have been hand-picked by PCC chief Capt Amarinder Singh after he bade goodbye to the People's Party of Punjab. On the other hand, former Jalandhar DCC president Rajinder Singh Johal, who was denied the Congress ticket, is contesting as a PPP candidate.
Key issues: Development, unemployment and drug addiction are the key issues in Doaba. Dalit votes (about 46 per cent) can tilt the scales either in favour of the Congress or the SAD-BJP alliance in the region. All political parties have gone overboard to win this section of voters. Dera Sach Khand, headed by Baba Niranjan Dass in Ballan village, has considerable influence over the Dalits in Kartarpur, Adampur, Jalandhar South and Nakodar. A majority of Dalit voters in these constituencies are dera followers. The Radhasoami sect, the Damdami Taksal at Sarmastpur and Sant Baba Murale Wale at Begowal command a vast following in the rural areas of Jalandhar, Hoshiarpur, Nawanshahr and Kapurthala districts.
Sensitive Booths: As many as 211 polling booths in nine constituencies of Jalandhar district have been declared sensitive. Of these, 104 have been declared sensitive while and 107 ultra-sensitive.