Six months on, police fails to trace missing girl
Mandi, January 30
Residents, including parents of a missing girl, have expressed their concern over the failure of the police to trace 21-year-old Shashi Thakur, resident of Digho village in Choltara gram panchayat, who went missing under mysterious circumstances six months ago.
Pulses scam: Govt goes slow on probe report
Shimla, January 30
Even as the departmental inquiry into the multi-crore pulses scam that has rocked the Food and Civil Supplies Corporation clearly points towards gross irregularities, the government has chosen to go slow on the issue with the two officials who have come under the scanner still not placed under suspension.
Destroy ration cards issued by MC: Minister
Shimla, January 30
The Food and Civil Supplies Department today directed the Shimla Municipal Corporation (MC) to confiscate the issued ration cards that the corporation had got printed from a private printer in violation of the laid-down norms.
Govt to set up welfare commission
Shimla, January 30
In an important move to woo the general classes, the government has decided to set up an autonomous commission for the welfare of the economically backward section (the Samanya Varg Nirdhan Kalyan Aayog) of the general category.
Tribesmen oppose power projects in Chenab basin
Shimla, January 30
Strongly objecting to the state's plea for exempting the Chenab basin from the mandatory process of Cumulative Impact Assessment Studies (CIAS) for hydropower projects, several representative organisations of the local tribal people have urged the Centre not to allow any projects in the environmentally fragile region.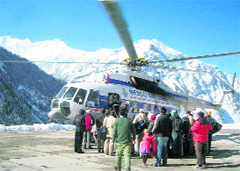 Copter help for snow-bound areas
Chamba, January 30
A 20-seater helicopter undertook a flight between Bhuntar, Killar and Chamba, and back today to carry patients, officials and people.






A helicopter at the Killar heliport that was used to carry patients, officials and people to snow-bound areas of Chamba.
Budget session from March 1
Shimla, January 30
The Budget session of the Himachal Pradesh Assembly will be held from March 1 to April 6, 2012.
Tributes paid to Mahatma Gandhi
Shimla, January 30
Tributes were paid to Mahatma Gandhi on his martyrdom day across the state today.
State museum to house unique library
Shimla, January 30
Hitherto locked in almirahs of the Language, Art and Culture Department, a large number of books, old manuscripts, files and other old documents, including some rare ones, will now be available to scholars and the public.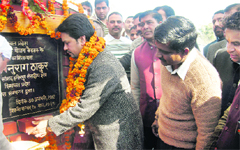 Stone of irrigation scheme laid
Hamirpur, January 30
Hamirpur MP Anurag Thakur today laid the foundation stone of the Lift Irrigation Scheme and also inaugurated a cattle dispensary at Kehdru.




Hamirpur MP Anuarg Thakur lays the foundation stone of an irrigation scheme at Kehdru on Monday. A Tribune photograph
Book on architecture released
Shimla, January 30
Chief Minister Prem Kumar Dhumal released a book titled "Man, Mountain and Architecture", brought out by the office of the Architect-in-Chief, Himachal Pradesh, here today.



Chief Minister PK Dhumal releases a book titled "Man, Mountain and Architecture", in Shimla on Monday. A Tribune photograph
Ashesh is Press Club president
Kullu, January 30
Ashesh Sharma was unanimously re-elected president of the Press Club of Kullu here today. Journalist Jai Dev Vidrohi was the presiding officer of the election.
11 houses gutted in Pangi tribal area
Chamba, January 30
Eleven houses were reduced to ashes in a devastating fire which broke out at Dharwas village in the snow-bound Pangi tribal valley of Chamba district last night, according to official reports reaching at the district headquarters town of Chamba today.
Murder case registered
Hamirpur, January 30
The police registered a case of murder today at Badsar police station after a half-burnt body of a youth was found near Sulhadi village on yesterday.
Bodies of Chamba avalanche victims found
Chamba, January 30
The district administration today succeeded in recovering the bodies of the five persons who had been buried alive under an avalanche at Pindi Nala near Bihali village in the outlying Churah subdivision of Chamba district since January 19 when they were crossing the area.
One killed in road accident
Chamba, January 30
One person was killed and another injured when their motorcycle collided with a JCB (Joseph Cyril Bamford) vehicle standing on the road near Bheod in the suburbs of Chamba town today, according to a police report received here this evening.
8.5 kg charas seized in Chamba
Chamba, January 30
The police has seized a huge quality of charas weighing 8.5 kg from the possession of Rajveer Singh who belonged to Bailey village in Kangra district today.