Candidates to 'pay' for paid news
Muktsar, February 2
After finding 14 paid news published or broadcast during the assembly polls, the election authorities have issued notices to eight candidates in Muktsar district to either show a substantial reason or add the expenses of the paid news to their poll expense account.
News analysis
Uneasy calm as parties expect close finish
Chandigarh, February 2
After successful polling for electing members of the 14th Vidhan Sabha, there is an uneasy calm among the candidates who will have to wait till March 6 to know their fate. But as the dust settles, it is becoming clearer that the results would see a razor fine finish between various contesting candidates and political parties, while throwing up several surprises.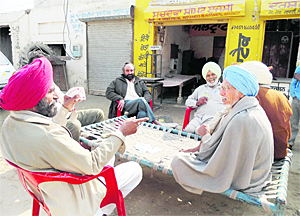 Badal residents have sleepless nights
Badal (Lambi), February 2
Not only the Badal brothers, but residents of this village are also having sleepless nights on the possible poll outcome from this constituency. Supporters of all major political parties-SAD, Congress and PPP-say that it is for the first time that they are unable to guess as to who the winning candidate will be.


Badal village residents play cards and discuss politics. A Tribune photograph

Punjab govt starts filling vacant posts in schools
Assures High Court to complete process at the earliest
Chandigarh, February 2
Punjab has started filling the vacancies of school principals and other staff. In an affidavit filed before the Punjab and Haryana High Court, the State Government said appointments were being made by way of promotions to the post of principals and headmasters.
1st Sardar Patel International Film Festival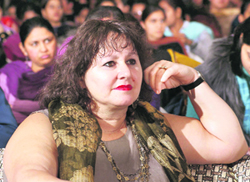 Cinema an image of society: Film producer
Patiala, February 2
Leslee Udwin, an international film producer, today inaugurated the first Sardar Patel International Film Festival (SPIFF), which is being organised by the Patel Memorial National College, Rajpura, in partnership with the Department of Youth Welfare, Punjabi University, Patiala.
Leslee Udwin
EU team inspects potato farms
Favourable report can bag orders worth crores
Patiala, February 2
An inspection team of the European Union (EU) is on a tour of Punjab to see if potatoes are grown in pest-free conditions here. The Government of India and Punjab in particular are keeping their fingers crossed as a favourable report from the three-member EU team could open export orders worth crores for thousands of potato growers in the state.
All quiet in corridors of power
Most bureaucrats take time off; little work for secretarial staff
Chandigarh, February 2
Not only politicians, but bureaucrats also are on a holiday these days. With the state Secretariat bereft of its political masters, who are awaiting the election results on March 6, the bureaucrats are taking time off.
Amritsar East: 69 per cent turn out for repoll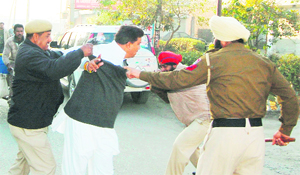 Amritsar, February 2
The re-polling at Booth No. 76 (Amritsar East) recorded a turnout of 69 per cent. Local BJP leader Baldevraj Bagga was beaten up by the police following an altercation when he reportedly tried to enter the booth premises.
Policemen rough up BJP leader Baldevraj outside Booth No 76, Amritsar East constituency, during repolling on Thursday. Photo: Vishal Kumar

PMET scandal
19 accused still at large
Faridkot, February 2
After arresting nine meritorious medical students, including three girls from different medical colleges of Delhi, Patna, Shimla and Lucknow, the Special Investigation Team (SIT), investigating the Punjab Medical Entrance Test (PMET) scandal, is still looking for 19 senior medical students who appeared as imposters in the PMET in 2008. The accused in Delhi, Bihar, HP and UP medical colleges charged up to Rs 15 lakh from 28 students in Punjab for appearing on their behalf in the PMET.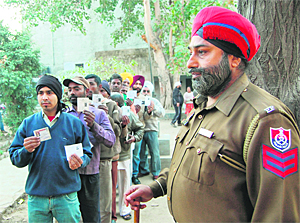 A policeman stands guard outside Booth No 76 during repolling in Amritsar. Photo: Vishal Kumar

Health team confirms jaundice outbreak
Ludhiana, February 2
A team of the Integrated Disease Surveillance Project (IDSP), which visited the outskirts of Nawanshahr town yesterday, has confirmed the outbreak of jaundice due to contaminated water.
Health Dept notifies service rules
Ludhiana, February 2
Finally, the Health Department has issued notification about service rules for the contract employees of the National Rural Health Mission.
SGPC to seek legal opinion
Amritsar: With the process of electing new office-bearers of the SGPC hanging fire, the SGPC is contemplating taking legal recourse. Avtar Singh Makkar, SGPC chief, alleged that the Central Government was deliberately delaying the process. He said the Union Home Ministry had issued a notification on the new SGPC House on December 16 and the office-bearers should have been elected before January 15, as per the norms.
Manpreet's surgery put off
Chandigarh, February 2
PPP chief Manpreet Singh Badal's surgery has been postponed for a week to 10 days. He underwent various tests at a private hospital in Delhi today.
Pak college alumni at YPS function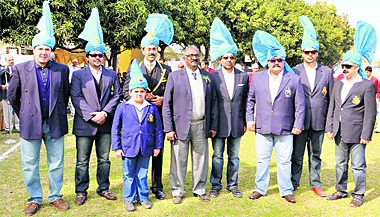 Patiala, February 2
Yadavindra Public School here today celebrated its 64th Foundation Day. The programme was attended by various dignitaries, parents and old and present Yadavindrians.
Former students of Aitchison College, Lahore, during the 64th Foundation Day of Yadavindra Public School in Patiala on Thursday. Tribune photo: Rajesh Sachar


Police rescues Class XI student from kidnappers
Abohar, February 2
The police rescued a Class XI student, Sunil Kumar of Telupura village, from the clutches of four kidnappers this afternoon. Superintendent of Police Virender Singh Brar said the teenager was returning home from Govt Senior Secondary School in Khuyiansarwar village when a pickup van (PB 29J 9074) intercepted him and its four occupants took him away.