GMCH 32
Faculty posts in super-speciality category lying vacant
Chandigarh, February 6
The red tape in the UT administration has not only hit the recruitment of doctors (senior and junior residents) and nurses in the city's flagship hospital, Government Medical College and Hospital (GMCH) Sector 32, but also some faculty posts in the super-speciality category that are on a contract basis. It may sound strange but the GMCH-32 has no super-speciality doctors for cardiology or neurology on board.
Parents' agonising wait for forensic report
Chandigarh, February 6

More than seven months after two youths drowned in the swimming pool of Sector 23 here on June 16, their parents are waiting for the report of the Central Forensic Sciences Laboratory (CFSL) team.






Ajay and Nitin (the drowning victims) A file photograph
49 PCR vehicles remain off roads for want of fuel
Chandigarh, February 6
Over 70 per cent of the police vehicles were today off the roads for want of fuel. Only 11 police control room (PCR) vehicles, stationed in the jurisdiction of each police station, were on the roads, with 49 of the total 60 PCR gypseys lying idle in various police units.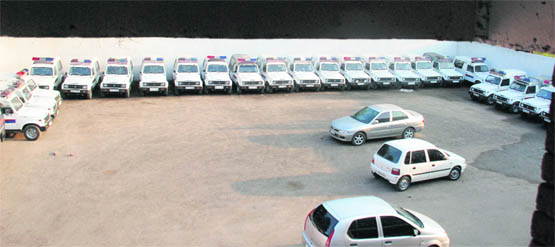 The police control room vehicles parked idle for want of fuel in Chandigarh on Monday.
Tribune photo: Vicky Gharu
Newborn found dead
Chandigarh, February 6
In another glaring example of female foeticide, a newly born baby girl was found abandoned near the N-choe of Atawa Chowk at Sector 42 here this morning.


| | |
| --- | --- |
| Fountain of delight: Drops of water add colour to precious moments of a young couple at the Zakir Rose Garden in Sector 16 of Chandigarh. Tribune Photo: S Chandan | To the Almighty: Tiny tots perform during a cultural programme at the annual function of First Edge Pre-School in Dera Bassi on Monday. A Tribune photograph |
| | | |
| --- | --- | --- |
| | | |

RTI ACT
Dept in damage-control mode
Chandigarh, February 6
In a damage-control exercise, the UT's newly appointed district education officer, Ram Kumar, promised reimbursement of uniforms, books and transport, which may amount to around Rs 4 crore, to private schools of the city.
Anti-encroachment drive
100 issued challans for violation
Chandigarh, February 6
Once again the Chandigarh Municipal Corporation's (MC) hollow claims of making Chandigarh an encroachment-free city has been exposed, as encroachers in various markets where special drives were conducted a number of times, has failed to decline mushrooming of the encroachers in the area. In fact, the habitual encroachers used to re-set their business in the evening after inspectors turn off from their duties.



Eatery stalls that have encroached upon the municipal corporation land in Sector 22, Chandigarh. Tribune photos: Pradeep Tewari
ISBT to get 5 more months for completion
Mohali, February 6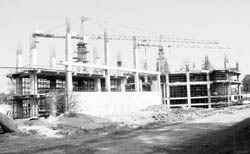 The multi-storeyed inter-state bus terminus (ISBT) in Sector 57, here, is nowhere near completion. After missing the deadline twice, to complete the project in October, 2001 and December 2011, the Greater Mohali Area Development Authority (GMADA) was contemplating to extend the deadline of the project by another five months.

Incomplete work at the 11-storeyed new ISBT, Sector 57, Mohali. Tribune photo: Vicky Gharu
Delayed road carpeting to resume soon
Zirakpur, February 6
Zirakpur will soon have re-carpeted roads. The work of re-carpeting the roads had hit a road block due to the Punjab Assembly elections. But, the work is expected to resume soon.
Estate office SOS to higher-ups
Chandigarh, February 6
The UT estate office, which finds itself 'helpless' in tackling complex issues like continuous misuse of buildings resumed, definition of 'paying guest' and review of misuse charges, has now asked for 'advice' and some clarifications from higher-ups.
Voting tomorrow, migrants take off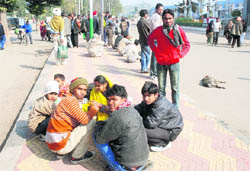 Chandigarh, February 6
Come elections and it is like a festival season for migrants. They make it a point to vote for their favourite candidates at their native places in Uttar Pradesh ((UP), where elections will be held on February 8.




A group of migrant labourers basks in the sun outside the railway station in Chandigarh on Monday. Tribune Photo: S Chandan
Dense fog hits air, rail traffic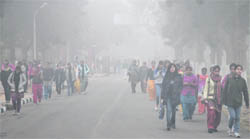 Chandigarh, January 6
Dense fog disrupted air traffic, with hundreds of passengers facing a harrowing time at the local airport, as three flights from the city were delayed by between two and three hours today.



Students walk to their classrooms amid heavy fog at the Government College for Girls in Sector 11 of Chandigarh on Monday. Tribune Photo: Pradeep Tewari
From Admn to MC, and back?
Chandigarh, February 6
The municipal corporation (MC) stands to lose primary health and education departments, transferred by the UT Administration, in the light of non-availability of budget and staff.
Admn sends MC back to start
Chandigarh, February 6
The constitution of 14 subcommittees by the municipal corporation (MC) is back to square one. The Administration has refused to give permission for the constitution of two new subcommittees, one for health and the other for education.
Traders meet Bansal on estate office action
Chandigarh, February 6
A delegation of the Chandigarh Beopar Mandal called on Pawan Kumar Bansal at his residence here today, taking up the issue of notices of hefty penalty and sealing of shops by the UT estate office.
Show-cause notice to scrap dealers
Panchkula, February 6
The Haryana State Pollution Control Board issued a show-cause notice to a number of scrap dealers of Madhawala village for violating Hazardous Waste (Management, Handling and Trans Boundary Movement) Rules, 2008.
Cars' collision leads to chaos
Mohali, February 6
A high drama was witnessed at the traffic junction of Phase X and XI when a Mitsubushi Lancer car had a head on collision with a Honda City, here this afternoon. Soon after the accident, drivers of the both vehicles entered into a heated argument as two PCR officials on the spot tried hard to end it. Despite the PCR calling the Phase XI police station to send a police party, it took over 25 minutes for Head Constable Sanjay Kumar to reach the spot. In the ensuing moments, a number of supporters of both the sides gathered the spot, resulting in traffic disruption. However, later both the parties reached a compromise.
Treachery, mistrust to fore
Chandigarh, February 6
The fourth annual Katha Manchan Festival organised by the Mask Theatre Group commenced with the dramatisation of a story "Khaali Plot", written by Veena Verma, at the Randhawa Auditorium here today.
Melodic mix of wisdom, love
Chandigarh, February 6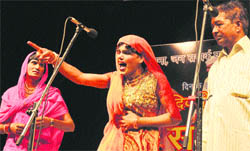 On day two of the ongoing seventh annual Haryanvi folk theatre, Saang Utsav, organised by the department of cultural affairs, Haryana, the love legend of Rani Dharma Kaur-Raghubir was presented by saangi Parkash Singh at the Tagore Theatre here today.


Artistes perform during the 'Saang Utsav' at the Tagore Theatre in Chandigarh on Monday. tribune photo: pradeep tewari
General students apply for vacant seats
Chandigarh, February 6
Poor students loss is surely turning out to be general students gain, who have now got an access to over 2,000 empty seats reserved under the Right of Children to Free and Compulsory Education Act (RTE Act).
Register vehicles with PU, police: Notice
Chandigarh, February 6
Acting on the UT police letter, Panjab University (PU) has decided to fine residents of boys' hostel numbers 4 and 5 from whose room 40 outsiders were recovered in the raid conducted by the police yesterday.