Bumper orange crop did the initial damage
Muktsar, February 6
It has been an unfruitful year for kinnow growers of the state. Though the production has been good both in terms of quality and quantity this time round, the bumper orange crop in Nagpur (Maharashtra) reduced the kinnow's demand.
EC tells babus to stay away from CM's meeting
Chandigarh, February 6
With the Election Commission not allowing the officers on election duties to attend the meeting called today by Chief Minister Parkash Singh Badal to review the progress of the martyrs' memorials, the meeting went on without the district chiefs here.
Act fast on plea to destroy RDX in police stations: HC
Chandigarh, February 6
The Punjab and Haryana High Court today directed the Union Home Ministry to take immediate decision on the Punjab Government's plea for deputing a specialised team for destroying RDX and other explosives lying in police stations across the state.
Berths for senior leaders only: Capt
Chandigarh, February 6
PCC president Capt Amarinder Singh has made it clear that the party will go by seniority alone while forming its ministry, if voted to power. Both party candidates and bureaucrats have been making a beeline for the PCC chief's office post-poll.

Mystery killing
Vehicles recovered, experts take fingerprint samples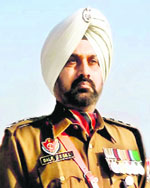 Ludhiana, February 6
With the police having recovered vehicles used by slain Moga DSP Balraj Singh Gill and Monica Kapila, an industrialist's wife, to reach the farmhouse near the Hambran Road on February 1, a forensic team from the Punjab Police Training Centre, Phillaur, today collected samples of fingerprints, footprints and blood stains of the suspects from the vehicles. While the Chevrolet Optra of the DSP was recovered from Balloke village last night, Toyota Innova of Monica was found abandoned near Sacred Heart School in BRS Nagar here late last night. According to police sources, both the cars were driven for nearly 700 km each before being abandoned at two different locations. The police arrived at a conclusion that the killers abandoned the vehicles after exhausting the available fuel.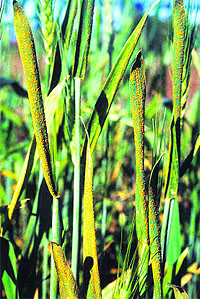 Yellow rust attacks wheat crop in three districts
Chandigarh, February 6
Alarmed at the presence of yellow rust in wheat in three districts, Punjab Agricultural University today asked wheat growers to take measures to protect their crop. Yellow rust had turned into an epidemic in 2008-09 and caused a fall in the crop yield by 2 to 6 quintals per acre in the sub-mountainous areas of Punjab. Yellow rust has been detected in Patti, Dher, Surewal, Fatehpur, Daula Taprian, Fatehgrah Viran, Rasidpur and Fasemund of Roopnagar district; Chhadhauri and Jagatpur villages in Shaheed Bhagat Singh Nagar; and Baghpur and Pungha Blak villages in Hoshiarpur district, said TS Thind, Head, Department of Plant Pathology, PAU. The disease has been detected despite Punjab taking several remedial measures, like replacing seed varieties highly susceptible to yellow rust.
No funds to publish books, conduct exams
Board asks govt to clear dues
Mohali, February 6
As financial crisis looms large, the Punjab School Education Board (PSEB) has asked the state government to immediately release at least half of over Rs 100 crore pending with the government for the past a few years so that it could conduct examinations and publish books.
Health Dept raids clinic, seizes drugs
Bathinda, February 6
Health officials inspected documents pertaining to the medical qualification of Satpal Bhateja, who claims to be a Congress worker. He runs Rajiv Gandhi Lok Bhalai Manch here. Pictures of Prime Minister Dr Manmohan Singh and AICC chief Sonia Gandhi don his clinic.
ICP will boost trade ties: Pak official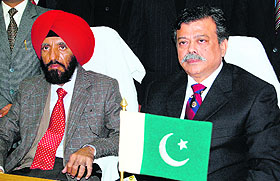 Amritsar, February 6
Ali Salman Abbasi, Collector Customs, Lahore, today said the Commerce Ministers of India and Pakistan would inaugurate the Integrated Check Post (ICP) at Attari on February 13. Abbasi, who along with his team met his Indian counterparts here, said the trade between the two countries would scale new heights once the ICP was inaugurated.
Ali Salman Abbasi (Collector Customs, Lahore) and Ranjit Singh (Commissioner, Customs, Amritsar) jointly address the media. Photo: Vishal Kumar

For rural youth, IAS coaching in Punjabi
Patiala, February 6
With a view to attract rural youth towards civil services, Punjabi University's IAS Training Centre has decided to visit villages to inform people that the university also provides coaching in Punjabi language.



Jharkhand Governor Syed Ahmed at the Golden Temple in Amritsar on Monday. Photo: Vishal Kumar

Awaiting salary, computer teachers to boycott classes
Patiala, February 6
The Punjab government has failed to pay the revised salary to around 4,500 computers teachers, whose contractual services were regularised in July last. As these teachers have not received their salary for the past five months, the Computer Master Association has decided to boycott classes after February 10.
PPCB: Not going slow on raids
Patiala, February 6
To clarify that the Punjab Pollution Control Board (PPCB) has not softened its stand towards industries not adhering to the pollution control norms, board authorities have claimed that industrial and surprise visits by officers are on as usual.
DSGMC poll: Akalis gear up for February 9 meeting
Amritsar, February 6
The SAD has begun its preparations for the DSGMC elections and a team of senior party leaders would soon be visiting different constituencies in Delhi, besides holding parleys with various Sikh outfits there to finalise its candidates.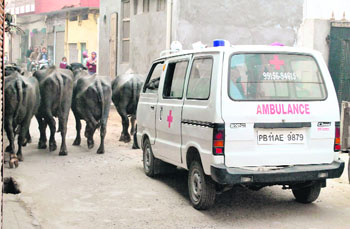 Cattle menace: Stray cattle blocks the path of an ambulance in a residential colony of Patiala. Tribune photo: Rajesh Sachar

Feedback from election staff sought
Moga, February 6
The Election Commission (EC) of India has sought feedback from all the district magistrates on their experiences during the recently concluded assembly elections by February 13.
JET fee cut to Rs 50
Jalandhar, February 6
To ensure mass participation of class X passouts in the Joint Entrance Test (JET) to be conducted by the Punjab State Board for Technical Education and Industrial Training, the fee for the test has been drastically slashed from Rs 1,000 levied till the last session to a minimal of Rs 50 this time.
Bhattal greets people on Guru Ravidass' birth anniversary
Chandigarh, February 6
Rajinder Kaur Bhattal, Leader of Opposition in the Punjab Vidhan Sabha, has greeted people on the birth anniversary of Guru Ravidass, which falls on Tuesday.