Slain DSP's vehicle recovered
Ludhiana, February 5
Slain Moga DSP Balraj Singh Gill's vehicle (Chevrolet Optra) was found 2 km from the crime site, near Bolloke village late tonight.
Birds of a feather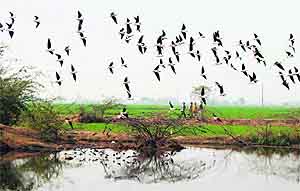 Egrets flying over a pond at Mankat Majra village in Mohali. Tribune photo: Vicky Gharu

Fertiliser prices likely to increase
Chandigarh, February 5
Farmers in Punjab and officials related to the agriculture sector have expressed a serious concern over the proposed suggestion by the Ministry of Petroleum and Natural Gas (MPNG) to the Empowered Group of Ministers (EGoM) to cut off the supply of domestic natural gas to fertiliser units producing phosphorous and potash.
Shalimar Express derails
Jalandhar, February 5
A major mishap on the Jalandhar-Jammu railway track was averted as a bogie of the Jammu-bound Shalimar Express (14645) derailed near Kala Bakra railway station in the wee hours on Sunday.
Drunk father sets hut on fire, two minor kids charred to death
Herian (Samrala) February 5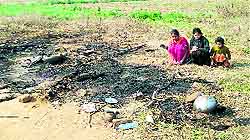 Two minor children were charred to death when their jhuggi was set on fire by their father at Herian village near Samrala. Sri Pal, a resident of Utttar Pradesh, was a habitual drinker. After he had consumed liquor last evening, he beat up his wife Kanti Devi and six children. Later at night, he set his jhuggi on fire and ran away.

Shell-shocked girls at the site of their burnt hut at Herian village near Samrala.

Will go all out to eradicate polio: Pak panel chief
Ludhiana, February 5
Impressed by the performance of the Punjab Rotary Polio Task Force, Aziz Memon, National Chairman, Pakistan Polio Plus Committee, Karachi, said strategies adopted by the task force to curb proliferation of the dreaded virus would be implemented in his country soon.
SAD exploiting SGPC: Sarna
Amritsar, February 5
Challenging the SAD leadership and SGPC chief Avtar Singh Makkar for an open debate on Sikh issues, DSGMC chief Paramjit Singh Sarna today expressed apprehensions that the SAD might create a confrontation between the Akal Takht and the DSGMC during the upcoming DSGMC elections.


Pak gurdwara to open to devotees
4 months after promotion...
Headmasters still without salary
Patiala, February 5
At least 840 headmasters, who were promoted four months back, have so far not received their salaries for the period, as the Education Department has failed to get financial sanction for the posts.
Turning to Bajrang Bali for electoral success
Muktsar, February 5
First-time SAD and PPP contestants, Kanwarjeet Singh Barkandi 'Rozy' and Jagjeet Singh Fattanwala 'Honey', respectively, are trying to please Bajrang Bali (Lord Hanuman) for electoral success.
Rain sends temperatures soaring
Chandigarh, February 5
Several parts of Punjab and Haryana were lashed by rain even as the minimum temperature rose five notches above normal in the region.
Mika working on film based on his life


Singapore, February 5
Pop singer Mika Singh has said he is working on a film based on his life, charting his journey to becoming one of the most popular playback singers in Bollywood. "The story is being put together," he said. The film would be directed by Shashanka Ghosh of the 2009 comedy 'Quick Gun Murugan' fame. Mika, who started as a singer 13 years ago after leaving his brother Daler Mehndi's band as a guitarist, said the story would cover his journey to becoming a popular singer over the years.
Ludhiana to host 'Saras mela'
Ludhiana, February 5
"Saras-Mela", sponsored by the Ministry of Rural Development, Government of India, will be held in Ludhiana from March 10 to March 21.
Ludhiana boy in Georgian jail, Centre's help sought
Chandigarh, February 4
Congress MLA from Bholath Sukhpal Singh Khaira has appealed to Union Minister of State for External Affairs Preneet Kaur to seek the release of Ludhiana boy Rohit Kumar, who has been languishing in a Georgian jail for the past several months.
Pollution board going slow on raids
Patiala, February 5
Even after one-and-half months, the Punjab Pollution Control Board (PPCB) has not resumed its drive to conduct surprise raids on various industries in the state to check compliance of the pollution norms.


Seechewal to take up matter with senior officials
Gurdev Badal hospitalised
Ludhiana, February 5
Senior SAD leader Gurdev Badal was admitted to the Hero DMC Heart Institute after he suffered a brain stroke two days ago. Yesterday, Chief Minister Parkash Singh Badal also visited him to inquire about his well-being. Doctors attending on him said that his condition was moderate.
Another clash between rival party workers
Amritsar, February 5
Yet another clash took place between Congress and SAD-BJP supporters at Sanjay Gandhi Colony, Faizpura, last evening. The Civil Lines police has registered a case of attempt to murder against both the groups.
Akali workers assault Congress man's son
Malout, February 5
The son of a local Congress activist was allegedly assaulted by some Akali workers near Gurdwara Singh Sabha here late last evening.