DSP Gill concealed his identity: Victim's friend
Ludhiana, February 4
Three days after the brutal killing of Moga DSP Balraj Singh Gill and Monica Kapila, an industrialist's wife, the police today questioned a woman friend of the victim (Monica) and a male doctor.


Panel for re-poll in Nabha booth
Chandigarh, February 4
The Electoral Reforms Campaign Committee, constituted by NGOs, to look into reports of thrashing of a pregnant woman reporter and the alleged denial of voting in several polling booths has recommended a re-poll at booth No. 137 in Nabha.
Deserving candidates left out, Sonia told
New Delhi, February 4
Senior Congress leader and trade unionist MM Singh Cheema today met Congress President Sonia Gandhi and informed her about the current political situation in the state.


Centre delaying SGPC session, says Badal
Amritsar, February 4
Chief Minister Parkash Singh Badal today blamed the Congress-led UPA government for "deliberately" delaying the elections of the SGPC office-bearers.
DSGMC Elections
SAD (D) announces health cover scheme
Chandigarh, February 4
With elections to the Delhi Sikh Gurdwara Management Committee (DSGMC) a little more than a month away, the ruling Shiromani Akali Dal (Delhi), led by Paramjit Singh Sarna, has announced the launch of Guru Harkrishan Health Insurance Scheme for economically weaker Sikh families of Delhi.
2G scam
BJP questions Cong's silence
Chandigarh, February 4
The Punjab unit of the BJP has questioned the "silence" of the Congress on the 2G spectrum scam by saying that the Punjab Pradesh Congress Committee (PPCC) constantly alleged that the SAD-BJP was corrupt.
Special train to Varanasi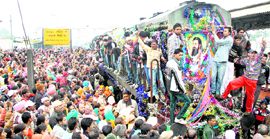 Jalandhar, February 4
Head of Dera Sachkhand Ballan Sant Niranjan Dass and thousands of followers of the dera boarded the "Begampura Express" at Jalandhar city railway station this afternoon for reaching at the birth place of Guru Ravidass at Seer Gowardhanpur in Varanasi to participate in the celebrations of his 635th birth anniversary on Monday.

Devotees board the Beghampura Express in Jalandhar city to go to Beghampura in Varanasi to pay obeisance to Guru Ravidass on his birth anniversary. Photo: Sarabjit Singh

Exploitation of schoolteachers
State Lokpal orders probe
Faridkot, February 4
After three independent inquires by the police, district administration and the Punjab School Education Board (PSEB) found that a private school in Kotkapura had been preparing fake salary statements, the Punjab Lokpal has directed its IG to conduct a further inquiry to nail the erring officials.
BARC to confirm if uranium is causing cancer in Malwa
Faridkot, February 4
After the state Department of Water Supply and Sanitation confirmed the high concentration of uranium in 241 out of a total of 1,260 water samples gathered from various districts of the state.
Bater meat a hit, but rearing yet to catch up
Ludhiana , February 4
Domestic bater (white quail) attracts non-vegetarians of the state for whom it is a choicest delicacy. The Animal Breeding and Genetics Department of GADVASU in Ludhiana sells more than 4,000 baters every year at the poultry farm on the university campus.
Rights panel seeks report on dengue deaths
Muktsar, February 4
The Punjab State Human Rights Commission (PSHRC) has sought a detailed report from the Muktsar DC regarding pre-winter outbreak of dengue, which reportedly caused seven deaths and affected nearly 5,000 others.
Punjabi University convocation
Think positive for better results: Patil to youth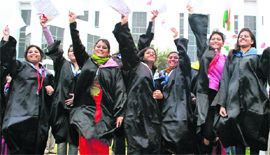 Patiala, February 4
Punjab Governor and Chancellor of Punjabi University, Patiala, Shivraj V Patil has called upon the youth to identify real problems plaguing the society and find solutions to raise a new India of our dreams.



Jubilant girls after getting their degrees during the 35th convocation of Punjabi University in Patiala on Saturday. Tribune photos: Rejesh Sachar

Power cuts back in Punjab after polls
Patiala, February 4
Within days after polling in Punjab on January 30, power cuts are back in both domestic and commercial sector. Information available from various parts of the state shows that for the domestic category consumers, power cuts vary from half-an-hour to two hours daily.
Smoking in public: Notice issued to actor Om Puri
Patiala, February 4
The Health and Family Welfare Department, Patiala, has decided to send a notice to Bollywood actor Om Puri for smoking at a public place in Rajpura on Friday.
Retired bureaucrat pens book on Lokpal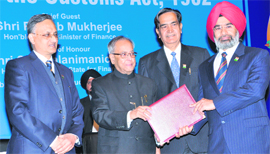 Chandigarh, February 4
Debate on Lokpal notwithstanding, retired bureaucrat Manohar Singh Chandla has come out with his book based on research blaming the Lokpal for ruining the Sikh empire.

Chief Commissioner of Customs and Central Excise and Service Tax in Chandigarh, PS Pruthi, receives the World Customs Organisation Certificate of Merit from Finance Minister Pranab Mukherjee on the occasion of International Customs Day in New Delhi.

Selection of medical officers
Gill's petition motivated, PPSC tells HC
Chandigarh, February 4
Hitting hard at Punjab's former top cop KPS Gill, the Punjab Public Service Commission has claimed that his petition for inquiry by a special investigation team into the selection of medical officers in Punjab was motivated.
Court asks VB to produce records in fertiliser scam
Mohali, February 4
A local court today issued a notice to the investigating officer of the Punjab Vigilance Bureau to bring on record various documents pertaining to the investigation in the fertiliser scam.

Sedition case
Challan filed against Dal Khalsa activists
Amritsar, February 4
After a period of more than six years, the local police finally filed a challan against 22 Dal Khalsa activists in a sedition case registered against them on June 8, 2005. Six of the accused, including Dal Khalsa's secretary general Kanwar Pal Singh, appeared before the trail court of CJM Kuldeep Singh today.
15-yr-old commits suicide, 3 booked
Abohar, February 4
A minor girl, Madhu, allegedly committed suicide by jumping into a reservoir at Gidderanwali village of Abohar subdivision. In a complaint lodged with the Khuyiansarwar police, her father Onkar Nath alleged that one Sanju had been teasing Madhu (15) for the past few weeks.