Porsche dealer evades Rs 1.68-cr tax
Chandigarh, February 4
Detecting a major tax evasion by a local Porsche dealer, the UT excise and taxation department raided the premises of Radiant Wheels Private Limited at Phase 1 here today.

Excise officials at a Porsche showroom in Industrial Area, Phase I, Chandigarh, on Saturday. Tribune photo: Manoj Mahajan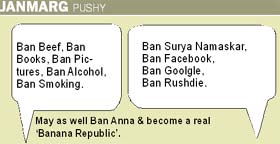 Sanitation not an issue; 53 challans in 35 weeks
Chandigarh, February 4
The sanitation wing of the MC has issued only 53 challans in the last 35 weeks, amounting to roughly one challan a day. Though the city is littered with garbage and debris in commercial, residential and slums areas, the fewer number of challans are being attributed to the meagre fine amount imposed on violators.

GMADA to provide home to homeless on temporary basis
Mohali, February 4
With the Greater Mohali Area Development Authority (GMADA) failing to allot land for a "raen basera" for shelterless people in the town, the Municipal Council has now provided the facility on a temporary basis abiding by the directions of the Supreme Court passed in this regard.
A night shelter for the homeless at Phase I in Mohali. Tribune photo: Vicky Gharu



Mohali admn's drive a futile exercise
Zirakpur, February 4
The drive launched jointly by the Mohali Administration and local police to remove roadside vendors has proved to be a fruitless exercise with the hawkers back on the Zirakpur-Ambala highway again.

Fruit vendors sell kinnows along the Zirakpur-Ambala highway. Tribune photo: Nitin Mittal



UT estate office targeting us: Traders
Chandigarh, February 4
The Bajwara Showrooms Market Association observed half-day bandh today in protest alleging that the local traders were being 'targeted' on flimsy grounds by the UT Estate Office here.

Shops were closed due to a bandh by traders in Sector 22, Chandigarh, on Saturday. Tribune photo: Manoj Mahajan



Trend-setters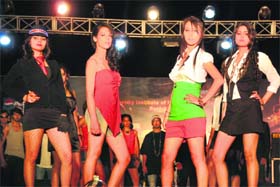 Students of UIET take part in a fashion show at Goonj Fest on PU campus, Chandigarh, on Saturday. Tribune photo: Pradeep Tewari
Estate officer told to allot site to slum-dweller
Chandigarh, February 4
The District Consumer Disputes Redressal Forum-I directed the Estate Officer, Chandigarh, to allot an apartment to a Palsora resident, if eligible, under the rehabilitation scheme for the slum dwellers.
encroachment issue
Chandimandir resident meets DCP, seeks action
Panchkula, February 4
A Chandimandir resident today approached the Panchkula Deputy Commissioner of Police (DCP), Maneesh Chaudhary, for action against the persons who were trying to encroach upon his house and a shop in the Chuna Bhatti area in Chandimandir.


Elected members of rural civic bodies take oath
Chandigarh, February 4
Elected members in the recently held panchayat samiti and zila parishad elections took oath at the UT Guest House here today. The ceremony was presided over by UT Finance Minister VK Singh in which 15 elected members of the panchayat samiti and 10 of zila parishad took oath.
Newly elected members of the zila parishad and panchayat samiti take oath at the UT guest house in Chandigarh on Saturday. A Tribune photograph
world cancer day
Cancer survivors spread hope
Mohali, February 4
An atmosphere of positivity, enthusiasm and optimism prevailed at a meeting of cancer patients and cancer survivors held by Saarthak, a cancer support group of Fortis Hospital, here on World Cancer Day today. More than 70 cancer patients and survivors attended the function.
Residents protest after police conduct search in Sec-52 colony
Chandigarh, February 4
A day after a murder was reported in Sector 52, colony residents today staged a protest after the police conducted a search in the colony. High drama was witnessed and the police had a tough time managing the rowdy crowd.

UIET fest starts off in style at university
Chandigarh, February 4
Goonj, the annual fest of University Institute of Engineering and Technology (UIET), Panjab University, kick-started today with a colourful extravaganza. Having come a long way from the time of its inception, the UIET, which completes ten years of its existence this year, has been ranked 31st in the list of engineering Institutes.


Students perform at UIET fest Goonj in Panjab University, Chandigarh, on Saturday. Tribune photo: Pradeep Tewari
PEC students meet Senate members
Chandigarh, February 4
Failing to get a positive response from the PEC director, the Mechanical Engineering (ME) students of the college who have been seeking a mercy chance have started approaching the Senate members to demand that an emergency Senate meeting be called.