No awareness camps planned, it's a non-event in Malwa's cancer belt
Muktsar, February 3
Despite the fact that at least 1,100 persons have died of cancer in Muktsar district alone in the past 10 years and the disease is spreading its tentacles at an alarming pace, the health authorities have not planned any awareness camps for the World Cancer Day tomorrow.


Seat swapping may prove costly for SAD, BJP
Chandigarh, February 3

Swapping of two seats each between the Shiromani Akali Dal (SAD) and its alliance partner Bhartiya Janata party (BJP) is unlikely to give the desired result for which the leadership of both the parties had undertaken the exercise. The decision to deny seats to sitting legislators from four assembly segments and swapping the same was taken with a view to securing these seats for the alliance. But the contest on all the four seats, namely Ludhiana (West), Amritsar (East), Garhshankar and Batala, has been far from satisfactory for the alliance.
Congress workers thrash BJP supporters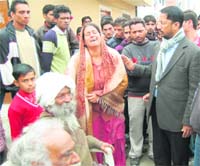 Amritsar, February 3
A group of Congress workers allegedly clashed with five members of a family, which supported BJP candidate from Amritsar (North), in the Mustfabad area here today.






BJP MLA Anil Joshi interacts with family members who were allegedly beaten up by Congress workers in Amritsar. Photo: Sameer Sehgal

Cong candidates lobbying for berths already!
Chandigarh, February 3
The poll results may be a month away but it is a virtual 'mela' at PPC chief Capt Amarinder Singh's residence here. Congress candidates hopeful of a victory have started lobbying for Cabinet berths. Even bureaucrats are veering towards the PCC president.
No NRI in Jalandhar district cast his ballot
Jalandhar, February 3
Even as the NRI Sabha ended up "lauding" and "thanking" the NRI voters for their active participation in the assembly elections held on January 30, the ground reality is that none turned up to cast vote in nine assembly constituencies of the district.
Ministers can undertake district tours, says Election Commission
Chandigarh, February 3
The Election Commission of India has issued a clarification regarding applicability of the model code of conduct in Punjab, Uttarakhand and Manipur where the voting process has been completed.


Fazilka loses historical lake to govt apathy
Fazilka, February 3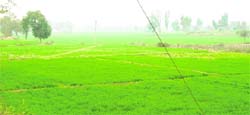 While the World Wetland Day was celebrated on February 2, with the slogan of "water is life", none in the district administration bothered to think about the historical Badha Lake here, which has become a victim of human greed and official neglect.
Farmers have grown crops on the dried up bed of the extinct Badha Lake in Fazilka. Photo by writer
EU seeks more info on potato
Chandigarh, February 3
The European Union, which is keen to import potatoes from Punjab, has sought more information from the state government. Owing to glut, farmers had recently thrown potatoes on roads in Jalandhar in protest against the indifferent attitude of the state government towards their plight.
Sehajdharis want SGPC House dissolved
Chandigarh, February 3
Dr PS Ranu, president, Sehajdhari Sikh Party, has said the newly elected House of the SGPC stands "nullified" in the light of the recent orders of the Punjab and Haryana High Court and directions of the Supreme Court.
Attack on employees: SGPC to approach Akal Takht
Amritsar, February 3

Three days after armed activists of Sri Guru Granth Sahib Satkar Committee, a private outfit, attacked SGPC employees with sharp-edged weapons, the SGPC today talked tough and warned the committee to mend its ways, besides announcing to approach the Akal Takht over the issue.




Dalmegh Singh, Secretary, SGPC, talks to mediapersons in Amritsar on Friday. Photo: Sameer Sehgal
Chadha group has stakes in TV channel too
Patiala, February 3
After liquor, films and real estate, the Chadha Group has ventured into the electronic media with stakes in a private news and entertainment satellite channel that operates from Patiala and is viewed in Punjab and Delhi.
Police website lying defunct
Muktsar, February 3
The Muktsar police's website has been lying defunct for the past one month.
More trouble for Sukhi Chahal
Ludhiana, February 3
More troubles are lying ahead for US-based NRI Sukhi Chahal, who was caught by the Ludhiana police last month in connection of a 20-year-old case in which he had tried to extort Rs 10 lakh from Congress leader Malkit Singh Birmi during the 1992 assembly elections by posing as a conduit of the Khalistan Commando Force.
Gala time for old Aitchisonians in Patiala
Patiala, February 3

Old Aitchisonians from Lahore in Pakistan, who reached here yesterday to attend the 64th founder's day of Yadavindra Public School (YPS), Patiala, are having a gala time in the city. They are busy visiting various historical places and attending social gatherings at close friends' houses.
Mid-day meal: Education dept releases money
Patiala, February 3
After Human Rights Commission took notice of the news reports regarding non-dispersal of funds for the mid-day meal scheme in Punjab, the Education Department released a part of the payment.
Under debt, farmer kills himself
Amritsar, February 3
Unable to pay a debt of Rs 80,000, farmer Baljinder Singh Babba of Veela Teja village committed suicide last evening. Babba, with a land-holding of two acres, was working as a chowkidar (security guard) at a nearby godown for additional income. He was being paid Rs 100 per day for the job.


Selection of woman member set aside
Chandigarh, February 3
A Division Bench of the Punjab and Haryana High Court has set aside the appointment of a woman member of the Punjab State Consumer Disputes Redressal Commission.


Man arrested for kidney ad
Patiala, February 3
The police has arrested a person for issuing an advertisement in a newspaper to buy a kidney. The accused has been identified as Karnail Singh, a resident of Kherha Jattan village. "An NGO in Bathinda took notice of the advertisement and after identifying the person, reported the matter to the health ministry", the police said.