Minister shakes a leg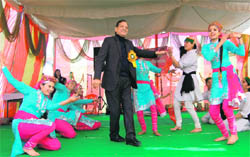 Industries Minister Kishan Kapoor dances with students at the annual day function of Government Senior Secondary School in Dharamsala on Monday. Photo: Kamaljeet
Stall auction of George Cross, awardee's widow urges HC
Shimla, February 6
Determined to get back the George Cross awarded posthumously to her husband Naik Kirpa Ram in 1946, Brahmi Devi has approached the state high court to stall the auction of the medal after the British authorities refused to accept the findings of an Indian investigating agency that it was stolen.
Power maintenance services withdrawn, patients suffer
Kangra, February 6
A piquant situation has arisen due to government apathy which has resulted in the withdrawal of the maintenance of electricity services in the DRPGMC Hospital Tanda with state government departments at loggersheads and the state government a mute spectator to the trauma that the hospital authorities and patients were undergoing.
Power men to launch statewide agitation
Hamirpur, February 6
The Himachal Pradesh State Electricity Board Limited Employees Union has decided to launch a statewide agitation against the state government and the board management to press for its long-pending demands.
Demand for district status intensifies
Nurpur, February 6
The demand for granting district status to the oldest bordering subdivision, Nurpur, has intensified with the local Municipal Council (MC) unanimously passing a resolution in this regard. The meeting of the MC, which was held yesterday, was presided over by its president Krishna Mahajan. It urged the Chief Minister to grant district status to Nurpur on the administrative grounds and fulfil long-pending demand of the area.
Dhumal lays stone of polytechnic college
Kullu, February 6
The state will explore the possibility of setting up a university in the private sector in Kullu district and an industrial training institute in Manali.
890 treated at 3-day health camp
Bilaspur, February 6
The Krishna Utsarg Sansthan, a philanthropic organisation working at Vijaypur village, near here, in the memory of late Krishna Devi Nadda, mother of former Health Minister and now BJP national general secretary JP Nadda, and another social organisation Chetna collaborated to hold a three-day free health check-up camp at Harlog, Vijaypur and Kutheda which concluded this evening.
Govt should take over control of Shani temple: CPM
Hamirpur, February 6
The Communist Party of India-Marxist (CPM), Hamirpur District Committee, has urged the state government to take over the control of the Shani Dev temple at Lamblu.
Depicting Dalai Lama in hostile terms won't help China: Karmapa
Dharamsala, February 6


Seventeenth Karmapa Oygen Trinley Dorjee has stated that constantly depicting the Dalai Lama in hostile terms will not benefit China in any way. In a statement here, he said even Tibetans born in Tibet decades after the Dalai Lama had gone into exile, still regarded him as their guide not only for this life, but also for life after death. Therefore, striking at the heart of Tibetan faith damaged the prospect of winning Tibetans' trust. This was neither effective nor wise, he said.
Oygen Trinley Dorjee
House gutted in fire
Chamba, February 6
A double-storeyed house was destroyed in a fire which broke out at Kehal village in Sillagharat belt of Chamba district yesterday, thereby rendering three families homeless.
Alpine Premier League starts in Solang valley
Solang Valley, February 6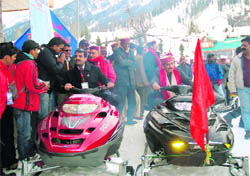 The Alpine Premier League, first of its kind in India, being programmed by the Ski Himalayas Ropeway and Ski Centre with organising partners local ski clubs of surrounding Palchan, Kothi, Ruar and Solang villages and supported by the Atal Bihari Vajpayee Institute of Mountaineering and Allied Sports (ABVIMAS), Manali, and Himachal Tourism started in the Solang ski slopes today.
Chief Minister PK Dhumal enjoys a ride on a snow machine at the Solang ski slopes, 13 km from Manali, after inaugurating the Alpine Premier League on Monday. Photo by writer
Man found murdered in gurdwara room
Paonta Sahib, February 6
Mohammed Faiz (31), hailing from Sehajpur in Uttarakhand, was found murdered in room number 47 of the Paonta Sahib gurdwara today by the police. The murder has shocked both the police and the gurdwara authorities.
One killed as truck skids off road
Bilaspur, February 6
Sunil Dutt (40) of Ropa village of Hamirpur district travelling in an HPSEB Hamirpur division truck (HP-67-1074) was killed on the spot when the truck skidded off the road near Dalli village near here this evening.
Rape accused surrenders before police
Kangra, February 6
A 50-year-old man, father of four children, accused in a rape case of a 23-year-old deaf and dumb girl, surrendered before the police at Nagrota Bagwan police station this evening.
Govt making efforts to strengthen 'land bank'
Palampur, February 6
Himachal Pradesh has succeeded in attracting an investment amounting to Rs 17,253 crore in the past four years by giving approval to set up 4,857 industrial units. It will provide employment to 1.98 lakh persons.
Promotion to Class III Posts
Remove pre-condition of clearing typing test: Staff
Shimla, February 6
The Himachal Pradesh Employees Confederation has urged Chief Minister PK Dhumal to waive the mandatory pre-condition of clearing the typing test for promotion from Class IV to Class III posts.
Detailed project reports of tunnels by next month
Shimla, February 6
The detailed project reports (DPRs) for the construction of three traffic tunnels in different parts of the state will be completed by March to ensure that the work gets under way at the earliest.