Selection criteria for asst professors changed
Dharamsala, January 31
After the intervention of Vice-Chancellor (VC) Furqan Qamar, the Central University, Himachal Pradesh, has changed the criteria for the selection of assistant professors in the institute.
New administrative maps of Kangra to be released
Dharamsala, January 31
New administrative maps of Kangra will be released very soon. Different maps varying from block, sub-divisional and panchayat levels shall also be made available on the official website of Kangra district.
Residents of snow-bound areas still face problems
Chamba, January 31
Far-flung terrains like Jassourgarh, Bagheigarh, Chanju and other areas falling in Churah subdivision of Chamba district continue to remain snow-bound due to the disruption in the transportation services.
Need to revive traditional water bodies: CM
Shimla, January 31
Chief Minister Prem Kumar Dhumal has stressed the need for the revival of traditional water bodies to make additional sources available in rural areas.
HPU puts fee-hike issue on hold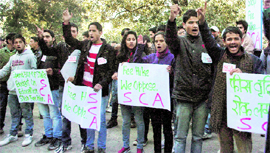 Shimla, January 31
The crucial issue of fee enhancement in Himachal Pradesh University (HPU) has been put on hold for the time being as the executive council today decided to hold a special meeting in February to discuss the recommendations of the resource mobilisation committee (RMC).

UP IN ARMS: Students hold a demonsration against the proposed fee hike at Himachal Pradesh University in Shimla on Tuesday. Photo: Amit Kanwar

BJP dissidents may float political outfit
Shimla, January 31
Having failed to get a positive response from the party higher-ups with respect to their grievances, political circles are rife with speculation about floating of a political outfit by dissident BJP leaders who had formed the Bhrashtachar Mukti Morcha.
Industrial units on expansion spree
Solan, January 31
Industrial units are on an expansion spree with March 31 marking the end of all benefits available under the 2003 central industrial package.
CM mourns Lt General Dayal's death
Shimla, January 31
Chief Minister PK Dhumal has expressed grief over the demise of Lt Gen RS Dayal, who died at Chandigarh yesterday.


Operation successful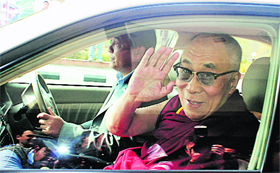 The Dalai Lama comes out of the Kangra airport on Tuesday after returning from Delhi where he underwent a successful cataract surgery on his left eye. Photo: Kamaljeet
Hill farming to be mechanised
Shimla, January 31
The public sector HIMFED has taken an initiative for the much-needed mechanisation of agriculture in the hill state to help farmers cope with the growing shortage of labour caused by the implementation of MNREGA and make small landholdings in the hill state economically viable.
Undertrial found hanging in jail
Bilaspur, January 31
Undertrial murder accused Parsu Ram (46) was found hanging with a piece of cloth from the ventilator rod of the bathroom of the Government Open-Air Jail at Kothipura nere here yesterday.
Be wary of online lotteries: Police
Mandi, January 31
The state police today sounded an alert asking the public and banks and other financial institutions to keep a strict vigil and not to fall in the trap of "fake account holders, online lotteries and cash prizes" as these were traps to lure victims.
Dept gets a pat for institutional deliveries
Hamirpur, January 31
Additional District Magistrate (ADM), Hamirpur, Rajeshwar Goel has said the Health Department has been playing a significant role in providing health services to the public through government hospitals in Hamirpur district.
5-day medical camp at Dharampur
Kangra, January 31
A five-day multiple-specialty medical camp will be organised by Dr RP Government Medical College (DRPGMC) Tanda at Dharampur in Mandi district from February 2. Patients suffering from eye, gynaecology and surgical problems will be treated by specialists during the camp.