Students who experience examination anxiety score less than their non-anxious peers. But with patience and support of parents and teachers, most of these children can be taught to overcome their fear
Test-ing times
Dr Samir Parikh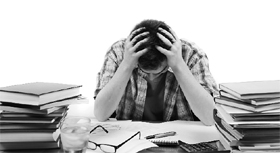 It is the night before his economics examination, and Satish is still up at 3 a.m. He is surrounded by piles of books and notes. There have been months of systematic study, organised schedules, and no socialising. He must score as well as his brother, his parents wouldn't put up with anything else. Satish sits trying to revise one last time. But he is feeling too tense, so tense that he can't focus on the chapter. His heart starts to race, his breath comes in short staccato bursts, and there's a tangible tension running through his body.
Unfortunately, this dramatic scenario is not an exception. The fact is that 80 per cent of students today suffer from exam-related anxiety. There are, in fact, studies that have found that students, who experience examination anxiety, score 12 percentile ranks below their non-anxious peers.
Examinations are not a monster that children must confront once in their lives. For children who experience examination anxiety, it's not just a one-off thing; it's not merely about Class X or XII Board examinations. Instead, this monster hounds them every few weeks or months for at least the first 20 years of their life. Even a simple class test can trigger these anxiety reactions.
Recognising anxiety
Examination stress shows itself not just as a psychological feeling of nervousness but can also manifest as bodily symptoms. The term "exam fever" is not an exaggeration. It is not uncommon for students, overwhelmed with stress, to experience headaches, indigestion, fever and blackouts before and during exams. Other physical symptoms include excessive sweating, stomachache, nausea, shortness of breath, palpitations and dry mouth.
Poor concentration, "blanking out", confusions and poor organisation are also warning signs of examination stress. Students suffering from anxiety think negatively, fear failure, experience feelings of inadequacy and compare themselves unfavourably to others. The spontaneous reaction of anyone suffering from examination stress is to fear the worst-possible outcome.
Causes of stress
We all assume that if a child is nervous before an examination, it's because he hasn't studied hard enough. If that was the case, however, we could safely assume that students scoring 90 per cent or more would never be troubled by examination stress. This, of course, is not true. Therefore, examination pressure has got nothing to do with the level of preparedness.
Many other factors influence how children look at and cope with examinations. Along with one's own expectations, a student entering an examination hall also has to carry the hopes and dreams of his parents. If you ask a child what he fears the most, the fear of letting down one's parents would probably rank very high.
A student's prior experiences with tests also influence how he will react in such situations in future. That is why often students, who may do poorly in maths examination one day, will probably experience a greater anxiety for an English paper the very next day even though he may be good in the subject.
There are factors beyond students' control that also contribute to the pressure. Cut-off marks are shooting through the roof and competitiveness in all academic branches has increased. It has become increasingly difficult to get through one's course of choice, and with that, students perceive an increasing amount at stake with every examination. Media vans outside examination centres and the hype surrounding results hasn't helped either.
How pressure affects students
Stress in moderate amounts is necessary if one wants to succeed. It serves as a motivation, driving us towards our target. But when stress exceeds its optimal level, it creates a sense of disorganisation and interferes with the healthy functioning of mind.
A decline in the academic performance is perhaps the most obvious outcome of examination stress. Students begin to fear the worst. A child suffering from exam-related anxiety will not be able to concentrate despite his best efforts. Silly mistakes become all too common and students tend to blank out even while trying to answer questions they are well prepared for. Some even start avoiding the subjects they may have initially been interested in.
Insomnia and a loss of appetite often accompany the pressure of examinations. Exam stress gets particularly dangerous when it starts affecting the health and well-being of the students. The pressure to perform in exams can often lead to a loss of confidence, low self- esteem, social withdrawal, self-blame and depression. Startling statistics reveal that suicide rates in adolescents have gone up many times since the 1950s.
Coping tactics
Taking an examination is a life skill, and like any other skill, it can be improved with practice. Students must remember that while their efforts and performance are under their control, the final outcome – the result – isn't. Effective preparation is the first step to counter examination stress. Use study skills such as highlighting, note making, and memory aids. A student's attention span is about 45 minutes; take short regular breaks to maintain a high-level of attention and concentration. Organise your schedule effectively and avoid last-minute preparation. Regular self-tests are also a good idea.
Don't make any drastic changes in your lifestyle. Do not skip meals or compromise on your sleep. Keep sufficient time for exercise and recreational activities; take out time for the things you enjoy doing. Continue to communicate with your friends, and meet them regularly.
Most of all, remember that there is nothing abnormal about feeling anxious. Eight out of the 10 students in the examination hall are experiencing the same thing.
(The writer is Chief Psychiatrist, Department of Mental Health and Behavioural Sciences, Max Healthcare, New Delhi)