Staff shortage a major problem in Ludhiana jail
Ludhiana, February 15
Taking undertrails to the courts has never been an easy task for the jail authorities, especially in a city like Ludhiana where there are over 2,600 undertrails and criminals lodged in the Central Jail. However, videoconferencing has come as a major relief for the authorities and only those persons are taken to the courts whose challans are presented before the magistrate.
Escorting undertrials to court a tricky business
Amritsar, February 15
Poor infrastructure coupled with staff crunch and lack of dedication on part of the Amritsar district police end up facilitating jail inmates in their escape bids. A day after six undertrials escaped from the district court complex, three of them later re-arrested, a close watch on the procedure being adopted to bring undertrials to the court exposed several loopholes which call for immediate attention.
Capt: State headless with CM abroad
Chandigarh, February 15
Punjab Pradesh Congress Committee president Capt Amarinder Singh today criticised the Chief Minister, Parkash Singh Badal, and Deputy Chief Minister Sukhbir Singh Badal for leaving the state headless and leaving for abroad without naming anybody to take care of the affairs of the government in their absence.
Morcha expects 18% vote share: Manpreet Badal


Ludhiana, February 15
The Sanjha Morcha expects 18-20 per cent vote share in the assembly elections, says People's Party of Punjab (PPP) president and Sanjha Morcha chairman Manpreet Singh Badal. Emphasising that he had no ill-will towards any political party, he said: "Our party will assess what our strength is and how the other parties have fared. But whatever decision the Sanjha Morcha takes will be in the interest of the people. It will not be a politically motivated decision." Manpreet was in Khanna today.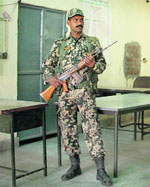 EC: Upgrade security at strongrooms
with EVMs
Moga, February 15
The Election Commission today issued guidelines to district magistrates-cum-district election officers in the state to upgrade security at strongrooms where the electronic voting machines (EVMs) have been kept till counting on March 6. Dalip K Verma, Under Secretary, EC, has said one key of the strongroom should be with the district election officer and the other with the returning officer of the assembly constituency concerned.
A policeman outside a strongroom at Dera Bassi
Beeping voting machine switched off, data safe
J

alandhar, February 15
The data in the Electronic Voting Machine (EVM) of booth number 80 of Bagri Mohalla in the Jalandhar Cantonment constituency, which had given a tough time to the candidates of different parties as well the administration officials, has not suffered any damage as the beeping machine was safely switched off by an engineer deputed by the Election Commission of India (ECI).
Indecent Punjabi songs and videos
Women's organisation to burn effigies of singers
Patiala, February 15
In protest against the alleged sub-standard Punjabi videos, the Istri Jagriti Manch today announced it would burn effigies of five Punjabi singers, including Miss Pooja, here tomorrow. Amandeep Kaur, a Manch member, said, "Despite protests outside Diljit Dosanjh's house at Ludhiana, the music industry does not seem to get our point that any indecency against women will not be tolerated."
Hoshiarpur DC's kin caught levelling hillock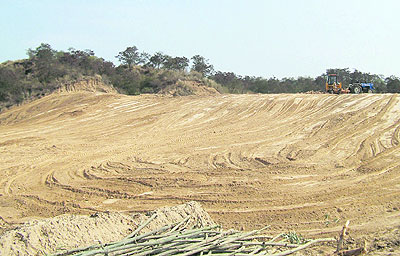 Chandigarh, February 15
The Forest Department has initiated proceedings against relatives of Hoshiarpur Deputy Commissioner Dipinder Singh after they levelled a hillock at Kurari village in Mohali district on the pretext of felling trees, for which the DC's mother had taken permission.
Partially levelled hillock at Kurian village in Mohali district. A Tribune photo

Diversification bears fruit for these farmers
Ludhiana, February 15
Diversification is the key word for these progressive farmers from Fazilka and Pathankot. And they are not averse to experimentation. Their efforts towards diversification, coupled with an innovative approach, have yielded fruit, literally.
Purchase vaccine from user charges, SMOs told
Chandigarh, February 15
The Punjab Government has instructed all Senior Medical Officers to procure the anti-rabies vaccine for emergency use from the user charges collected by the Civil Hospitals. About a year ago, the state government had procured a stock of the vaccine worth Rs 2.5 crore that has been exhausted.
Ex-GNDU prof bags Sahitya Akademi prize for translation
Amritsar, February 15


Dr Gurbax Singh Frank, a retired professor of Guru Nanak Dev University (GNDU), has been awarded the Sahitya Akademi Prize for Translation for his book, 'Bharat Nikki Kahani', an anthology of short stories of various languages. The prize comprises Rs 50,000 and a copper plaque, which would be presented to him at a function in August. Former head of School of Punjabi Studies at the GNDU, Dr Frank spent 10 years in the erstwhile USSR (1969-76 and 1988-1991) for translating literary works of Russian authors like Rasul Hamzatov, Boris Polevoi, Chingez Aitmatov, LN Tolstoy, Maxim Gorky, V Pannova, and Yuri Lermontov.
PowerCom told to set up village committees to check pilferage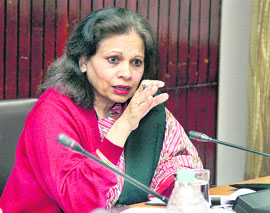 Power commission wants farmers to use star-rated motors
Jalandhar, February 15
In yet another effort to conserve energy, the Punjab State Electricity Regulatory Commission has advocated the use of star-rated motors by farmers. It has directed Punjab State Power Corporation Limited (PowerCom) to set up village-level committees to discourage power pilferage.

Punjab State Electricity Regulatory Commission Commission Chairperson Romila Dubey at Jalandhar on Wednesday. Tribune photo: Sarabjit Singh

Gidderbaha court complex
File of construction work goes missing
Chandigarh, February 15
Gidderbaha judicial court complex construction file has been lost. This was informed by the Punjab and Haryana High Court's Registrar (Rules) Virender Aggarwal to the Division Bench of Justice MM Kumar and Justice Rajiv Narain Raina during the hearing of a petition on the construction of court complexes in Punjab. As a result of the missing file, the matter could not be taken up by the High Court's Building Committee.
Amritsar's Town Hall to house museum, HC told
Chandigarh, February 15
Amritsar's historic Town Hall will soon house a museum, a library and a tourist office. Visitors will also be able to pick handicrafts and other traditional stuff from the historical building.
Act against convicted cops: HC
Chandigarh, February 15
The Punjab and Haryana High Court has directed the State of Punjab to take action against convicted police officials on probation. The directions by a Bench of Justice MM Kumar and Justice Rajiv Narain Raina came on a PIL filed by advocate HC Arora for action against convicted police officials. Arora said that some convicted police officials had been retained in service on the ground that the court had released them on probation under the Probation of Offenders Act.


Tipsy cop shoots DJ dead in Tarn Taran
Tarn Taran, February 15
Firing at a marriage party in the border township of Bhikhiwind took life of Balveer Kumar, a disk jockey, today. Balveer, a resident of Ramamandi in Jalandhar, died on the spot, while accused Kulwinder Singh, an Assistant Sub Inspector posted at the police line, fled the scene after the incident.
Valentine's Day
Two booked for beating couples
Patiala, February 15
The police has registered a case against two persons and some unidentified women for allegedly beating up couples sitting in parks and other public places here on Valentine's Day.