MLAs list priorities at meeting with CM
Shimla, February 15
Chief Minister Prem Kumar Dhumal yesterday said successive BJP governments had succeeded in securing sanctions to the tune of Rs 2,575 crore from the National Bank for Agriculture and Rural Development (NABARD) for various projects.
Tourists make the most of sun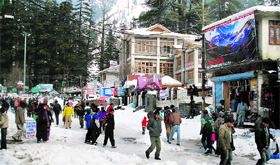 Manali, February 15
After three days of snowfall and inclement weather conditions in the Manali region, the sun shone bright this morning and local residents and tourists got some respite from the cold.



Tourists walk on the snow-covered Mall road in Manali on Wednesday. Photo by writer

Revert to old examination schedule, say schools
Mandi/Kullu, February 15
Thanks to the "apathetic attitude" of the Directorate of Education, teachers, parents' unions and private schools' unions are up in arms against the change in the examination schedule from December to March for non-board classes in the snow-bound winter-closing schools in the state.
18 trees axed on school campus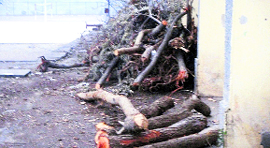 Solan, February 15
As many as 18 bottlebrush trees have been axed illegally on the campus of Jawahar Navodaya Vidyalaya (JNV) at Kunihar without obtaining permission from forest officials.



Axed trees lie on the Jawahar Navodaya Vidyalaya campus at Kunihar.

Baddi varsity rubbishes ABVP report
Shimla, February 15
Private universities are not pleased with the findings of the nationwide survey conducted by the Akhil Bharatiya Vidyarthi Parishad (ABVP) and some of them have contested the highly generalised conclusions.
Lahaul-Spiti is best in gender ratio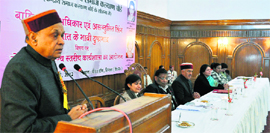 Shimla, February 15
The tribal district of Lahaul and Spiti has been adjudged the best in the country for maintaining a gender ratio of 1,017 females per 1,000 males in the past decade.


Chief Minister PK Dhumal addresses a gathering at a workshop on the rights of the girl child in Shimla on Wednesday.

Police keeps watch on places frequented by Israeli tourists
Kullu, February 15
After the Mumbai 26/11 terror attacks, Pakistani-American mastermind accused David Coleman Headley's divorced Morroccan wife Faiza Qutalah was in Manali in 2008. Now a Delhi terror attack on Israelis on Monday has brought the spotlight on Israelis Chabad houses in Manali and Kasol, the main nerve centres of travelling Jews, mainly young military personnel in the valley.
Cement project-hit residents await relief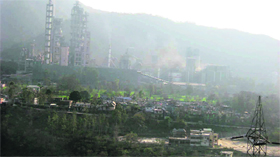 Sundernagar, February 15
Residents of eight panchayats of Sundernagar subdivision situated on the border of Mandi district adjoining Bilaspur district have been still waiting for the status of affected persons since 1984 when a cement plant was set up by ACC Cement at Barmana in Bilaspur district.

A view of the ACC Cement plant at Barmana in Bilaspur district. Photo by writer

Finances for computerisation of offices sought
Shimla, February 15
The Himachal Government has sought a financial package from the Centre for modernising and computerising employment exchange offices under the Mission Mode Project.


Up in arms against 'taxing' tax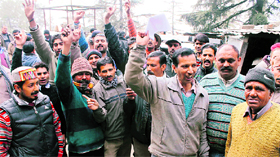 Taxi operators raise slogans against an increase in the token tax outside the RTO office in Shimla on Wednesday. Photo: Amit Kanwar
Results Framework Document released
Shimla, February 15
Chief Minister PK Dhumal released the Results Framework Document (RFD) for the current financial year 2011-12 for 34 departments, here today.
Man booked in rape case
Nurpur, February 15
Following a court direction, the local police lodged a rape case under Sections 376 and 493, IPC, against Bajinder Singh of Dharooh village this evening.
Freedom fighter dies at 96
Nurpur, February 15
Bachitar Singh (96), a freedom fighter from Bari-Batran village in Kher gram panchayat in this subdivision, died today due to aging problems. He had joined the Azad Hind Army and fought against the English army several times.