Work on Mehatpur-Amb road comes to a standstill
Govt imposes penalty on Chinese company
Una, February 12
The work on the much delayed Mehatpur-Amb state highway has once again come to a standstill. Sources told The Tribune that the work had come to a standstill as most of the workers of Chinese company Longjian, including the project manager, had left for China. Company officials left for China to participate in the Chinese New Year celebrations. They are likely to arrive back at the end of this month.
College violence: CPM wants Hamirpur SP shifted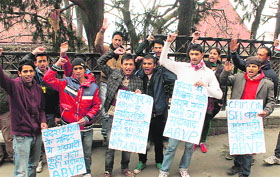 Shimla, February 12
The CPM has urged the government to immediately transfer the Superintendent of Police, Hamirpur, for allegedly perpetuating violence in the district, even as the ABVP staged a protest here today to press its demand for the arrest of the SFI activists who allegedly attacked its members in Hamirpur yesterday.
Activists of the ABVP hold a protest outside the Deputy Commissioner's office in Shimla on Sunday.

Nerve-related hearing disability more in Himachal Pradesh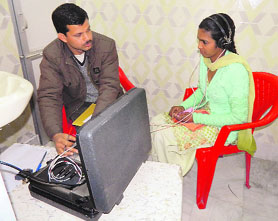 Kangra, February 12
Stress, change in lifestyle, indulging in smoking, consuming liquor, lacking awareness and having an unbalanced diet and other unknown reasons seem to be the major reasons for the nerve-related hearing disability, which was more prevalent in this hill state in comparison to major cities of the country. These factors contributing to such deafness need to be addressed and reasons evaluated.
An audiometry test in progress at a free OPD ENT camp in Kangra on Sunday. Photo: Ashok Raina

Another nun commits self-immolation in Tibet
Dharamsala, February 12
The spate of self-immolations being committed by monks and nuns in Tibet is continuing. Sources among the Tibetan exiles here said reports had been received that another teenaged Tibetan nun had committed self-immolation in Ngaba, eastern part of Tibet, today.
Pakistani pop duo plays unity tune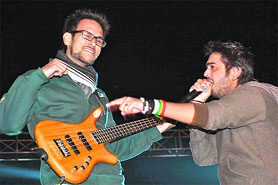 Band casts a spell on IITians during festival
Mandi, February 12
After creating a stir on their arrival on the international music scene about five years ago, Raeth, a pop music band of Wajhiuddin Farouqui and Sunny Ghanshayam from Karachi, has a mission to unite the youth of India and Pakistan that can usher in an era of peace and prosperity in the region.
Wajhiuddin Farouqui and Sunny Ghanshayam of Pakistani pop band Raeth perform during a fest of the IIT, Mandi. Photo: Jai Kumar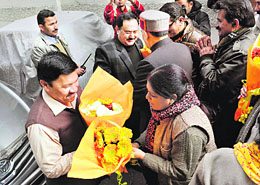 Central BJP team holds talks with party men
Shimla, February 12
The two-member team deputed by the BJP high command started consultations with party men to ascertain their views and also know their grievances so that necessary measures could be taken to strengthen the party.
Party workers welcome BJP state co-in charge Shyam Jaju and national general secretary JP Nadda at the party office in Shimla on Sunday.

Health cover for MNREGA beneficiaries
Shimla, February 12
The third phase of the Rashtriya Swasthya Bima Yojna (RSBY), launched recently, will provide succour to MNREGA beneficiary families and those in the unorganised sector, besides BPL families.
NGO not to manage gausadan from today
Nurpur, February 12
The Association of Farmers Federation Society, an NGO which had signed an MoU with the Department of Animal Husbandry in July 2011 to manage the newly built state government's gausadan at Khazian, today decided not to look after the cattle in the gausadan from tomorrow onwards. The management of the gausadan had come under a scanner earlier this week when a number of animals had died mysteriously on February 6.
Scholarships for needy students
Shimla, February 12
The Aryans Group of Colleges, Chandigarh, will provide 50 scholarships worth Rs 25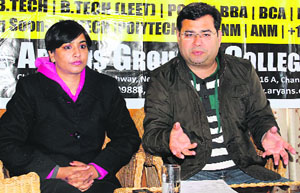 lakh to needy students of Himachal Pradesh under the "scholarship-cum-admission mela" to be organised shortly. Stating this here today, Anshu Kataria, chairman of the group, said the scholarships would be given purely on merit-cum-means basis and the interested students needed to get prior registration through the helpline number 084277-78000 or the website www.aryans.edu.in to avail of the benefit.
Anshu Kataria, Chairman, Aryans Group of Colleges, Chandigarh, talks to mediapersons in Shimla on Sunday.

Schools to have smart classes
Bilaspur, February 12
Himachal Pradesh is the first state in the country which has been allowed ICET (smart) classes by the Central Government. This education is being started in 618 government senior secondary schools in the state while other schools will be covered in phases.
2 held for beating up parents-in-law, wives
Bilaspur, February 12
The police at Talai police station arrested two youths, namely Ashok Kumar (25) of Malraon village and Lekh Ram (25) of Saloa village in this district, on the charge of beating up their father-in-law, mother-in-law and wives at their in-laws' house at Kot Bateen village under Paploa gram panchayat, about 90 km from here, last night.
Rent Control Act
Scope of urban tenancy law under SC lens
New Delhi, February 12
The Supreme Court (SC) will go into the scope of the Himachal Pradesh Urban Rent Control Act, 1987, to clarify the status of tenancy in the event of the death of any tenant.
Annual Plan
CM to hold meetings with MLAs
Shimla, February 12
Chief Minister Prem Kumar Dhumal will preside over consultation meetings to discuss the priorities of MLAs for the annual Plan for 2012-13 on February 13 and 14 at the state secretariat.
4.5 kg charas seized in Chamba dist
Chamba, February 12
In a special campaign against drug-trafficking in Chamba district, the police has seized 4.5 kg of charas from the possession of three persons near Shikari Mor in the distant terrain of Chamba district today. Deputy Superintendent of Police (DSP) Kulbhushan Verma gave this information to this reporter over the phone.