33 per cent rural students quit studies at matric level: Study
Chandigarh, February 12
In what raises a question mark over the efficacy of our education system, a Punjab Agricultural University study has pointed out that 33 per cent of the students in rural areas drop out of schools at the matric level.
Sangrur sees alarming rise in cancer cases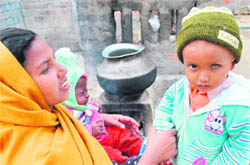 Fatehgarh Channa, Sangrur, February 12
Agony, physical and mental pain and monetary problems have become part of lives of hundreds of families living in the villages of Sangrur district. Reason: The number of cancer patients is witnessing a steady increase in the area.

Three-year-old Jaskaran, who has eye cancer, with his mother at Fatehgarh Channa village in Sangrur. Tribune photo: Rajesh Sachar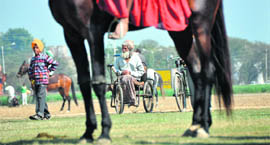 Ban on bullock cart race stalls ox trade
Ludhiana, February 12
The winner ox of Jasbir Singh of Jhande village was fetching Rs 4 lakh till a few days ago. But following a ban on bullock cart performance, no one is ready to buy the animal.

An elderly man on a wheelchair at Kila Raipur on Sunday. Tribune photo: Himanshu Mahajan

In Gujjarwal, ox dies after race
Ludhiana, February 12
While animal rights activists are making sure that bullock cart races do not take place in Kila Raipur rural sports, such events are being organised in other rural games in the neighbouring villages of Ludhiana.

PPP meeting today
Chandigarh, February 12
After the recently held assembly elections, the People's Party of Punjab will hold its first here tomorrow to take stock of the political situation in the state. PPP chief Manpreet Singh Badal will meet party candidates and members of PPP's general council and central committee.

Manpreet Badal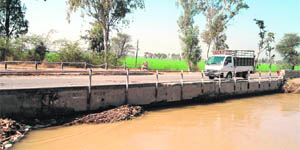 Rising canal water alarms villagers in Muktsar areas
Muktsar, February 12
The water level in a number of canals in the district has touched the bridges built over them, a phenomenon that is common during the rainy season but unheard of in the winters.

A vehicle crosses a bridge near Mehrajwala village in Muktsar district. A Tribune photograph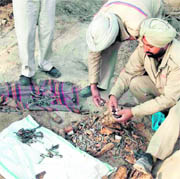 Rusted grenade, 250 cartridges found in Malout
Muktsar, February 12
The police today found a rusted grenade and around 250 unused cartridges from a box buried along a distributary at Rathrian village near Malout town. A few labourers had been digging land near to the distributary in the morning when they recovered the box.



Cops at the site. Tribune photo

Blue bulls found mauled to death
Ludhiana, February 12
Panic has gripped Buani and Majara villages in Ludhiana as seven animals, including three blue bulls (neel gai) and a calf, have been mauled to death in the past one week.
Star campaigners' flights cost Rs 10 cr in elections
Chandigarh, February 12
Various political parties spent nearly Rs 10 crore on helicopters during elections in Punjab, as the Election Commission in different districts of the state registered 120 chopper landings.

Rs 10.2 lakh spent on paid news in Moga
Moga, February 12
As many as 15 candidates, who contested elections in the four assembly constituencies of the district, had paid Rs 10.2 lakh to get their photographs, news and advertisements published in newspapers, according to the report prepared by the district-level media certification and monitoring committee set up by the Election Commission in the district.
Ludhiana double murder
Cops don't rule out robbery motive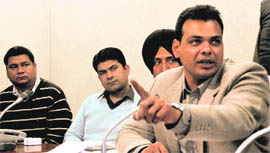 Ludhiana, February 12
After having questioned at least 50 suspects, including hardened criminals, relatives and friends of murdered Moga DSP Balraj Singh Gill and Monica Kapila, DCP Ashish Chaudhary in a candid admission today said: "It is a personal challenge for me to crack the case."

Ludhiana DCP Ashish Chaudhary addresses mediapersons. Tribune photo: Himanshu Mahajan

On the Verge of extinction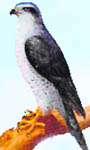 Wildlife Dept fails to procure pair of state bird for breeding
Patiala, February 12
After vultures, which are near extinction in this part of the country, the Punjab Wildlife Department has failed to procure a pair of the state bird - Eastern Goshawk (Baaj), which is associated with 10th Sikh Guru Gobind Singh. Despite numerous plans, including procuring the bird from Pakistan, the authorities have not been able to do much in this regard.

Eastern Goshawk (Baaj)

Health dept cancels doctor's licence for violating PNDT Act
Patiala, February 12
The Heath and Family Welfare Department has cancelled the licence of a medical practitioner, who made a futile attempt to abort the foetus of more than 13 weeks pregnant woman at a city hospital on December 21. The department has also issued a show-cause notice to the ultrasound centre from where the woman had got her ultrasound done for violating the PNDT Act.
Poster triggers tension in Balachaur
Balachaur, February 12
An uneasy calm prevailed in the town after tension arose between two communities over an attempt by local resident Shingara Ram to get an "objectionable" poster published.
Jathedar walks out of Mann's function
Fatehgarh Sahib, February 12
Gurbachan Singh, Jathedar, Akal Takhat, who attended shared the stage with SAD (A) chief Simranjit Singh Mann during the celebration of the 65th birth anniversary of Sant Jarnail Singh Bhindranwale here, walked out of the function. He left the venue as soon as stage secretary started criticising Chief Minister Parkash Singh Badal for betraying Bhindranwale and the Sikh Panth.



HC wants Punjab govt to promote roller staking
Chandigarh, February 12
The Punjab and Haryana High Court has asked the State of Punjab to develop a positive attitude towards granting recognition to roller skating, and sportspersons excelling in it by awarding suitable prizes.