amritsar
Stray dogs kill man, feast on body
Amritsar, February 8
In a shocking incident, seven to eight stray dogs not only killed a middle-aged man and feasted on his body. The victim was on his way back at the time of the incident. The victim has been identified as Subeg Singh (45), a resident of Pandori village falling under Chatiwind police station, was bitten to death by stray dogs. The incident came to light when some persons noticed several stray dogs eating a body.
Subeg worked as a hawker with a mini bus operator. Last evening when he was returning home from a kutcha lane, suddenly seven to eight dogs attacked and bit him to death.
Minor among three killed in road mishaps
Amritsar, February 8
As many as three persons, including a minor girl were killed while two persons were injured in separate mishaps late last evening. In the first incident, two persons were crushed to death when the car in which they were traveling collided with a trailer at Mehta Chowk. The deceased have been identified as Baljinder Singh and his uncle Kashmir Singh, both residents of Hoshiarpur.
In another incident, a 17-year-old girl, Mandeep Kaur, was killed when a speeding truck hit her scooter. She was on her way to her tuition classes.
jalandhar
Woman jumps into sarovar, saved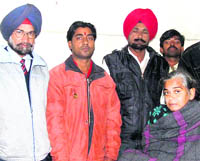 Jalandhar, February 8
A woman allegedly jumped in the "sarovar" of Devi Talab Mandir, situated on the Tanda road, this morning to commit suicide. But she was saved by three security guards and a "poojari" of the temple.
The woman, identified as Rupinder Kaur, resident of Panjpeer locality here, is said to be under mental stress. This is the second time that the woman jumped in the same "sarovar" to commit suicide.
Passports of 70 NRIs impounded
Jalandhar, February 8
In what may be termed as an exemplary punishment, the Regional Passport Office at Jalandhar has impounded passports of as many as 70 non-resident Indians (NRIs) for allegedly deserting their wives. Regional Passport Officer (RPO) Perneet Singh said these passports had been impounded during the past 10 months since the setting up of a special Women Grievances Cell (WGC) here in March last year.
According to information, as many as 250 complaints have been received against NRIs at the Women Grievances Cell of the RPO since March last year.
Perneet Singh said the passports of only those NRIs were impounded against whom their wives had also lodged FIRs of cheating under Section 420 of the IPC.
ludhiana
First flight in 10 days as weather clears up
Ludhiana, February 8
It was an altogether different story at the Ludhiana (Sahnewal) airport today. Much to the excitement of city residents, the lone Ludhiana-Delhi flight landed at the Ludhiana (Sahnewal) airport after a gap of almost 10 days. The last flight had landed at the airport on January 30 and since the weather was clearing up now, the Air India authorities expected the frequency of flights to increase in the coming days.
Three child labourers rescued from factory
Ludhiana, February 8
The district administration today conducted raids at a hosiery unit on the Jalandhar bypass and rescued three minor boys working on the factory premises. The children were sent to the Civil Hospital where a medical examination was conducted to determine their age.
The SDM (West), KPS Mahi, said the raids were conducted under the supervision of JS Bhatti, Deputy Director, Factories. The raids were conducted at a T-shirt manufacturing unit.
bathinda
Architecture students design journal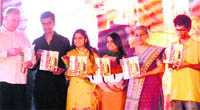 Bathinda, February 8
Students from the Department of Architecture of Punjab Technical University, Giani Zail Singh campus here, have drafted and designed a coveted journal of the National Association of Students of Architecture (NASA) that was released at its annual convention held at Ahmedabad recently.
The magazine was prepared under guidance of head of the architecture department Ranjeet Kaur and faculty editor Ripu Daman Singh and students' editorial team, comprising Bhawna Jaimini, Mandeep Singh Dhillon, Jasveen Sidhu, Aviral Sinha, Namrata Deol and Samarth Srivastava.
Continuous evaluation irks teachers, students
Bathinda, February 8
The Continuous Comprehensive Evaluation (CCE) system introduced in government schools under the Right to Education (RTE) Act has become a pain in the neck for teachers and students of classes IX and X.
Under the system, it is mandatory for the teachers to review every student on a weekly basis and then on a monthly basis. This translates into weekly tests and monthly tests. The government schoolteachers reason that at times, students in the rural areas do not come to school for days together.
"In such a situation, how can we assess the students on a weekly basis? The RTE does not allow failing a student till class VIII and in many cases, children do not have the knowledge as per the classes they are studying in," said a teacher. The teachers said while the move was meant to empower the faculty and make studying a continuous process (rather than an annual event in case of annual exams) for students, it had failed to serve its purpose.
"Instead, the children feel overburdened while we are caught in a lot of non-academic work," said another teacher.