State to give another shot at citrus cultivation
Centre for excellence to come up in Hoshiarpur
Chandigarh, February 11
Punjab will have another go at citrus cultivation, this time with Israeli help as the Union government has cleared the creation of a centre for excellence in citrus cultivation at Khanaura village in Hoshiarpur district.
Sterilisation drive fails to check canine population

Ludhiana, February 11
The sterilisation drive has failed to check the growing canine population in Ludhiana, Punjab's industrial hub. At least 10 cases of dog bite are reported at the Civil Hospital in the city daily. This is in addition to the cases that are reported at private hospitals here.
Pollution control board resumes surprise raids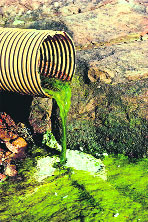 16 dyeing units found violating norms in Ludhiana
Patiala, February 11
Finally, the Punjab Pollution Control Board (PPCB) has resumed its drive to conduct surprise raids at industrial units in Punjab. As per information, the board has conducted surprise raids at 18 dyeing industrial units in Ludhiana yesterday. According to preliminary reports received by the PPCB at its headquarters here, out of 18 dyeing units, as many as 16 units were found violating various norms of the Water (Prevention & Control of Pollution) Act 1974, Air (Prevention & Control of Pollution) Act-1981 and Hazardous Waste management (HWM) Rules. Though officially Punjab Pollution Control Board officers had been maintaining that the board had not "suspended" the drive to conduct surprise raids, but in the past almost two months, the board had not raided industrial units, allegedly because of the "political compulsions."
State to be short of 17.7 lakh skilled workers in next 3 yrs
Chandigarh, February 11
Punjab would face a shortage of around 17.7 lakh skilled workers by 2015, said Principal Secretary, Technical Education, Suresh Kumar during a seminar at the Confederation of Indian Industry (CII) here today.
'84 anti-Sikh riots


High priests may discuss Big B's letter on Feb 25
Amritsar, February 11
The Sikh high priests will hold a meeting here on February 25 and the issues that are expected to figure on their agenda include film actor Amitabh Bachchan's letter pleading innocence in the 1984 anti-Sikh riots. Amitabh had handed over his letter, addressed to the Akal Takht Jathedar, to Gurinder Singh Bawa, an SGPC member from Mumbai, at the latter's residence on November 28 last year.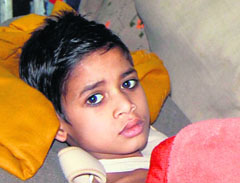 Hit by teacher, boy ends up in PGI
Patiala, February 11
An eight-year-old boy has landed in PGI, Chandigarh, after he was allegedly thrashed by his schoolteacher at Raiya village of Rampura Phul in Bathinda district. Incidentally, victim Harman, who also shares his name with the accused teacher, has been operated upon at Rajindra Hospital. The teacher allegedly beat him up, as he could not answer a question.

Harman Singh during treatment at Rajindra Hospital in Patiala on Saturday. Tribune photo: Rajesh Sachar


Party workers too 'guarding' EVMs
Samana, February 11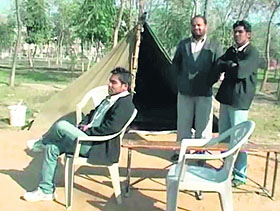 Away from the comfort of their homes a few kilometers away, some residents of the area opted to brave the spine chilling cold conditions and stay inside the make shift tents instead. With a couple of quilts and unlimited supply of tea and drinks, these gentlemen are pitching outside Public College, Samana. Apart from the security forces, which are manning the electronic voting machines (EVMs), more than two-dozen workers of the Congress and the SAD have also been deputed by their respective parties outside the venue where EVM machines have been kept.

Workers of a political party outside Public College in Samana. A Tribune photo

Trust holds blood donation camp
Patiala, February 11
The Dhruve Pandove Cricket Trust today organised a blood donation camp in the memory of late cricketer Dhruve Pandove. At the camp, which was inaugurated by Minister of State for External Affairs Preneet Kaur, cricketers and sportspersons donated blood that was later given to government hospital.


Yellow bloom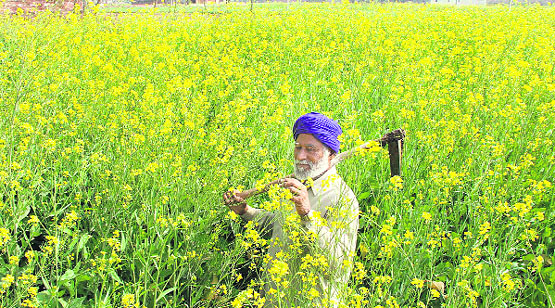 A farmer checks ripened mustard crop at Bolina village in Jalandhar on Saturday.
Tribune photo: Sarabjit Singh

Govt to promote college associate professors
Ludhiana, February 11
The state government has decided to promote at least 10 per cent associate professors of the government colleges to the post of professors. A proposal in this regard has already been sent to the Secretary, Education, Punjab, said Director Public Instructions (Colleges) Jaswinder Singh Brar here today.
Begin flight to Nanded: Badal
Chandigarh, February 11
Punjab Chief Minister Parkash Singh Badal has urged Union Civil Aviation Minister Ajit Singh to immediately start direct flights from Amritsar and Chandigarh to Nanded in Maharashtra for facilitating pilgrims to pay obeisance at Takht Sachkhand Sri Hazur Sahib.
Two labourers choked to death
Moga, February 11
Two labourers reportedly died due to asphyxiation in an animal feed manufacturing factory at Jhandeana village in Moga today. Identified as Jugraj Singh (41) of Ramuwala Nawan village and Resham Singh (36) of Charik village, the duo were found dead in a pit that was being used to prepare 'sheera' (decomposed mixture), a material used to make animal feed. The bodies have been sent for a post-mortem examination.
DSP murder case
Now, police probing contract killing angle
Ludhiana, February 11
In the double murder case of Moga DSP Balraj Singh Gill and Monica Kapila, who were killed at a farmhouse located near Hambra Road on February 1, the city police has started probing the case from contract killing angle and questioned three persons, including a close relative of Monica.
Ministry wants bamboo tree guards
Ludhiana, February 11
The state government has asked the District Programme Coordinators to place bamboo tree guards along roadside plantations under the Mahatma Gandhi Employment Guarantee Act (MGNREGA).


Dera chief's case deferred to Feb 18
Bathinda, February 11
The court of Chief Judicial Magistrate Harjeet Singh today adjourned the case involving Dera Sacha Sauda chief Gurmeet Ram Rahim to February 18. A complaint had been lodged against the sect chief for allegedly hurting the sentiments of the Sikh community by imitating tenth master Guru Gobind Singh's acts and dressing up like the latter.


3 held with PDS wheat
Muktsar, February 11
The police today booked a PUNSUP inspector and arrested three others for allegedly trying to sell 250 wheat bags in the open market that were actually meant to be distributed through the public distribution system.