The Supreme Court's rulings may have deemed live-in relationships legitimate and the tradition of Gandharva Vivaha may have lent it social legitimacy but in the 21st century, judicial pronouncements continue to view live-in relationships with a blinkered perspective
Keepers of morality
Ratna Raman
Recently two crimes committed by women were in the news. In one case Zarzoliani, an Indian who had moved to New Delhi from Manipur killed the Nigerian she was living with on discovering that he had been siphoning out all the money in her bank account. All this came to pass in 2008. The other case was that of a woman who beheaded her former lover unable to tolerate the harassment he was putting her through. He demanded sexual favours from her and forced himself on her in the presence of her children, emboldened perhaps by the fact that she had been recently widowed. She felt there was enough provocation to sever his head, and having done so, marched to the nearby temple carrying the head with her. Perhaps, she meant to discuss her action with the highest authority she recognised, but before she could enter the temple, the long hand of the law intervened, having been alerted by bystanders.
Women betrayed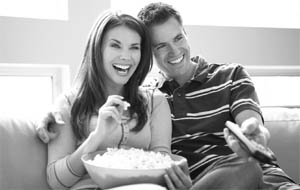 It is a terrible thing to kill another human being, yet as both women have demonstrated, if we modify the adage a bit, "that the earth does have her furies in women provoked!" The woman in the first case was enraged by a betrayal of trust and in the second instance the recurring violation perpetrated by an ex-lover could no longer be endured. In another age and time, such acts by women would have been termed as perverse and unwomanly. Living as we do in a more rational age can we hope for equitable and fair pronouncements from the judiciary?
Western concept?
The court awarded a seven year jail term and a fine amounting to seven lakhs to Zarzoliani. It remains to be seen what the verdict will be for the second woman who beheaded the man making her life a living hell. What needs serious scrutiny however is the preachy stance adopted by the court while delivering judgement. Justice Rathi's proclamation in the trial court that live-in relations "were alien to our nation" and viewed as "immoral" in society is clearly out of line. His opinion that live-in relationships are a fad generated by western cultural influence needs to be examined seriously. In order that civilised societies flourish, we need unbiased and progressive judgements that are well thought out and objective. This is important as the choice of words in the public sphere of dissemination remains significant and creates huge ripples.
Wrong signals
Justice Rathi's disapproval of live-in relationships is extremely strange, to say the least. He begins by acknowledging the Supreme Court's ruling on such relationships as legitimate. Next, he signals the enormous distance between the Supreme Court and himself when he goes on to advocate what he posits as an authentic understanding, namely that live-in relationships are not only alien to our nation but also faddishly immoral. He also frowns over the fact that the Nigerian's family knew nothing of his live-in relationship with Zarziolani.
We need to address all these issues. It is perhaps true that socially and legally sanctioned relationships between men and women remain in the eye of public scrutiny and increasingly marriage has become not only a social contract but also a legal one. Yet women have lived in predominantly patriarchal societies, where most rules have usually erred in favour of men. It needs to be reiterated that women have been often enough victims of marriages conducted in the presence of God, court and community and none of these institutions have been able to ensure that no harm befalls women.
Biased understanding
So arguably, the only morality that is sought to be monitored in a live-in relationship is "sexual." This control over women's bodies has a long history and is both primitive and chauvinistic. Pronouncements made by our judges from a position of authority, take on a life of their own in the public sphere. Significantly, they set several little wheels of socially sanctioned and sanctified patterns of behaviour into motion. The little wheels gather great momentum and often tend to spin out of control. So as concerned social scientists, it is essential that we take cognisance of the dangers posed by such public utterance, since this often colours and defines an understanding of popular mores. We also need to remember that the boundaries that once existed between public and private matters are being continuously redrawn in modern societies. Domestic violence, once overlooked as a private affair is now viewed as a crime and adultery has slid down the ranks being viewed now as a civil offence instead of a criminal offence.
Archaic laws
Justice Rathi needs to be reminded that the jurisprudence he practices is deeply influenced by the West. Most of our laws have been framed or modelled during our interaction with the West. Some of these laws are archaic and have remained so for over a hundred years, (witness the commotion that reading material that was contained in a banned book generated at the Jaipur Literary Festival 2012) though the world has shifted and twisted and reinvented itself so many times over since the nineteenth century.
It is possible to argue that Justice Rathi draws synergy from Justice Katju's pronouncements in an earlier case. A news item on the net mentions a court ruling wherein Justices of the Supreme Court Markandey Katju and T S Thakur delivered a judgment in which they upheld the use of the term "keep" to describe the status of a woman whom a man maintains financially and uses mainly for sexual purposes and/or as a servant. Adding insult to injury, the bench dismissed a review petition filed by The Mahila Dakshata Society which objected to the use of the word "keep" to describe a woman who was not married to the man in question. The use of the word "keep" was termed appropriate by Justices Katju and Thakur, despite reservations expressed by Additional Solicitor General Indira Jaisingh. Justice Thakur, in fact, inquired facetiously whether the word "keep" ought to be substituted with "concubine."
Inappropriate terms
These two court proceedings in our premier courts, details of which are available on the Internet, expose patterns of thinking and articulation that have not changed over several generations. In fact, it is more than a little disappointing that Justice Katju who keeps letting us know how well read and well informed he is, finds the use of the term "keep" appropriate to define a woman who provides sexual favours to a man and is not his wife. Perhaps, this is because his point of reference is confined to the working of feudal societies in Russia and Europe, represented in 19th century fictional narratives wherein sexual relationships outside of marriage were viewed with disgust and horror. Also, in the light of his rather simplistic allusions to Mary Magdalene and Amrapali, as instances of publicly reviled women, (one reformed by Christ and the other by the Buddha, according to Justice Katju) in a discussion pertaining to Sunny Leone's entry into Indian visual media, one shudders to construe how he would have described Magdalene and Amrapali, had they suffered the singular misfortune of not having their own names to fall back on.
Maybe our Justices need to be acquainted with the etymology of these terms. "Keep" and rakhel (which Indira Jaisingh posits as the Hindi equivalent of "keep" during the court proceedings) are words that are extremely insulting and derogatory, as they tend to objectify women. Both words come from an older usage and from a social space in which women's status was on par with chattel. This was at a time when women had few legal rights and were not citizens of a modern body politic. Language is a rapidly evolving system of signs in which words and meanings continue to draw and produce meaning within evolving societies. It should therefore be incumbent on the formulators of justice to view this aspect with due seriousness when they write judgements and before they dismiss pleas out of turn.
Hidebound ideas about women, spring from a training steeped in a colonial, imperial and hierarchical society and airing views such as have been expressed, detract from impartial and unbiased judgements. Katju, Thakur and Rathi would definitely benefit from revisiting the Manusmriti which records eight types of marriages as extant possibilities. Feminists have objected rightly to Manu's reductive positioning of women as persons requiring protection from the patriarchy of fathers, husbands and sons all through their lives. One could argue that Justice Katju, Justice Thakur and Justice Rathi subconsciously follow a hoary patriarchal tradition set in place by Manu.
Historic tradition
Yet, when it comes to the crunch, the Manusmriti seems far more liberal in its extrapolation of social practice when it describes "live in relationships" as one more variant of marriage. In a section which classifies and describes eight types of marriages, the fourth type of marriage is identified as Gandharva Vivaha. The term Gandharva Vivaha is used to describe a relationship between a man and woman who choose each other without the consent of family, friends or society at large. The Gandharva Vivaha is in effect a private consensual contract that is given due social legitimacy. It is not really very different from partnerships of personal choice which include sexual transactions as in contemporary "live-in relationships."
Justice Rathi must incorporate into his world view, the historic tradition of live-in relationships that have been validated in our country. He also needs to recognise that evolved societies come about as a result of a great deal of exchange and interaction. Justice Katju needs to urgently update his vocabulary and analyse closely the complex patterns of social behaviour that our age has thrown up and familiarise himself with the new rights that the Constitution enshrines for its women, so that he no longer needs to fall back on archaic expressions that belittle women and render them without due dignity. And while he works on this to emerge as a better role model, he needs also to explain exactly who is better suited to demand the expunging of archaic sexist words such as "keep" and "rakhel" if not a women's collective, especially since he has failed women so completely in his office as arbitrator. This matter must be placed for discussion before a larger bench. Surely there should be no dearth of justice for women in India's Supreme Court?
(The writer is associate professor, English, at Sri Venkateswara College,
Delhi University)