BRAVERY PERSONIFIED
Conferring the Ashok Chakra on Lt Navdeep Singh is the latest but not the last episode of gallantry in the long and chequered history of the Indian Armed Forces. His actions speak of military professionalism and placing duty, honour and selflessness above personal needs.
Maj Gen Raj Mehta (Retd)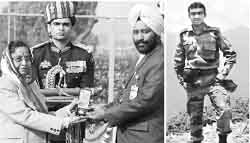 Lt Navdeep Singh (right) and the Ashok Chakra awarded to him posthumously being received by his father, Hony Lt Joginder Singh from the President on Republic Day 2012
A rookie Ordnance Corps officer on attachment to a fine Infantry battalion, 15 Maratha Light Infantry, Lt Navdeep Singh, lost his life in the high altitude, Gurais Valley in North Kashmir, in August 2011, while conducting a highly successful ambush. As many as 12 out of a group of 17 heavily armed Lashkar terrorists were neutralised by Navdeep and his Ghatak (Commando) Platoon, with two more being shot later. This stunning military success was the fallout of Navdeep's classic interpretation of soldiering - placing duty, honour, selflessness and sacrifice above personal needs. Intelligent and multi-skilled, the lad was in love -- with uniform, life and fiancée. And he sacrificed all three cheerfully — for the Idea of India.
His legacy is that he was doing a job that soldiers do night after night…an ordinary, routine job… However, when opportunity knocked on his doorstep, he was ready. He did an ordinary job with extraordinary zeal, fortitude and "follow me" traits. Navdeep died but remains deathless because his legacy lives on - applicable across age, gender and occupation, both military and civilian.
A Midnight Call
Lt Gen Syed Ata Hasnain, the iconic commanding General in Kashmir remembers that it was 2.30 AM on that dark, fateful night of 19/20 August 2011, when he was woken up by a strident, insistent ring. Instantly alert, he intuitively sensed something amiss. Lt Navdeep Singh; the peppy rookie officer he had complimented for his professionalism at the Corps Battle School for new inductees, had attained martyrdom at Bagtor, in the Gurais Valley while ambushing a "track" of Lashkar intruders. The stark, poignant epitaph that honours the dead Spartans of the Battle of Thermopylae in Greece in 480 BC; "Here we lie; having fulfilled our orders" was now his. His "Ganpats" (affectionate term for Maratha soldiers) had lost Navdeep in execution of the Indian Army tradition of Service Before Self.
Commissioned into the Ordnance Corps, young Navdeep died on the banks of the azure, Kishanganga (called Neelam in POK), flowing through the narrow picture-postcard Gurais Valley, which the Line of Control (LC) cuts across. He ensured, by his personal example, that 12 of 17 armed-to-the-teeth Lashkar terrorists were shot dead by him and his Commando platoon. In saving the life of his "buddy", Sepoy Vijay Gajare, he was fatally shot at five meters, just above his bullet-proof "patka"- a typically Indian improvisation of a full scale steel helmet that protects the forehead but leaves the head bare. Navdeep had no chance, dying even as he pulled his buddy to safety…he had shot his fourth terrorist before he succumbed.
Gurais Valley
Located on the erstwhile Silk Route, Gurais Valley at 9000 feet, is as much famous as the birthplace of Kashmiri civilization and the Sharda script, as it is for its pink trout, sapphires, friendly people as well as for the romantic, deathless story of Habba Khatoon; the ethereally beautiful Guraizi girl who loved and lost, pining for her beloved through her songs till her last breath. She lives on in Kashmir through dirges that speak of having loved and lost; The Scottish bard, Robert Burns captures her situation poignantly through his immortal poetry: "Had we na'er loved nor parted, we'd na'er had been so broken-hearted…"
Post his death, I did deep research and wrote extensively on his sacrifice. Determined to honour this lad at his place of death, I crossed the daunting Razdan Pass at about 12,000 feet to enter Gurais Valley before it got snowed in for six months. At the base, the road has ancient Kanzalwan village; its houses huddled together for comfort, with a shawl wrap of fog; part real, part cooking-fire driven. At Bagtor, the dynamic CO, Col Girish Upadhya, his key officers and Navdeep's Ghataks were all there -- proud, erect, happy that a retired veteran had come to salute one of their bravest sons. Firm handshakes with hard, calloused hands; the recessed smiles of brave, silent men given to letting their work speak for them and bear-hugs surrogated for mundane verbal communication.
The Briefing
I was led to a stunning vantage point where the village Bagtor cluster lay below, with the azure, crystal-clear Kishanganga swiftly flowing past the huddled villages. Towering menacingly above, were 6000 feet of vertical mountains with the security fencing separating India and Pakistan Occupied Kashmir clearly visible. Thickly forested till 12,000 feet, the mountains became gaunt and without forest cover as the eye went up to the jagged tops. On my right could be seen the dense Durmat forest across the Kishanganga -- great place for terrorists to seek refuge or soldiers to lay deadly ambushes.
The briefing followed, proving the point that Op Bagtor had nowhere been as near picture-perfect and ideal as one might think. With time against him, the CO had actually improvised a plan by literally thinking on his feet. Lesser leadership or lack of support from his senior officers would have been devastating. He decisively seized the fleeting operational challenge when it came - and had rushed his men into battle, but with caution. An oxymoron, but then soldiers invariably live with stark contrasts.
To discover that, he drove me, with Navdeep's Ghataks following, to the Bagtor village cluster. Upadhya explained with clinical precision how the intruders were sighted that dark night, and how before that, he had been sounded on "kuchh hone wala hai". What the CO had really conveyed was that there was intelligence synergy and redundancy at work out there from those towering heights at 14,000 feet, through those increasingly thicker forests as one came down, right down to places of entry into the Paltan's areas of operational responsibility. Sitting far away at Davar near the Habba Khatoon massif, the Brigade Commander and staff were also up, having enabled and networked these leads, as were the alert Division Commander at Kupwara and the Corps Commander in far away Srinagar.
The Ambush
The real conductor of this tiered orchestra of military capability was, of course, the astute and alert Upadhya. He and Navdeep were in the Officers Mess, after an exhausting 12 hours of working out contingencies, when the call came. The intruders had been spotted! He and Navdeep, he recalled, literally raced in the CO's jeep to Bagtor, the four kilometer distance to his Tactical Headquarters seeming unending. It was, literally, a desperate, time-sensitive race to the swift…
Share the excitement, my dear reader! Imagine you are on a bucking, snorting, racing jeep, its headlights barely piercing the gloom, the forested darkness astride the dirt track. Listen with excitement as the CO changes gears with one hand while he barks confident, crisp orders to young Thomas, the Adjutant, on his radio, "Relocate. Redeploy. Get the men running to reach the new ambush site before the terrorists do. I want all 17. Hear me?!!" "WILCO!" yells the Adjutant. Hastening slowly - this article is loaded with oxymorons - the men redeploy on the run with caution…the enemy is too close. In the co-drivers seat, Navdeep speaks quietly, issuing instructions to his men. Disembarking at Tactical Headquarters, races off. At the ambush site, his men quietly point to the ghostly, looming shadows emerging from the inky darkness. There is only time for whispered consultations and readjustments by the young officer to ensure that the ambush is correctly sited. Navdeep then whispers, "Fire only after I fire," as he cocks his AK with a soft, lethal click. The die is cast…
That chilly night, I'm in black dungarees and carry Navdeep's AK - loaded. The CO and men are armed too. I lie down exactly where Navdeep had lain down, his buddy, Sepoy Vijay Gajare alongside me. The terrorist approach is played out with 17 Ganpats. With pride, I realise that when Navdeep finally opened fire, he actually waited to literally touch them, crowd them into a little rock-strewn slope from which it was death anyway by drowning or bullets or both. His buddy makes me half-get-up, as Navdeep did, to pull him in after he was hit. A Ganpat, who has taken position behind a boulder, simulating the terrorist who shot Navdeep, is just five meters away. This was the distance at which Navdeep was fired at while pulling in his buddy to safety as he fell dying. He had fired 81 out of the 90 rounds he was carrying. He died nobly.
Award of the Ashoka Chakra
On returning home on January 24, 2012, from a lecture-tour where I had delivered 15 talks to people across gender, age, social strata and occupation on the legacy of bravehearts like Lt Navdeep Singh, I spoke to Navdeep's father; Hony Lt Joginder Singh. "Indeed, sir, my son is getting the Ashoka Chakra. We await the honour on 26 January 2012…we are proud of what Navdeep did, sir, and of the Army where father and son served." The Ashok Chakra is India's highest military decoration awarded for the most conspicuous bravery or some daring or pre-eminent valour or self-sacrifice in peace.
Fathers are trained by genetic engineering and social custom to be stoic, to hide their true feelings. Navdeep's brave Mother, sister and brother sat in the audience, crying their hearts out, as Navdeep's sterling citation was read out. The father, escorted to the President by CO 15 Maratha LI, Col Girish Upadhya, tried his best to hide his loss; his tears of pride …he almost succeeded.
Navdeep's immortal Legacy
The Indian Army was born in battle in 1947 and remains in battle in the defence of India - quite disregardful of the supreme indifference of its political masters. "Martyrs, my friend, have to choose between being forgotten, mocked or used. As for being understood: never", a cynical Albert Camus has written. This hurts because it is so true.
Navdeep was a wet-behind-the-ears whipper-snapper; a rookie still in "Boot Camp" but, drilled, because of grave paucity of officers, by his famous paltan and his Ordnance lineage, into a potentially world class soldier. This, even before he was detailed on his mandatory, coming-of-age Young Officers' Course. Navdeep brought to the table, in the prescient words of Lord Moran, cold courage as a moral and physical choice, an act of renunciation that he knew could result in his death. His men knew this as well, but were fired up, ignited by his grit and daring. Add to that, the other ingredients of transformational leadership; creative intelligence, physical fitness, junoon, grit and selflessness and you have his legacy. With an MBA and a Hotel Management degree behind him, he was Ivy League and could have gone into safe, well paying jobs, but obviously that wasn't the case. Like deathless 2/Lt Arun Khetarpal and Capt Vikram Batra, both PVC's (Posthumous) before him, he too scorned death, exchanging it for mission completion. I am dead certain Navdeep did not want to die. No motivated, gifted, loving, young person does. He had it all -- a potentially brilliant career, loving parents and siblings, peer respect, capability and capacity. He was in love, with a beautiful girl, with life, with Gurais, yet, he discarded it all -- for mission completion.
Navdeep's deathless legacy is applicable pan India and across gender, age, social status and occupation. In the prescient words of Lt Gen Gautam Moorthy, Colonel Commandant of the Ordnance Corps, it is the ability to do the routine in an extraordinary manner, and as a matter of course, not as an exception. The India of our dreams does not need cynicism but self help as contained in this practical, yet demanding legacy. It could be India's "Mind Map" to excellence.
The writer has commanded a Rashtriya Rifles Sector and an Infantry Division in the Valley
Ashok chakra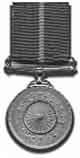 l The Ashok Chakra is India's highest peace time decoration for gallantry, and is awarded for the "most conspicuous bravery or some daring or pre-eminent act of valour or self-sacrifice other than in the face of the enemy."
l Its wartime equivalent is the Param Vir Chakra, awarded for gallantry in the face of the enemy. Two other awards in the Ashok Chakra series are the Kirti Chakra and the Shaurya Chakra.
l The award was instituted in 1952 and has been conferred on about 60 persons, including armed forces, para-military and police personnel as well as civilians.