No question of joining BJP, says Maheshwar
Mandi/Kullu, February 10
The Himachal Lokhit Party (HLP), launched by BJP dissidents recently, has termed national BJP chief Nitin Gadkari's damage-control team's visit to Shimla from February 12-14 as a mere eyewash ahead of the 2012 state Assembly poll.
Shanta not to be part of BJP's 'mission repeat'
Shimla, February 10
Senior party leader Shanta Kumar will not be part of the BJP's "mission repeat" to be launched on February 12 to ensure the party's victory in the Assembly poll. It is also uncertain if his loyalists, including ministers and MLAs, will attend the series of meetings in the presence of central leaders JP Nadda and Shyam Jaju.
7 lakh children to be given polio drops
Shimla, February 10
As many as 7,00,000 children will be administered polio drops under the National Pulse Polio Programme (NPPP) in two phases on February 19 and April 1 in the state.
Fee hike: SFI, ABVP hold protests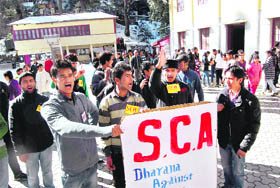 Hamirpur, February 10
The Hamirpur district units of the Students Federation of India (SFI) and the Akhil Bharatiya Vidyarthi Parishad (ABVP today held separate protest demonstrations in the postgraduate college, Hamirpur, to oppose the proposed fee hike by Himachal Pradesh University, Shimla.
Students hold a protest against the proposed fee hike at Sanjauli college in Shimla on Friday. A Tribune photograph
Technical education govt's focus: MLA
Bilaspur, February 10
The state government is giving free education up to the university level to all girls. All students are being given free travel up to 8 km in their village for studying in schools of their choice.
Snow woes

A vehicle stuck on a slippery road near the IGMC in Shimla on Friday. A Tribune photograph
SFI charges baseless: HPU
Kangra, February 10
Himachal Pradesh University (HPU) yesterday refuted the allegations levelled by the Students Federation of India (SFI) here recently and described these as untrue, baseless and unethical and not in the interests of the student community.
Death of Animals in Gausadan
District admn swings into action
Nurpur, February 10
Taking a serious note of the sudden and mysterious death of nine animals (cows and oxen) in the state government's gausadan at Khazian, near here, on Monday, the district administration has swung into action to ensure smooth and proper running of the gausadan.
Construct bus stand, HIMUDA told
Chamba, February 10
The state government has directed officials of the Himachal Pradesh Urban and Housing Development Authority (HIMUDA) to take up the construction of the new bus stand of Chamba at the propose site.
State has lowest HIV/AIDS prevalence rate
Solan, February 10
The HIV/AIDS prevalence rate in the state has shown a steep decline from 3.7 per cent in 2007 to 0.9 per cent, which is the lowest in the country, as per the latest surveillance report released by the State AIDS Control Society.
Forest Dept to conduct monkey census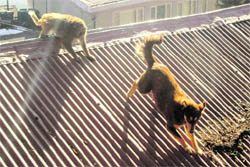 Shimla, February 10
The wildlife wing of the state Forest Department will undertake a head count of simian in towns and rural areas, specially focusing on hot spots where these animals were giving sleepless nights to people due to the monkey menace.

The monkey menace in the state has assumed alarming proportions. Photo: Amit Kanwar
Firm, staff booked for fraud
Nurpur, February 10
Following directions of a judicial court, the police on Tuesday lodged a forgery case against Raman Kumar, Managing Director of a private finance company, Success Online Private Ltd, and five employees of its branch office opened at Ganoh, near here.