Heavy snow throws life out of gear
Tribune Reporters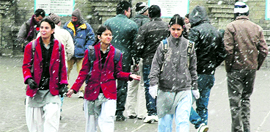 Schoolgirls brave the elements in Shimla on Monday. Photo: Amit Kanwar
Manali, February 13
Normal life was thrown out of gear at several places in the entire upper Kullu valley today following a heavy snowfall.
The tourist town of Manali and its adjoining areas had the season's heaviest snowfall since yesterday. Intense cold wave conditions are prevailing in the upper Manali region following a fresh spell of snowfall. The national highway between Manali and Kullu was blocked near Kalath due to avalanche this morning. The avalanche hit the road at Bindu Dhog, about 7 km from here.
The vehicular traffic in the entire upper Manali region was disrupted due to heavy snowfall and a thick layer of snow on the roads. All long-route Manali-bound buses suspended their journey at Patlikulh, about 20 km from here today, causing great inconvenience to tourists and local residents.
Local buses on the Manali-Naggar road also remained suspended today. Traffic on the Manali-Rohtang Pass road was also disrupted.
Heavy snow has accumulated on the housetops, treestops and electric wires due to continuous snowfall in the region. In the wake of heavy snowfall since yesterday, residents of the entire upper Manali areas could be seen clearing snow from their rooftops today.
Power and water supply were also disrupted by the fresh snowfall at a number of places in the upper Kullu valley. The entire upper Kullu valley reeled under arctic conditions with mercury hovering around the freezing point. Most of the people preferred to stay indoors.
Kangra valley shivers
Kangra: The Kangra valley continued to reel under severe cold wave conditions on the second day on Monday after rain and icy cold winds lashed the Dhauladhar range, while its foot hills experienced fresh snowfall.
The sky remained overcast throughout the day. The Dhauladhar range and its foot hills received a heavy snowfall this morning throwing normal life out of gear.
Due to snowfall, the temperature dropped considerably, forcing the people to remain indoors.
Kangra recorded minimum temperature of 3.1 degrees Celsius, 4 degrees below normal, and maximum temperature of 14.8 degrees.
Reports of rain and severe cold wave conditions were received from different areas of the valley, which included Mallan, Shahpur, Dehra, Jawalamukhi, Nagrota Bagwan, Gaggal, and Ranital. Dharamsala and Kangra towns too received rain which left people shivering.
Vehicular traffic hit
Chamba: After heavy downpour and fresh snowfall in the district for the past two days, the Chamba-Hadsar, Chamba-Bajol and Chamba-Satrundi highways have been closed due to landslips and deep crisp snow on the highways.
Consequently, the transportation services were disrupted and normal life was affected in the region.
According to reports, the Chamba-Shimla highway crossing over the high-altitude Jot Pass has been closed due to fresh snowfall.
People in the snow-bound areas remained indoors.