| | | |
| --- | --- | --- |
| | OPED — CULTURE | |
A museum for matters of the heart
Museums are moving beyond showcasing the fossilised history. A museum in Croatia, now travelling the world, explores the fragility of heartbreaks by encouraging acknowledgment, reflection and discussion through experiential journeys of others
George Jacob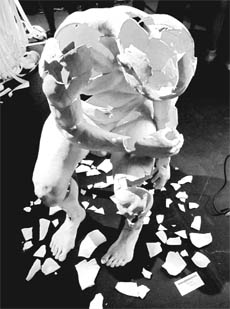 Ever since the famous British chocolatier Richard Cadbury created the first box of Valentine Day chocolates in 1868, 14th February has become a commercial behemoth spurring jewellery, flower and greeting card sales, running into an estimated $15 billion business worldwide. With a zillion hearts aflutter sensing the approaching St. Valentine's Day, the hopes and heartaches of many assume meanings and metaphors that occupy the very core of all human emotions — love. It is the magical muse that has launched a thousand ships, a million dreams and left scorching ruins of scars etched in history triggered by love spurned, left smouldering through time, unrequited….immortalised in songs and sonnets of yearning across cultures.
While love brings passion, hope and joy to the lucky few, it often leaves a trail of broken relationships in its wake for those who were left wanting. Or, were plain unlucky! People have dealt with it in myriad ways through history. Battles have been pitched, duels fought. But, when film producer Olinka Vištica and artist Dražen Grubiši of Croatia decided to break-up amicably, they decided to do it creatively. They conceived the creation of a unique Museum of Broken Relationships!
The urge to protect poignant memories of heart-break turned into an installation at the Zagreb biennale in 2006 and evolved into a travelling exhibit that invited objects and personal stories from visitors willing to share from the schadenfreude (this German word, now loaned to English means - pleasure derived from the misfortunes) to the more sensitive subtleties of frayed emotional state. Last year, the exhibition formally moved into a museum dedicated to human relationships in the upper Zagreb locale of Gronji Grad, strewn with 14th century neo-gothic churches connected with winding, cobbled streets.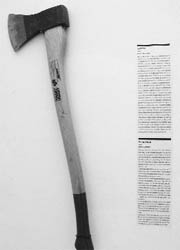 (From top) From an amazing collection of over 700 personal experiences of heartbreaks on display from different cultures and histories at the Museum of Broken Relationships, an exhibit titled ex-Axe. An artist's impression of a jilted lover. The jigsaw puzzle of a broken heart!
The residue of love
Winning the prestigious Kenneth Hudson European Museum of the Year Award in 2011, for innovative thought, the Museum of Broken Relationships echoes the fragility of human relationships in their social, political and personal context encouraging acknowledgment,
reflection and discussion through experiential journeys of others. The miasma of emotions embodied in objects on display swing from anger, fury, sadness, longing, depression to hope, joy, comfort and inspiration. These objects are often of little, if any, intrinsic worth, but they hold value because of the person who gave them. Whether these objects are kept, binned or burnt, or are worn as talisma, they always mean something special.
Drawing on the French philosopher Roland Barthes for its inspiration, the museum affirms that every passion, ultimately, has its spectator and that there is no amorous offering without a final theatre. The permanent exhibition is themed along the lines of Allure of Distance - Intimations of Proximity, Whims of Desire, Rage and Fury, Rites of Passage, Tides of Time, Paradox of Home,
Resonance of Grief and Sealed by History. The accompanying text and the socio-cultural context of objects allows for a cohesive interpretation of the museum experience in conjunction with its collections.
The memorabilia
Not a laughing matter
Mr Devdas is no more a laughing stock. He needs help!
With an excessive focus on the evolution of mind, little attention in our education has been spared for managing the fragility of human relationships, feels Dr Ranjay Vardhan, a senior assistant professor of sociology at PG GCG, Chandigarh. He founded a unique society called 'Toote dil prabhandhak committee' ( The Broken Heart Rehabilitation Centre) in 1998 to help the young and old come to terms with life despite their heartbreaks. Reasons for a broken heart are peculiar in Indian society; if you are a loser in academics, career, immigration, marriage and of course love, you are at the receiving end of social scorn. The society with 150 active members has a team of four counsellors at hand to offer help. And, request for help pours in from Indians settled across the world. Based on his experiences, he has also penned a book titled 'Coping with Broken Hearts – World's First Self-Help Book for Broken Hearts.
For instance, 'Tides of Time' includes objects related to love across distances, generations and time-zones, 'Sealed by History' addresses relationships across inter-ethnic and international relationships, 'Whims of Desire' has exhibits with suggestive and explicit erotic fantasies, 'Rites of Passage' includes topics of marriage, and 'Resonance of Grief' dwells on the more difficult realm of illnesses and passing of life.
An old, worn-out Nokia mobile phone is exhibited with a note from an anonymous donour that reads: "It lasted 300 days too long. He gave me his mobile phone so I couldn't call him anymore." Following the war in the Balkans in the 1990s a Croatian man sent a note along with a prosthetic leg. "In a Zagreb hospital I met a beautiful, young and ambitious social worker from the Ministry of Defence, who taught me how to use the prosthetic limb. Sadly, the leg endured more than the love. It was made of sturdier material…", he wrote. A funny annotation on a suspender belt, purchased in Sarajevo in 2003, muses: "I never put them on. The relationship might have lasted longer if I had." And yet another quirky note on a tin-box sold as "Love
Incense", merely reads, "Doesn't work." Some are humorously sarcastic. The label caption by a blue Frisbee reads: "Darling, should you ever get the ridiculous idea to walk into a cultural institution like a museum for the first time in your life, you'll remember me." Some are flippantly casual, like a cheap clock that celebrates "We broke-up over Skype".
From an axe used in fury by a jilted lover to destroy furniture that he gave her (called ex-Axe), a broken garden gnome hurled at the windscreen of a retreating car, a wedding album made with matches symbolising it was going up in flames, to bunny rabbits and tears in a jar that mourn a four-year relationship, the museum offers a veritable layered exploration into the mysteries and simplicity of the human mind.
Whatever the motivation for donating personal belongings — be it sheer exhibitionism, therapeutic relief, emotional catharsis or simple curiosity — people embraced the idea of exhibiting their love legacy as a sort of a ritual, a solemn ceremony. According to the founders of the museum, "Our societies oblige us with our marriages, funerals, and even graduation farewells, but deny us any formal recognition of the demise of a relationship, despite its strong emotional effect." Their passion echoes with the romantic Irish poet W.B Yeats' verses "The wrong of unshapely things / is a wrong too great to be told;/ I hunger to build them anew…" (The Rose in the Deeps of His Heart).
The global heartache
The Museum has since amassed an amazing collection of over 700 personal experiences, from different cultures and histories, offering universal patterns of self-discovery and perhaps deeper insights into something more meaningful. "The museum tackles the interface between material objects to communicate an intangible moments. Curators are more close to psychotherapists here with the museum experience as a therapeutic revelation of sorts," says Dr. Darko Babic, Professor and Researcher at the University of Zagreb's Heritage Management Programme.
Creativity extends into their "Brokenships", the museum retail shop that has souvenirs including teddies and t-shirts with their famous tear-drop icon. Perhaps the most popular item sold is a simple pencil eraser which says "Bad Memories Eraser".
Last week their new travelling exhibit on 'Love Shards and Broken Promises' opened at the National Centre for Craft and Design at Lincolnshire, UK. Dubbed as the 'Hub of Love', the exhibit explores the power of simple objects over human psyche when objects absorb meaning. Their exhibits have travelled to South Africa, Germany, Turkey, United States, Greece, Macedonia, Sarajevo and other parts of the world evoking curiosity and attracting visitors from all age groups and demographic pools.
The business of love
Oblivious to the beheading of St. Valentine who was martyred on February 14 some 1700 years ago, at the behest of the Roman Emperor Claudius II, who prevented men from getting married fearing low enrolment in his army, his legend lives on eternally for secretly aiding cupid in the universal language of love across generations.
Love is also serious business. With Hershey Kisses sales jumping over $1.8 billion on Valentine's Day alone, and on-line florists having an ever-increasing field day, technology has certainly influenced love. 16 million e-valentines flew across the internet last year in the United States and this year it might quadruple. With millions of users and members on match-making sites, access and availability, love-based 'connectivity' has jumped to unimaginable proportions.
The meteoric 8 year rise of the social networking site Facebook with its mushrooming millions of users, culminated on February 1, 2012, with the filing of an astronomical $5 billion IPO that will hit the share- market in May this year.
If the business of love brings profits, technology is detrimental to love. Last October, Jake Reilly- a 24 year old copywriting student from Chicago unplugged from social media for 90 days. Calling it the Amish Project, he disconnected from email, texts and mobile phone, acutely aware that we are not being present in the moment and spending far more time with gadgets than building and nurturing 'true' relationship with those we care. Sending on an average 1500 text messages a month in addition to 700 minutes on the phone is an addiction that rules the roost with increasing number of users, undermining the role of love in life. Causing heartbreaks.
(The writer is a well known museologist whose work spans many countries.)