OF all the political heavyweights who have adorned the corner room on the first floor of Rail Bhavan, Madhav Rao Scindia's tenure stands out as the golden era, a benchmark difficult for anyone to reach!
Being relatively quite junior in the political pecking order, Scindia took over the reigns of the then 1.7 million-strong behemoth only as a Minister for State in Rajiv Gandhi's government.
For the first year he set about getting to know the ropes and once he had got his bearings, knew the strengths and weaknesses of this vast organisation which had to play a vital role as the nation's economic and industrial lifeline, there was no stopping him.
His young and agile mind was quick to grasp what could be done in a short span of time and what was best left as a long-term initiative. Given his boyish charm, carrying the Railway Board mandarins with him was a cake walk!
A world-class computerised reservation system which now delivers at the click of a mouse a whopping two million tickets daily from its 8,000 terminals located in over 700 major cities, scores of super-fast inter-city trains reaching passengers to city centres reliably and at a fraction of the cost of airlines are some of his initiatives which have stood the test of time .
Aware of the need for a higher market share of freight business, he encouraged CONCOR ( Ccntainer Corporation) to run super-fast container trains from Delhi to Mumbai in 45 hours, in the process winning more than half the market share of valuable export cargos. CONCOR now boasts of a string of over 62 container depots.
For him, none of the cheap gimmicks of running new trains or extending old ones at the drop of a hat! Though like any politician he knew that he had to take care of his constituency and in the process of introducing the first-ever Shatabdi Express, its run was extended beyond Agra to his constituency, Gwalior.
Borrowing a page from the airlines, he radically improved on-board catering with not only packaged food but also provided electric ovens in pantry cars on each coach to enable passengers to enjoy hot meals while hurtling along at 110 kmph on a fast inter-city run of one of the Shatabdi Expresses.
Realising the need for technocrats in this vast organisation to function without fear or favour in discharging their onerous responsibilities, Scindia provided an effective umbrella to eliminate political interference in their day-to-day functioning.
He simply channelled all of people's aspirations put forth by MPs and MLAs through parliamentary committees which he religiously chaired. Of course, decisions undertaken after due deliberations and consultations with those who ran the trains, were not only for the long-term benefit of the largest possible number of people, but also were cost effective, and last but not the least, were required to be completed in a given time-frame.
Unfortunately, after Scindia bowed out , fortunes of Indian Railway took a nosedive. He was followed in quick succession by George Fernandes, Janeshwar Mishra and the inimitable Jaffer Sharif, whose now famous 'Project Unigauge' put the Railways firmly on the path of financial ruin.
Coalition politics soon saw a long list of political stalwarts starting with Suresh Kalmadi, Ram Vilas Paswan , Nitish Kumar, Ram Naik, Mamata Banerjee, once again Nitish Kumar, Lalu Yadav, Mamata Banerjee and finally Dinesh Trivedi taking the stage, a total of 11 changes in the last 22 years!
To Nitish Kumar goes the credit of a total disruption of the command and control structure of the Railways by creating overnight no less than seven new zones, taking the tally from a manageable nine to 16, adding avoidable overheads.
Ostensibly to improve functional efficiency, it was against all sane advice given to him by no less than seven of the past Railway Board Chairmen.
A mind-boggling backlog of Rs. 80,000 crore worth of projects — of which nearly 80% are unviable — is now stuck in the pipeline, and may take more than 30 years to be completed. In spite of promises made by each new incumbent of the Rail Bhavan to review these projects, prioritise and even jettison some of them by consultations, nothing much has materialised.
With a looming financial crisis and the need to provide fast and safe transport at the lowest possible unit cost for both passengers and freight, the Railways is fast running out of options. Perhaps another 'Scindia' needs to materialise — the sooner the better! — R.C.Acharya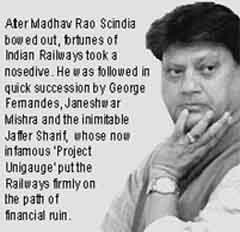 What Railway Minister should not do
n New trains, extension of the run or increase in frequency of existing trains.
n New projects - even if these are to enhance section capacity.
n Surveys for new lines - which raise hopes for construction in the near future.
n New concessions on passenger tariff - there are already far too many concessions open to gross misuse.
n Station development projects - unless it is a Public Private Partnership initiative.
What he should do
n Take up projects already in the pipeline, prioritised by Pitroda committee to be taken up in the next five years!
n Passenger tariffs should be raised to reflect inflation. Set up the Regulatory Authority to fix rail fares and freight.
n Brief details of proposed generation of financial resources.