Sanam beats top-seed Vishnu
Tribune News Service
Chandigarh, February 22
In the biggest upset of the morning local lad Sanam K Singh laid low his compatriot, top-seed Vishnu Vardhan in straight sets 6-4, 6-4 to storm into the quarterfinals of the ITF Menís Future US$ 10,000 Tennis Tournament being played at the CLTA Lawns.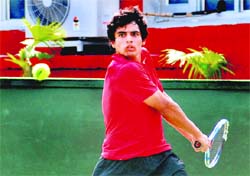 Sanam returns a shot in a singles match of the ITF Menís Future $ 10,000 Tennis Tournament in Chandigarh on Wednesday. Tribune photo: S Chandan
The much-awaited clash between the two youngsters found Sanam raising his game a few notches to send the top seed and last yearís winner Vardhan out of the tournament. Matching his opponent stroke by stroke, Sanam showed nerves of steel while thwarting all attempts by Vishnu to gain ascendancy in the match. The titanic struggle for supremacy lasted two and a half hours and the local ladís stunning win made the home crowd happy.
Shuichi Sekiguchi of Japan staved off a stiff challenge from 6th seed Hsin Han Lee of Taiwan in three hard-fought sets. Lee won the first set 6-4 while Shuichi came back to level by winning the set 6-3. The 3rd set saw a see-saw struggle for supremacy with both the players holding on to their serves and were involved in long rallies. Shuichi was able to prevail upon his opponent 7-6(3).
Japan had another success coming their way when Takeuchi Kento prevailed upon Vignesh Peranamullar in 3 sets 3-6, 6-3, 6-2. Eighth seed Saketh Mayneni from India was able to tame wild card entrant Sidharth Rawat of India in straight sets 6-3, 7-6 (3). Sidharth Rawat who had caved in tamely in first set went on to extend Saketh by fully stretching him before going down in a tie breaker 7-6 (3). Sarvar Ikramov, the seventh seed from Uzbekistan, disposed of Heisin Yin Peng from Taiwan who had moved from the qualifier round in 3 sets 6-3, 3-6, 6-1. N.
Sriram Balalji of India was able to tame his compatriot Rupesh Roy in a bitter contest 7-5, 6-4. Murugesh R Virali, fifth seed. ended the challenge of qualifier Jordi Munoz Abdue of Spain in three sets 3-6, 6-3, 6-4. The second seed, Arata Onozawa, of Japan easily disposed of Matthieu Vierin of Italy 6-2, 6-2. Four from India, three from Japan, one from Uzbekistan made it to the quarterfinals round.
In doubles Hsin-Han Lee and Hsien Yin Pen from Taiwan defeated Shuichi Sekiguchi of Japan and Mathhieu in two sets 7-6(3), 6-3. The first set was a ding-dong affair with service changing hands before the top-seed pair of Lee and Pen defeated Sekuchi of Japan. They brought out all their experience to wrap up the first set 7-6(3), The second set, however, was a tame affair with the winners running away with it at 6-3. The 3rd seed pair of Japan Arata Onozawa and Kento Takeuchi lost to Indian challenge of Rohan Gajjar and Saketh Myneni in straight sets 6-2, 7-6(4). Having disposed of the Japanese challenge easily in the first set the Indian players had to fight back a stiff challenge from the Japanese before winning the second set in a tiebreaker set 7-6(4).
Wild card entrant pair of Vijay Kannan and Arun Prakash Rajagopalan had to fight off a spirited challenge from their compatriot the fourth seed pair of Balaji Sriram and Murugeshan Verali. The first set won by Vijay Kannan and his partner 7-6(4), while Balaji and partner came back to wrap up 2nd set 2-6. The 3rd set was claimed by Kannan and partner in a super tiebreaker (10-6). The struggle for supremacy lasted almost 2 hours. The last doubles match of the day was won by the 2nd seed pair of Sam Barry and Miles Bugby who disposed of Vivek Shokeen and Sanam. They won the first set 6-4 but the Indian pair of Vivek and Sanam retired before the start of second set with Sanam having cramps.