M A I N N E W S
India firm on TN nuclear plant
Moscow backs PM's claim on NGO funding
Ashok Tuteja/TNS
New Delhi, February 25
India has reassured Russia of its commitment to the Kudankulam nuclear power project, notwithstanding the protests against the plant.
New Delhi reassured Moscow that there was no question of abandoning the Russian-aided project in view of the prolonged agitation.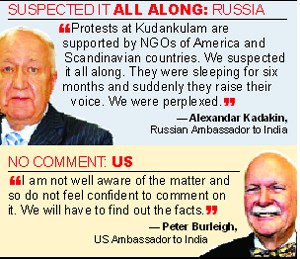 Russian Ambassador to India Alexandar Kadakin, meanwhile, backed Manmohan Singh's claim that NGOs based in the US were fuelling the protests at the Kudankulam nuclear plant.
"The protests at Kudankulam are supported by NGOs of America and Scandinavian countries. We suspected it all along. They were sleeping for six months and suddenly they raise their voice against the most secure, the best and the safest station in the world. We were perplexed," Kadakin told TV channels.
US Ambassador to India Peter Burleigh said the US government has no problem with any nuclear energy project with India. He was not fully aware of the facts of this particular case. "I am not well aware of the matter and so do not feel confident to comment on it. We will have to find out the facts." said Burleigh.
"The relationship is increasing at different areas and what I can say is that the US is involved with India for participation in civil nuclear programme and our government is very keen on the matter," he remarked. But representatives of NGOs opposing the Kudankulam plant say these claims are not true.
During the foreign office consultations between the two countries, Foreign Secretary Ranjan Mathai is also understood to have briefed Russia's First Deputy Foreign Minister I Denisov on the situation on the ground at the site of the plant at Tirunelveli district in Tamil Nadu.
The talks between the two sides took place a day after Prime Minister Manmohan Singh, in an interview, said that some US-based NGOs were behind the agitation at Kudankulam as they did not appreciate India's need to increase its energy supply.
After the PM's remarks, Minister of State in the Prime Minister's Office V Narayanasamy claimed that private NGOs working in US and Scandinavian countries were giving money to NGOs for the protests in India.
The Rs 13,000-crore Kudankulam plant is being built with Russian collaboration. It is expected to help India fight power shortage.
But the Indo-Russian joint venture has run into trouble with activists and locals staging massive protests citing safety concerns in the wake of the Fukushima disaster in Japan early last year.
As a result of these frequent protests, the commissioning of two 1000 MW reactors at the plant has been stalled. Several rounds of talks between the Centre-appointed expert panel and representatives of villagers have failed to end the stand-off.
The villagers say they fear for their lives and safety in case of a nuclear accident and the long-term impact it would have on the population in the area.