abuse of power
PCA for action against SI, Ex-SHO
Chandigarh, March 1
In an order issued today, the Police Complaint Authority (PCA) has recommended action against a Sub-Inspector posted at the Sector-3 police station for gross abuse of power and for unnecessarily harassing a retired Army officer. The PCA has ordered transfer of the SI to the police lines and initiation of a departmental inquiry against him.
registeration of false case
Orders probe against SI
Chandigarh, March 1
In another order passed on the complaint of Colonel (retired) Amardeep Singh, the PCA has recommended a departmental inquiry against Chandigarh Police Sub-Inspector (SI) Rajiv Kumar, who was posted with the Economic Offences Wing (EOW) of the police for registering a false case of cheating.
Police skips procedure, allows film shooting in sensitive area
Chandigarh, March 1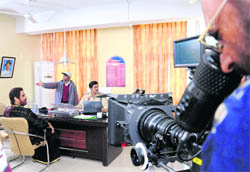 Setting aside all norms and procedures, the UT police went out of its way to allow the crew of a Punjabi film, "Aaj Ke Ranjhe", comprising 60 persons to shoot for an entire day at its training grounds, which is a sensitive area.


DSP's office or film set? Punjabi film Aak Ke Ranjhe being shot at DSP (Training) Suman Kumar's room in violation of rules at the training grounds, Sector 26, Chandigarh. Tribune photo: Manoj Mahajan
Birth, death certificates to cost less
Chandigarh, March 1
The Municipal Corporation has decided to reduce the fee for issuing birth and death certificates to residents of the city.
UK Mayor meets Raj Bala Malik
Chandigarh, March 1
Lord Mayor Keiran Mulhall, Coventry, UK, along with Lady Mayoress Jane Barlow and Harjinder Singh Sehmi, councillor of Cheylesmore Ward, held a meeting with Municipal Corporation Mayor Raj Bala Malik regarding the study tour today.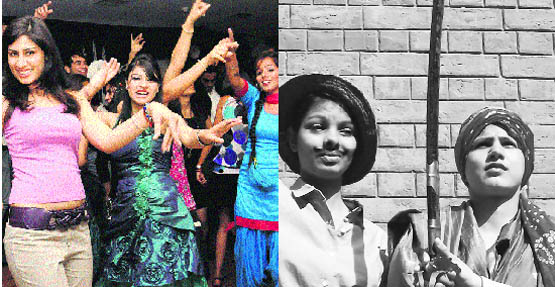 Models dance at the Mr & Miss Super Model 2012 contest in Chandigarh on Thursday. (Left) and Students of MCM DAV College for Women enact a historical event in Chandigarh on Thursday. Tribune photographs
Two MC panels formed
Chandigarh, March 1
Municipal Corporation Mayor Raj Bala Malik today constituted two committees, including the malba bye-laws committee and water-saving committee.
Work allotted for 80 MGD pipeline
Mohali, March 1
While the issue of sharing water from Phase V and VI Kajauli water works between Chandigarh and Mohali is being heard in the Punjab and Haryana High Court, the Greater Mohali Area Development Authority (GMADA) has allocated the work for laying of the pipeline that would bring 80 MGD of water. The project was already running behind schedule due to change in the decision to increase the capacity of the pipeline from 40 MGD to 80 MGD.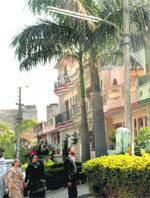 Streetlights glow during day
Mohali, March 1
It seems that the cash-starved Mohali Municipal Council is not bothered about the conservation of its resources, if the operational streetlights during the daytime in Sector 68 are any indication. For the past four days, the streetlights at a locality of houses, behind the MC building remain lighted throughout the day. The residents said they have complained to the MC in this regard.




Streetlights remain lit in Sector 68, Mohali. Tribune photo: Vicky Gharu
PEC, ICICI launch programme to help entrepreneurs
Chandigarh, March 1
The Entrepreneurship Development Cell (EDC) of PEC University of Technology, in collaboration with the ICICI bank, launched a program today for budding engineers to help them realise their dreams as innovators and entrepreneurs. The function was held at the PEC auditorium.

The pitsA man shows an uncovered manhole in Sector 15, Panchkula. Tribune photo: Nitin Mittal
Preserve forests, wetlands for biodiversity, says expert
Chandigarh, March 1
Eminent scientist Dr KK Bhutani, Director, National Institute of Pharmaceutical Education and Research inaugurated a two-day national conference on "Plants and Microbial Biodiversity, Present Scenario, Threats and Conservation Strategies" at the Botany Department, PU campus, here today.
Protest outside mini secretariat
Panchkula, March 1
Bhartiya Janta Party (BJP) and Haryana Janhit Congress (HJC) held a protest outside Mini Secretariat Complex in Sector 1 over various demands raised by both the parties. BJP state president Krishan Pal Gujjar submitted a memorandum to Panchkula city magistrate, Ashwini Malik.
'Jinney Jhalley Merre Palley' wows audience
Chandigarh, March1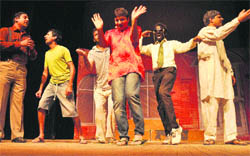 The four-day TFT Basant Theatre Festival organised by the Theatre for Theatre Institute in collaboration with the Ministry of Culture, Government of India, concluded with the staging of a Punjabi comedy play " Jinney Jhalley Merre Palley" at the Randhawa auditorium here today.

Artistes perform in a play 'Jinney Jhalley Merre Palley' at Punjab Kala Bhawan in Sector 16, Chandigarh, on Thursday. Tribune photo: Pravesh Chauhan
115 challans issued
Chandigarh, March 1 115 challans were issued to encroachers today during a special encroachment drive carried out by the enforcement wing of the Municipal Corporation in the Industrial Area Phase-II.
Easy start to CBSE exams
Chandigarh, March 1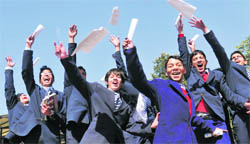 The CBSE exams for class XII began today with students appearing in the English exam. According to experts, the students had a good start as the question paper was relatively easy.


FLYING HIGH: Class XII students of Navodya Vidyalaya, Sector 25, Chandigarh, in a jubilant mood after appearing in the first exam on Thursday. Tribune photo: Pradeep Tewari
485 government college students awarded at annual function
Chandigarh, March 1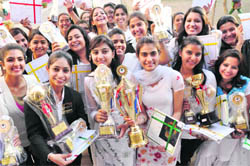 The 56th annual prize distribution function of Post Graduate Government College for Girls, Sector-11, was held today. The students were awarded prizes for excelling in the fields of academics, sports, and co-curricular activities.

Students pose with their prizes at the annual prize distribution function of the Post Graduate Government College for Girls, Sector 11, Chandigarh, on Thursday. Tribune photo: Parvesh Chauhan
Seminar on philosophy at PU
Chandigarh, March 1
A two-day national seminar titled 'Perspectives on Subjectivity', organised by the department of philosophy, Panjab University, started at the ICSSR Complex today. The first day of the seminar was inaugurated by Dr BS Brar, DUI, Panjab University, and was presided by rofessor Emeritus of the department, Dr Dharmendra Goel.