M A I N N E W S
2G licence order flawed: Govt
l Files review petition in SC l Raja, telecom firm Sistema also move court
R Sedhuraman
Legal Correspondent
New Delhi, March 2
The government today filed a petition in the Supreme Court seeking review of the court's February 2, 2012 judgment cancelling 122 licences issued in 2008 by the then Telecom Minister A Raja on first-come, first-served basis at 2001 prices. The court had also directed the government to auction the licences in four months.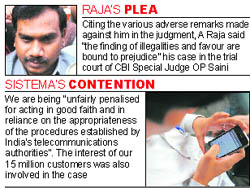 Citing over 20 reasons for reviewing the verdict, the government said the apex court had ignored the growth aspect of the telecom sector while considering the loss of revenue.
The verdict "is liable to be reviewed since there are errors which are apparent on the face of the record," the petition said. Also, allocation of Spectrum and other natural resources was in the exclusive domain of the Executive and was beyond the limits of judicial review.
Further, the SC should not have held that the government was duty-bound to follow the auction route in all cases involving natural resources as no reasonable authority could say that the licences should always go to the highest bidder, the review petition contended.
Meanwhile, Raja also filed a review petition today, contending that the SC should not have criticised him for his actions, inactions and alleged manipulations in the allocation of 2G Spectrum without making him a party to the case.
Citing the various adverse remarks made against him in the judgment, Raja said "the finding of illegalities and favour are bound to prejudice" his case in the trial court of CBI Special Judge OP Saini.
Sistema Shyam TeleServices Limited (SSTL) also filed a review petition challenging the cancellation of 21 telecom licences granted to it, contending that it was being "unfairly penalised for acting in good faith and in reliance on the appropriateness of the procedures established by India's telecommunications authorities". The company said the interest of its 15 million customers was also involved in the case.
Had he been given a chance by the SC to put forth his defence, Raja said, he would have explained that his actions were "legal, proper and without favour" and as a result the SC "would not have indicted him".
The SC observations against him had also affected his "reputation" and his fundamental right to personal liberty guaranteed under Article 21 of the Constitution. He lost his personal liberty following his arrest in the case. Citing at least 20 adverse remarks against him, he said these had condemned him for various alleged illegalities, deviations and purposeful acts to favour telecom companies.
Such observations at "numerous places is in violation of the basic principles of fair play and justice and of affording a person an opportunity of being heard before he is condemned," Raja reasoned.
A Bench of Justices GS Singhvi and AK Ganguly (since retired) had delivered the judgment on a bunch of petitions filed by Janata Party president Subramanian Swamy, the Centre for PIL and others.