In Moga dist, only 30 traffic cops
Muktsar/ Ludhiana, March 2
The Moga police does not have the required equipment to keep a check on drunken drivers. Also, the traffic police is facing a severe staff crunch with 30 policemen managing traffic in the entire district, including Malout, Muktsar and Gidderbaha subdivisions.
Cops go easy on offenders, reveals RTI
Faridkot, March 2
On an average, nine persons are daily killed in 18 road accidents in the state. Overspeeding and drunken driving are the main reasons for these accidents. Information procured under the RTI Act reveals that drunken driving is not on the police priority list.
Drunk truck driver hits three vehicles
Muktsar, March 2
A truck driver, allegedly in an inebriated condition, rammed into three vehicles, leaving two motorcyclists dead, and eight persons injured. The accident occurred on the Malout-Bathinda highway near Gidderbaha. The truck, loaded with sugarcane, hit a motorcycle, killing two youths on a motorcycle. One of them belonged to Karnal.
clash at gurdwara bala sahib in delhi
Makkar, Sarna trade charges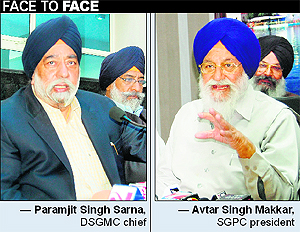 Amritsar, March 2
Following a clash between their supporters at Gurdwara Bala Sahib in New Delhi today, SGPC chief Avtar Singh Makkar and DSGMC chief Paramjit Singh Sarna traded charges and blamed each other's outfit for sparking violence. Addressing mediapersons at the SGPC headquarters here, Makkar alleged that the DSGMC along with a private firm was performing "bhoomi pujan" for a hospital building on the gurdwara premises, which was against the Sikh tenets.
Volte-face: No videography of counting now
Chandigarh, March 2
The experiment of videographing the Punjab assembly poll that was to be seen on March 6 has failed to take off due to technical glitches. Now, the Election Commission would go ahead with the process without cameras.
Praying for win, Cong candidate in Darbar Sahib for a month


Chandigarh, March 2
A few candidates chose to stay at home, while others took a well-deserved rest, with many choosing Goa and Kerala after the assembly elections. However, one of the contestants is staying incommunicado in the Darbar Sahib complex in Amritsar for the past one month.
RS Sikki, Khadur Sahib candidate

PPP could spell trouble for many
Chandigarh, March 2
Post-elections, there has been a deafening silence. Politicians known for being outspoken refuse to utter a word. With bated breath, they are waiting for the election results. Some have reportedly lost weight worrying over the poll outcome.

Manpreet Badal, PPP chief
Infant mortality rate down in Punjab
Patiala, March 2
The health department should use schemes under the National Rural Health Mission (NRHM) to improve the standard of facilities, said Anandita Mitra, ADC, Patiala, at a workshop organised by the Health and Family Welfare Department.
NRI panel seeks report from SSP
Chandigarh, March 2
The Punjab State Commission for NRIs has sought a report from the SSP (Rural), Jalandhar, regarding a complaint received from the Protector of Emigrants.
Don't privatise water resources, warn experts
Chandigarh, March 2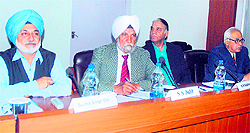 Experts today warned against handing over the control of water bodies to private players even as Draft National Water Policy chairman Prof SR Hashim said it was up to the stakeholders to manage the resources in their area in the best possible manner.


CRRID chief Sucha Singh Gill (L), economist Dr SS Johl (C) and Draft Water Policy chairman Dr SR Hashim at a workshop in Chandigarh. Tribune photo: S Chandan

Irregularities in giving grants from ministers' quota
Chandigarh, March 2
The Punjab and Haryana High Court today castigated the State of Punjab for filing worthless affidavit and directed the government to fix responsibility before March 7 of officers concerned for irregularities in giving grants from chief ministers, ministers and parliamentary secretaries' quota.
Youth found dead at bus stand
Muktsar, March 2
A youth was found murdered at the bus stand at Malout in the district today.
Six robbers arrested
Patiala, March 2
The police arrested six robbers from a sanctuary near Bhunarherhi and recovered two pistols, seven live cartridges, a knife and two rods from their possession.